Eric Talley's Sister Pays Tribute to Officer Killed In Boulder Shooting—'Heart is Broken'
A woman who said she is the younger sister of the police officer killed in the mass shooting at a supermarket in Boulder, Colorado has paid tribute to him.
Officer Eric Talley, 51, was identified by Boulder Police Chief Maris Herold as one of the 10 people killed after a gunman opened fire at the King Soopers supermarket on Monday afternoon.
The suspect was identified on Tuesday as a 21-year-old man, who has been charged with 10 counts of first-degree murder.
Tributes have poured in for Talley, an 11-year veteran of the Boulder Police Department, since Monday's shooting.
"Officer Eric Talley is my big brother. He died today in the Boulder shooting," a woman named Kirstin tweeted on Monday evening, alongside a picture of them as children.
"My heart is broken. I cannot explain how beautiful he was and what a devastating loss this is to so many. Fly high my sweet brother. You always wanted to be a pilot (damn color blindness). Soar."
At a press conference on Monday evening, Herold hailed Talley as a hero and said he was the first officer on the scene of the shooting.
"My heart goes out to the victims of this incident and I'm grateful for the police officers that responded and I am so sorry about the loss of Officer Talley," she said.
Talley's father Homer Talley told 9NEWS that it didn't surprise him that his son was the first on the scene and described him as a prankster with "a great sense of humor."
In a statement to Denver7, Homer Talley said his son leaves behind seven children, and that he had been seeking a less risky job when he was killed.
"He had seven children. The youngest is 7 years old. He loved his kids and his family more than anything," the statement said.
"He was looking for a job to keep himself off of the front lines and was learning to be a drone operator. He didn't want to put his family through something like this and he believed in Jesus Christ."
Boulder County District Attorney Michael Dougherty said Talley was "by all accounts, one of the outstanding officers of the police department."
"His life was cut far too short," Dougherty added.
The Boulder Police Department tweeted a photo of Talley in uniform, writing alongside it: "Rest In peace Officer Eric Talley. Your service will never be forgotten."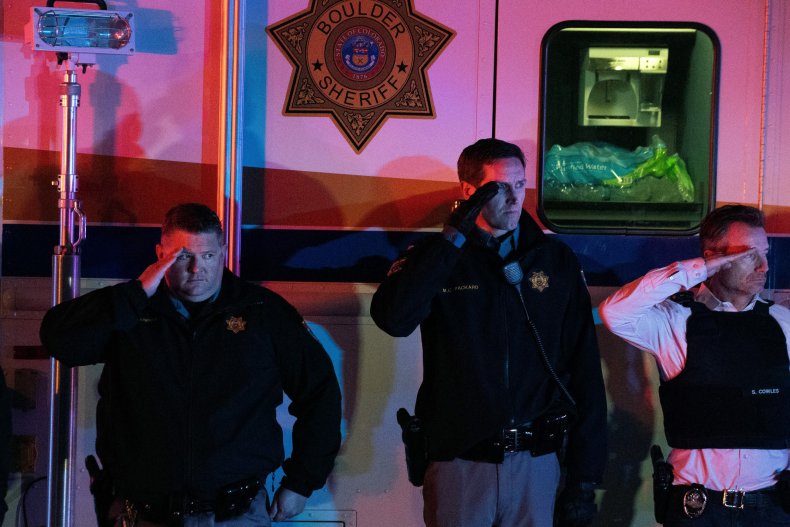 Colorado Gov. Jared Polis also paid tribute to Talley and the other victims of the shooting.
"Officer Talley served more than 10 years with the Boulder Police Department and tragically lost his life at the age of 51 while working to save the lives of others," Polis said in a statement.
"And tonight, the families of these victims, our fellow Coloradans, my neighbors, are hearing the devastating news that their loved one who simply woke up and went to work this morning, or who ran out to pick up eggs, won't be coming home.
"Our community anxiously awaits more information on the victims, hoping it's not our friends, coworkers and neighbors but knowing in our tight knit community it will be, and even if we don't personally know them, we all mourn their senseless killing and our sense of safety in our local grocery store."
The graphic below, provided by Statista, shows the number of mass shootings in the U.S. since 2013.