'My Hero Academia' Movie 3 Confirmed with Summer 2021 Release Date Window
After being teased last week, the third My Hero Academia film has been confirmed with a release date window that will have fans counting down the minutes until 2021 arrives for reasons other than a virus vaccine!
In the latest issue of Weekly Shonen Jump, and later on the official My Hero Academia movie Twitter account, the yet-to-be-titled animated film was confirmed using the same images of Izuku Midoriya, Katsuki Bakugo and Shoto Todoroki from last week.
There's still the "he will meet the three musketeers" tagline on the key visual, but this time we have a release date window. On the bottom portion of the key art, 2021 summer is shown confirming when fans can expect the new film.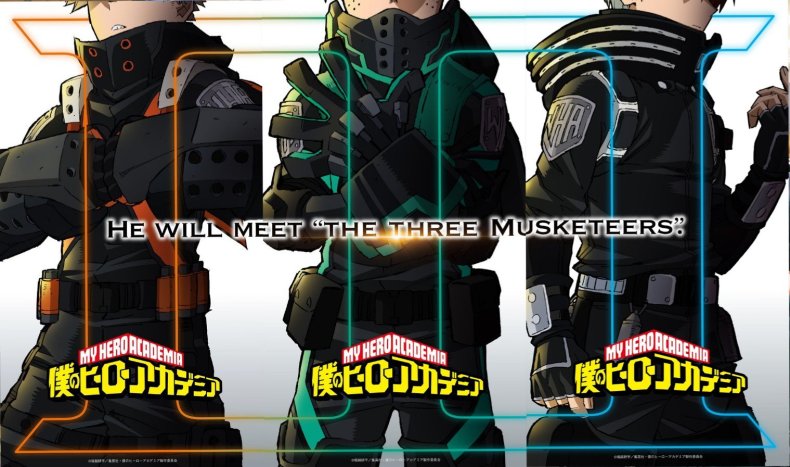 The confirmation came with the following notice, "The third My Hero Academia THE MOVIE will be released in the summer of 2021!!
In this work as well, Kohei Horikoshi, the original author, is in charge of the general supervision and character draft! The movie version goes even further! PLUS ULTRA!"
Horikoshi had some comments of his own regarding the third My Hero Academia film saying on the official movie website, and roughly translated via Google, "It is now possible to have the third movie done! Thank you for continuing to support the Dekus! At the time of the second announcement, I made a comment like 'there will be no more movies anymore,' but there was. We are supported by many people. I can't sleep with my legs in any direction anymore, so I have to sleep upside down."
Not much is known about this third film, but now that it has been confirmed and a release date window was given, fans can expect details like the plot to be released in the new year.
There have been two past My Hero Academia movies. The first, My Hero Academia: Two Heroes, focused on the bond between All Might and Izuku. Heroes Rising is the second film, and it spotlights Izuku and his rival, Bakugou.
The My Hero Academia films are not necessarily canon, as they are not mentioned in the manga proper. However, the events of the first two films took place in between seasons of the anime.
My Hero Academia season four has wrapped up and the fifth installment of the anime is expected to release in spring 2021. Fans can catch up on every season of My Hero Academia through the Funimation and Crunchyroll streaming apps.
What do you think of the third My Hero Academia movie? What do you hope to see? Let us know in the comments section.