Third 'My Hero Academia' Animated Movie Teased With a Nod to 'The Three Musketeers'
The next big screen adventure for the popular anime My Hero Academia has been teased, and it showcases the top three students of U.A. High School.
Sunday, the three official My Hero Academia Twitter accounts—one for the anime, one for the manga, and one for the movies—each wrote out a piece of a sentence. Combine the three and it spells out "He will meet the three musketeers."
The teases also came with a key visual, which you can see below.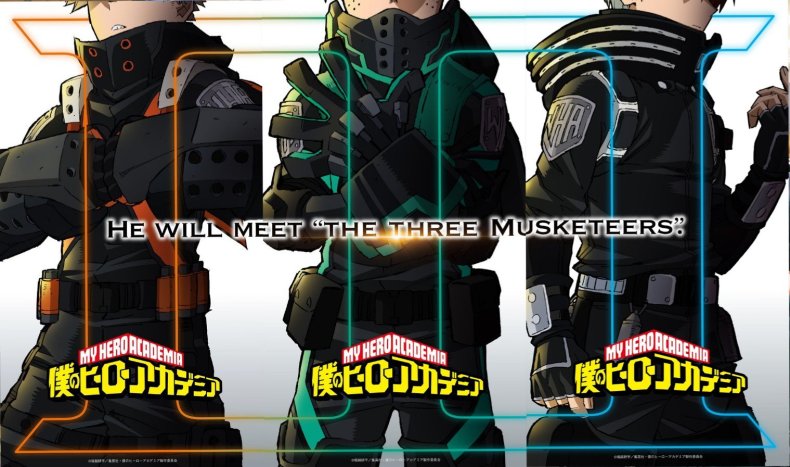 The visual shows Izuku Midoriya, Katsuki Bakugo and Shoto Todoroki, arguably the three most popular hero characters in the series, standing alongside each other wearing new hero gear.
While a plot obviously hasn't been detailed, the mention of the "three musketeers" is intriguing. Of course, The Three Musketeers, by French author Alexandre Dumas, has been an influence on My Hero Academia. It's especially apparent when considering the quirks (that's what this world's version of superhero powers are called) of the main protagonist and antagonist.
Izuku inherits the quirk "One for All" from his mentor All Might in the series, which is passed down from hero to hero. This ability allows for the user to use the quirks of everyone who has possessed this power in the past.
"All for One" is the quirk of the main antagonist, who goes by the same name at that quirk. The power allows for the user to absorb a person's quirk for themselves.
How all of this will tie into the third My Hero Academia film is still unknown.
There have been two past My Hero Academia movies. The first, My Hero Academia: Two Heroes, focuses on the bond between All Might and Izuku. Heroes Rising is the second film, and it spotlights Izuku and his rival, Bakugou.
What the third film will bring is anyone's guess, but the first visual suggests that there may be more a prominent role for Shoto.
The My Hero Academia films are not necessarily canon, as they are not mentioned in the manga proper. However, the events of the first two films take place in between seasons of the anime.
The fourth season of the anime has wrapped up and the fifth installment of the series is expected to release in spring 2021. Fans can catch up on all things My Hero Academia through the Funimation and Crunchyroll streaming apps.
What do you think of the third My Hero Academia movie? What do you hope to see? Let us know in the comments section.