'My Hero Academia' Season 4: When and How to Watch Latest Episodes Online
It's almost here! After waiting a little longer for the next installment, Season 4 of My Hero Academia is ready to drop in Japan.
Following the bombastic Season 3, which saw the hero world undergo a major shift to its system, the students of UA High will now seek to get stronger as they face a new threat and fans meet new heroes.
Here's the synopsis of My Hero Academia Season 4:
The villain world teeters on the brink of war now that All For One is out of the picture. Shigaraki of the League of Villains squares off with Overhaul of the yakuza, vying for total control of the shadows. Meanwhile, Deku gets tangled in another dangerous internship as he struggles to keep pace with his upperclassman—Mirio.
If you're looking to watch the first new episode of My Hero Academia in over a year, here's all the information you need.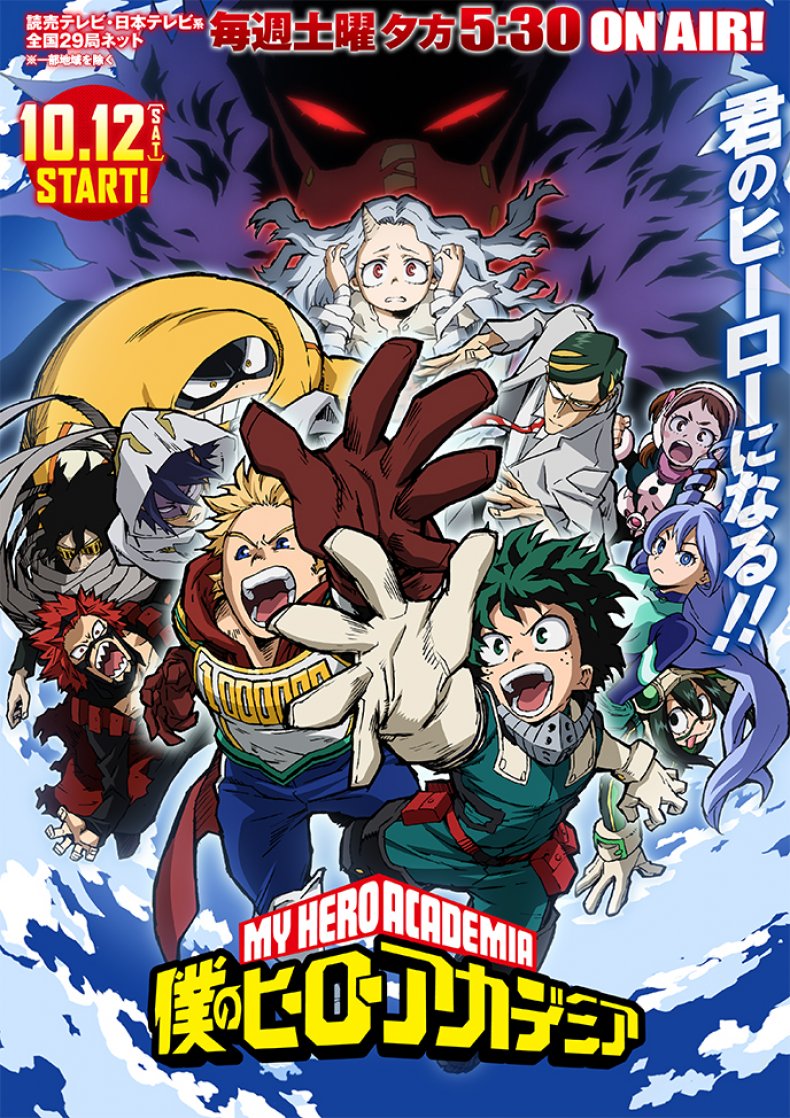 FUNIMATION
My Hero Academia Season 4 can be watched very early on Saturday, October 12 on FunimationNow.
According to the official Funimation site, the simulcast and same day dub will premiere at 5:30 a.m. EDT in the US, Canada, New Zealand, the UK, Ireland and Australia.
To watch all of these episodes online, you can sign up for FunimationNow, which currently offers a free trial. You'll need to register a form of payment but the first 14 days will be free, just in time for the Season 4 premiere.
FunimationNOW is available on iOS and Android devices as well as in the PlayStation sSore and Microsoft Store if you want to watch it on your home consoles.
CRUNCHYROLL
If Crunchyroll is more your speed, the anime streaming service will have the premiere of My Hero Academia season 4 on October 12. Crunchyroll has not confirmed the timing of when the episodes will appear on its service, but they usually post an hour after it premieres in Japan, around 5:30 a.m. EDT.
My Hero Academia Season 4 will appear on Crunchyroll in the following countries: United States, Canada, UK, Ireland, Australia, New Zealand, South Africa, Central America, South America, the Caribbean; and Premium Members in Iceland, Sweden, Norway, Denmark and the Netherlands.
Crunchyroll does run ads if you choose to watch the non-premium version, but the service is offering a 14-day free trial of its premium service. Like Funimation, you must sign up for an account and give a form of payment.
Anime fans can watch My Hero Academia on Crunchyroll on their home console like PlayStation 4 and Xbox One as well as iOS and Android devices.
Are you excited for the next season of My Hero Academia? Which character is your favorite? Let us know in the comments section.