'My Hero Academia' Movie 3 Trailer, Release Date and Synopsis Revealed
The fifth season of the My Hero Academia anime began this past weekend, but that wasn't all that fans had to savor: They also got more information on the third My Hero Academia film, including the title, Japanese release date and trailer.
The upcoming third film is titled My Hero Academia The Movie: World Heroes' Mission. It's set to release in Japan on August 6, but no overseas release has been confirmed just yet. Watch the first trailer for the third My Hero Academia film below.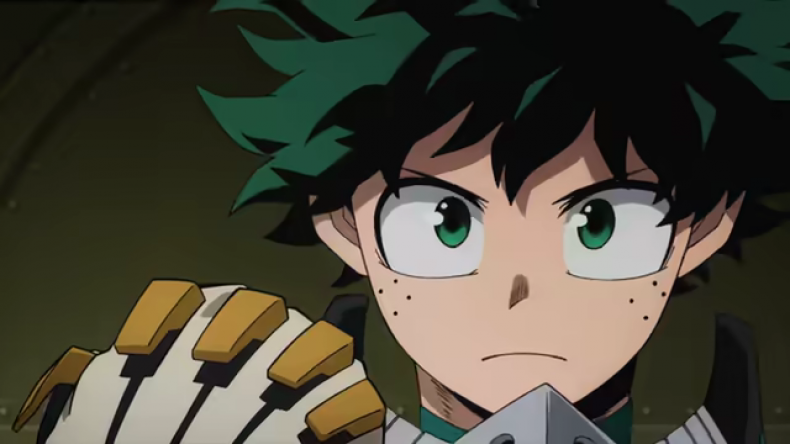 Not much else is known about the film, but the trailer does show a shot of a news program informing its viewers that Izuku Midoriya, the main protagonist of the My Hero Academia series, is wanted for "mass murder."
The movie's official website gives a bit more background on the synopsis of the film. According to the site, which has been loosely translated, this movie takes place during the winter hero internships. A mysterious group called Humanize is out to annihilate "individuality" holders around the world—this likely means Quirk users.
Professional heroes from all over the world form the World Selection Hero Team, which includes Deku, Bakugo and Todoroki. Other members of UA High School will also join the initiative as they try and stop Humanize's plans.
The site goes on to explain that Humanize believes that generations of Quirks have "erased" human history and think that the Quirks are a "disease." Humanize have planted bombs all over the world in an effort to eliminate the Quirk users.
At one point in the film, there's an incident in a country outside of Japan that involves Deku, Bakugo and Todoroki, which is likely the cause of the mass murder the trailer teases. The site also states that Humanize gives the world a two-hour time limit to meet their demands or they'll set off all of their bombs.
My Hero Academia creator Kohei Horikoshi is in charge of the general supervision and character drafts for the film.
There have been two past My Hero Academia movies. The first, My Hero Academia: Two Heroes, focused on the bond between All Might and Deku. Heroes Rising is the second film, and it spotlights Izuku and his rival, Bakugou.
The My Hero Academia films are not necessarily canon, as they are not mentioned in the manga proper. However, the events of the first two films take place in between seasons of the anime.
Are you excited for the third My Hero Academia movie? Let us know in the comments section.