With 'My Own Words,' The 'Notorious RBG' Looks Back on Her Legacy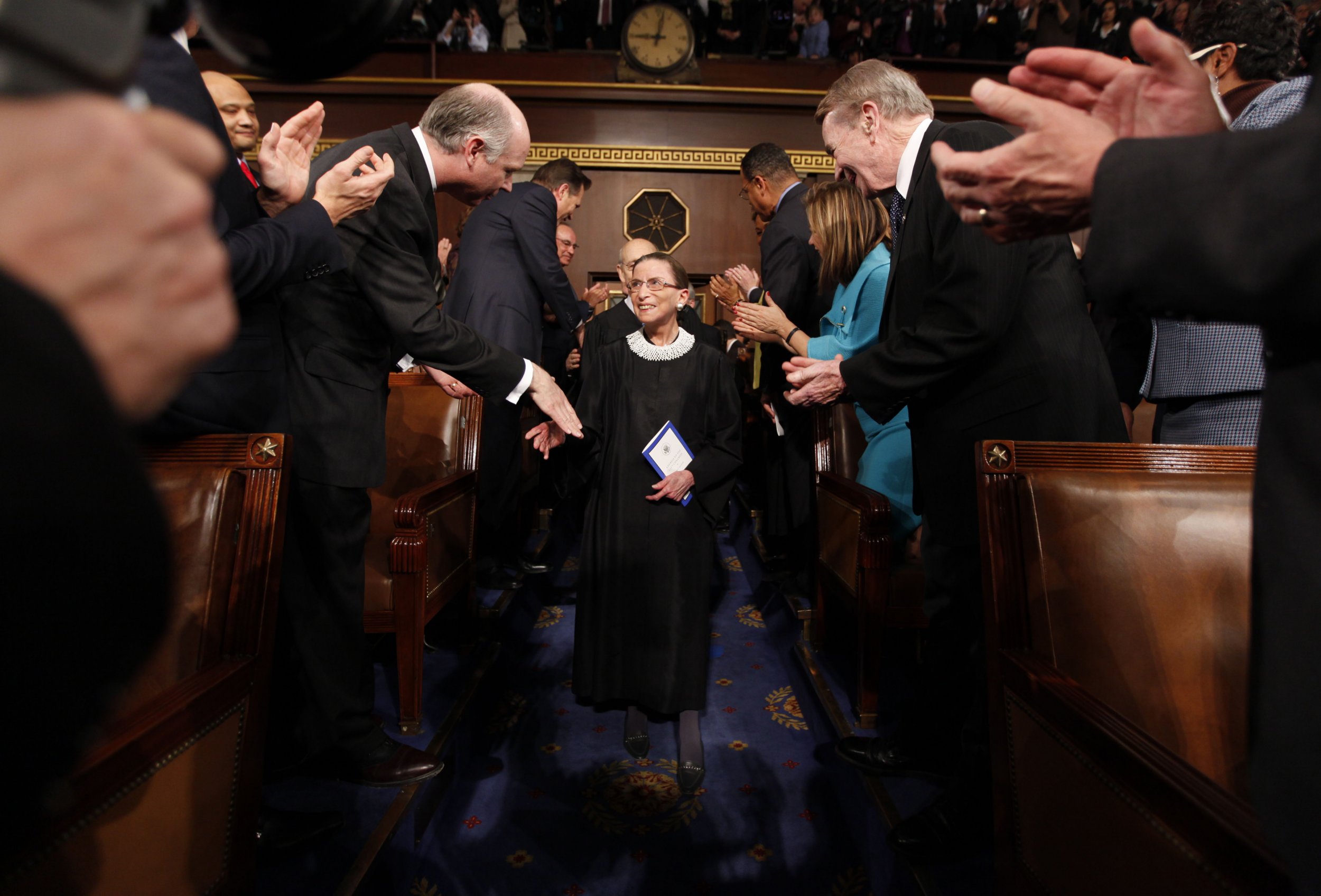 Ruth Bader Ginsburg never made it to her own high-school graduation to deliver the remarks she was supposed to give there. Her mother died of cancer just two days before the ceremony. Ruth stayed home. More than 40 years later she alluded to this loss when she accepted her nomination to the U.S. Supreme Court.
"I have a last thank-you," the petite judge said in the Rose Garden in June 1993, with President Bill Clinton at her side and the microphones on the podium angled down to accommodate her small stature. "It is to my mother, Celia Amster Bader, the bravest, strongest person I have known, who was taken from me much too soon," she said in a slow, measured voice. "I pray that I may be all that she would have been, had she lived in an age when women could aspire and achieve, and daughters are cherished as much as sons."
A copy of the speech appears roughly halfway into the new book, My Own Words, a collection of the justice's writings and remarks curated by Ginsburg and her biographers Mary Hartnett and Wendy W. Williams. Ginsburg wrote the book's preface, while Hartnett and Williams contextualize each part and the selections, which include law review articles, speeches, briefs and dissents. Published Tuesday, it's Ginsburg's first book since she became a justice two decades ago. In a career spanning seven decades, Ginsburg has used her words to promote equality and stem discrimination as well as to express gratitude and to celebrate others who did so before and with her.
The "Notorious RBG," as she's often been called since a blog by the same name was launched in 2013, embodies the role of a "pathbreaking attorney," as Clinton called her that day in the Rose Garden, and more broadly than that, a pathbreaking woman. She got married and had children, as she and her peers were expected to do. But despite antiquated views about the role of women in society in the 1950s, and more subtle sexism in later decades, she also went to law school, graduated at the top of her class, became an influential lawyer, helped found the ACLU's Women's Rights Project, argued gender discrimination cases in front of the Supreme Court, became a judge and then became the second female Justice and the first Jewish woman to serve on the Supreme Court.
Still, in the speeches and articles reprinted in My Own Words, RBG is very often pointing to others who raised and shattered ceilings, paving the way for herself and others. Belva Ann Lockwood, the first woman to argue a case before the Supreme Court and one of the first to run for president, "used wit, ingenuity, and sheer force of will to unsettle society's conceptions of women as weak in body and mind," Ginsburg told the Women's Bar Association of Maryland in 2014. She is inspired by Emma Lazarus, draws strength from the words of Anne Frank, learns from Sandra Day O'Connor and lauds Gloria Steinem. When speaking of her successful arguments in gender discrimination cases before the Supreme Court in the 1970s, she makes sure to point to the plaintiffs who filed those suits.
Ginsburg's status as a pop culture icon is ironic for someone who so often deflects attention to others. This reveals a great deal about her own character: She appears humble, she believes anyone can play an important role in making changes in society and she trusts that every effort works in concert with others to forge incremental movement.
And yet, many will point right back at Ginsburg as a source of strength. In one selection, a 1971 piece for the Rutgers Law Review titled "Women and the Law, A Symposium Introduction," Ginsburg wrote about the pervasive sexism of her era, saying that even "books for the nursery and kindergarten audience continue to encourage achievement for boys and passivity for girls." Nearly half a century later, RBG herself has become the subject of a very different kind of book. I Dissent: Ruth Bader Ginsburg Makes Her Mark, geared toward ages 4 to 8, was published just two weeks before My Own Words, on September 20. The picture book tells a simplified version of Ginsburg's story, with a particular focus on how she faced and later fought against discrimination. It comes less than a year after Notorious RBG: The Life and Times of Ruth Bader Ginsburg, a tribute to the cultural icon, complete with biographical details, annotated briefs and dissents and memes, tattoos, cartoons and costumes she's inspired.
My Own Words is perhaps the most straightlaced of this trio. There is an occasional selection that might lose those not interested in judicial wonkery, and the book's structure as a collection makes it easy to drop off partway through. But overall, the volume is exceedingly readable, thanks to Ginsburg's characteristically precise and unembellished prose—she told the Senate in the opening statement of her confirmation hearing that she would "strive to write opinions that both 'get it right' and 'keep it tight.'"
Though some might have considered her a "sober judge," as Hartnett and Williams write, Ginsburg's words reveal an endearing wit and occasional sass. She calls out judges who use "spicy statements"—expressions she says "generate more heat than light." She reserves her own pointed phrases for her most vociferous dissents. In the 2013 voting rights case Shelby County v. Holder, for example, she famously wrote that "throwing out preclearance when it has worked and is continuing to work is like throwing away your umbrella in a rainstorm because you are not getting wet."
As former President Clinton said when he announced his 1993 Supreme Court nomination, "what's in her record speaks volumes about what is in her heart." What's in My Own Words offers but a few short glimpses into a decades-long career that isn't over yet, but it seems to capture the gist of Ginsburg's long record, and leaves with the reader a strong sense of a woman who has been instrumental in propelling the U.S. toward an age when men and women of any race or religion can truly aspire and achieve. Her love for a mother who never had a chance to achieve her potential continues as a passionate commitment to equality and justice, so that no one else has the same experience.
The current presidential election—with one candidate who spews racist, sexist views standing opposite the first female candidate for a major political party—is a reminder of the need for that commitment. Even Ginsburg, who as a justice is supposed to stay out of politics, couldn't help but warn against Donald Trump. "I can't imagine what this place would be—I can't imagine what the country would be—with Donald Trump as our president," she told The New York Times. "For the country, it could be four years. For the court, it could be—I don't even want to contemplate that." After reading so many of Ginsburg's words, it's not hard to see why she'd consider Trump a threat to everything she's championed, and to America itself.