Khing Hnin Wai is a physical education instructor living in Pyinmana, Myanmar. According to her Facebook profile, she was doing her regular workout routine on Monday morning, which she recorded, when vehicles began racing toward the Parliament for a coup d'état.
The military, also known as the Tatmadaw, has disputed November's election results, claiming there was fraud in the election. No proof of the alleged fraud has been put forward.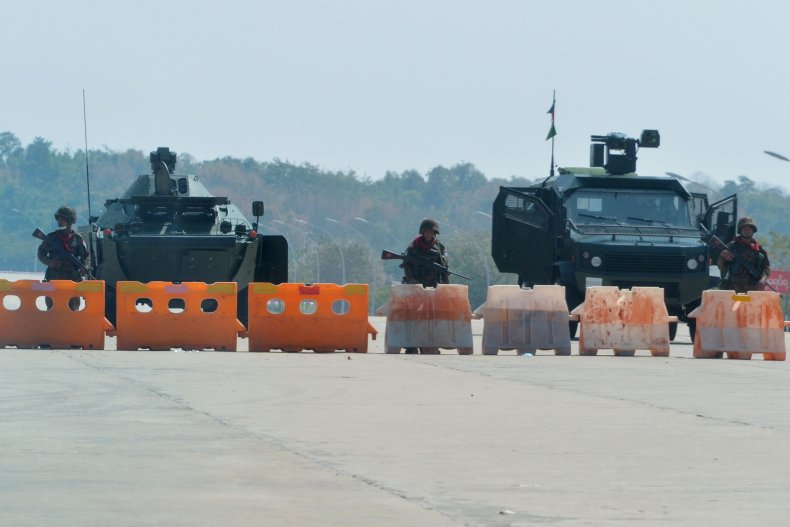 The three-minute video of Khing Hnin Wai went viral on social media, her cardio-pumping moves juxtaposed the Myanmar military rapidly arriving to seize control from the country's government. She doesn't pause her movements once as cars race toward the blockaded road to Myanmar's parliament behind her.
Reactions began to spread across social media as the world watched Khing Hnin Wai's instruction against the background of a democracy in crisis, gaining over 40,000 upvotes on Reddit.
Reddit user General_Valentine translated a post on Khing Hnin Wai's Facebook she wrote regarding the incident, which has over 1,000 comments and nearly 9,000 shares. The post reads:
"Well, the music/tunes and the background definitely complement each other. Before I knew about this news in the morning, I was doing my normal thing and was recording a video for a competition. I guess this video is now my little keepsake! As I was dancing, helicopters were going whirl-whirl-whirl, cars going vroom-vroom. With all the guns, I thought someone was aiming at me from a distance. The police chiefs were just smiling and looking at me, even asking me if I was going home and bid me farewell. Please do not copy and paste my video though!"
A few social media reactions questioned the authenticity of the video, however Khing Hnin Wai has a number of other workout videos posted to her Facebook profile shot in the same location, according to a follow-up post she published on Monday. Khing Hnin Wai said in the second post the dancing video was for a competition, and she did not continue her dancing as a "joke," nor in the effort to gain "celebrity." She added she did not think the video would ever go viral.
The normalcy of Khing Hnin Wai's workout contrasts with the disruption the coup caused in the country. Television signals were cut nationwide, and phone and internet access was lost in the Southeast Asian country's capital city, Naypyidaw, the Associated Press reported. Naypyidaw is about 10 miles from Pyinmana, or about a 20-minute drive.
The coup is President Joe Biden's first international crisis. White House press secretary Jen Psaki issued a statement that the U.S. opposes the military obstructing Myanmar's "democratic transition." The military claims its actions were legal, according to the Associated Press.
Newsweek has reached out to Khing Hnin Wai for a comment but did not hear back in time for publication.