Myanmar's Health Care Workers Protest Coup as Suu Kyi Charged for Possessing Walkie-Talkies
Health care workers across Mynamar are protesting a military coup that overthrew the country's top elected leader on Monday, Aung San Suu Kyi, over unsubstantiated claims that she was elected due to voter fraud.
The Mynamar Military has since accused Suu Kyi of illegally importing walkie-talkies into the country—an offense that they say could be met with three years in prison.
The military takeover has sparked widespread protests across Mynamar, a country formerly known as Burma, and it has drawn condemnation from the United States and other Western nations.
Government doctors and health care workers across 70 hospitals in 30 towns have since mobilized an anti-coup protest movement. Some have even threatened to stop working amid the ongoing coronavirus pandemic until peace is restored in the nation.
"We cannot accept dictators and an unelected government," Myo Thet Oo, a doctor participating in the campaign, told Reuters. "They can arrest us anytime. We have decided to face it.… All of us have decided not to go to the hospital."
Other health care workers took to the streets with signs saying, "Dictatorship must fail," and using a three-finger salute taken from the Hunger Games movies, which has become a symbol of pro-democracy movements in neighboring Thailand.
"We want to show the world we are totally against military dictatorship and we want our elected government and leader back," said Dr. Zun Ei Phyu, according to ABC News. "We want to show them we will follow only our elected government. Not the military."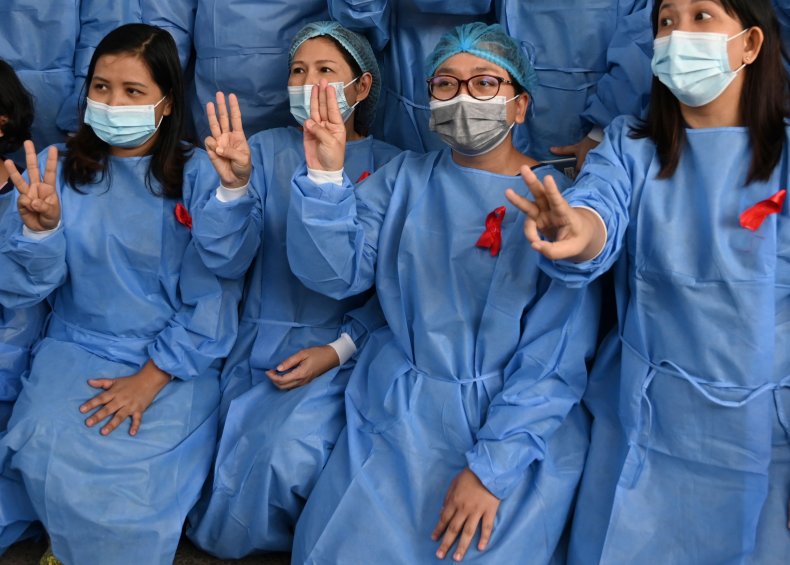 Some health care workers who have gone on strike have begun volunteering at charity health clinics to provide a space where people can still receive care during the protests.
"We give free treatment and medicine to anyone who is in need," Zun Ei Phyu told ABC News.
The protests come after military troops launched raids against democratically elected leaders of the governing National League for Democracy (NLD) party, including Nobel laureate Suu Kyi and President Win Myint.
The coup followed months of growing tensions between the military and the civilian government since the nation's elections were held in November. Military leaders, who hold 25 percent of the government's parliamentary seats, have claimed without evidence that the NLD won the election due to voter fraud.
The coup was led by Army chief General Min Aung Hlaing, who has since declared a one-year state of emergency and has promised to hold fair elections, but has not indicated when.
On Wednesday, the Mynamar Military charged Suu Kyi for illegally importing communications devices into the country, including at least six walkie-talkies, Reuters reported.
Charles Santiago, the chair of the Association of Southeast Asian Nations Parliamentarians for Human Rights, called the new charges "ludicrous."
"This is an absurd move by the [military] to try to legitimize their illegal power grab," he said in a statement.
President Joe Biden has since condemned the military coup and called the takeover "a direct assault on the country's transition to democracy and the rule of law."
"In a democracy, force should never seek to overrule the will of the people or attempt to erase the outcome of a credible election," the president said in his first statement on the issue.
"For almost a decade, the people of Burma have been steadily working to establish elections, civilian governance, and the peaceful transfer of power. That progress should be respected," he added.