MyPillow CEO Mike Lindell Announces Probe Into Zuckerberg, Dorsey, Says They're 'Going to Jail'
MyPillow CEO Mike Lindell is investigating Facebook CEO Mark Zuckerberg and Twitter CEO Jack Dorsey, promising that both would go to jail.
During a Monday appearance on The Domenick Nati Show, Lindell announced that he had hired a team of investigators to look into Zuckerberg, Dorsey and others that he believes are guilty of "criminal activity." He said that he initially believed Zuckerberg's activities were only "immoral" before his investigators allegedly discovered unspecified "criminal things" that the Facebook CEO had taken part in.
"Mark, you're going to jail along with Jack Dorsey, you know you are," said Lindell. "I mean these guys are sick. What is wrong with them? ... Jack Dorsey is involved in a lot of evil. They took my Twitter, they were running my Twitter, not just take it down."
"My friends were calling up saying 'Mike, are you ok with the election now?'" he added. "I go 'no.' Well here they were, retweeting things, making it look like Mike Lindell was ok with stuff."
An ardent supporter of the false conspiracy theory that former President Donald Trump lost the 2020 presidential election due to massive voter fraud, Lindell warned Zuckerberg that he would be joining Dorsey in jail while claiming that Twitter had at one point hijacked his account to post content that falsely made it appear he was "ok" with the outcome of the election.
"I'm also going after all the people that hire these hit jobs, like the cancel culture," Lindell said. "Who's behind that? I have big teams investigating that, I've put in a lot of money. I want to find out who orders the code red, so to speak? Who orders this stuff? Who's out there that attacks my Twitter, Facebook, my Instagram, my Wikipedia?"
"By the time I get done, there's gonna be lawsuits, I'm telling ya," added Lindell. "Jack Dorsey, Mark [Zuckerberg] from Facebook, all these people... I'm not letting up and we're going to find out who thinks they can get by with canceling people."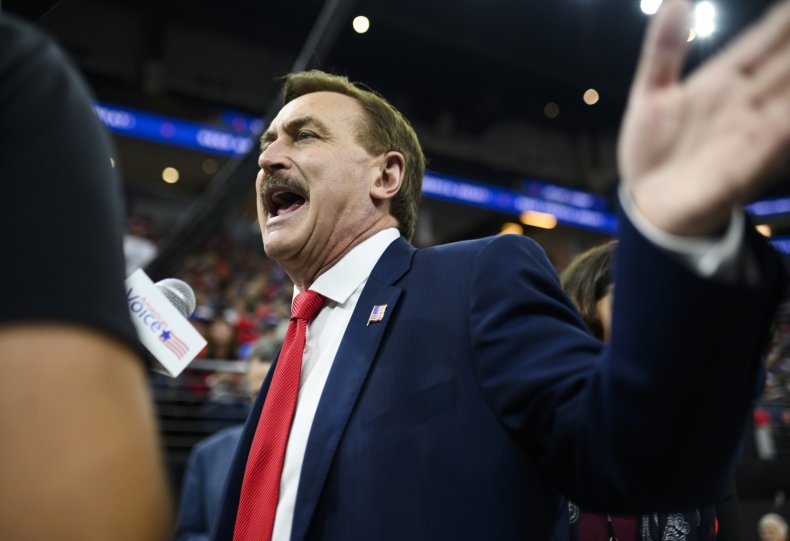 Lindell is fighting a $1.3 billion defamation lawsuit from Dominion Voting Systems. The lawsuit was launched after Lindell persisted in tying the company to the election conspiracy theory, an obsession that also led to his permanent ban from social media platforms including Twitter. Lindell said that lawsuits against Dorsey, Zuckerberg and others he believes are involved in cancel culture could soon be on the horizon.
Lindell predicted that his legal issue with Dominion would be decided by the Supreme Court in a "9-0" ruling in his favor. Lindell boasted that celebrity lawyer Alan Dershowitz had joined his legal team. Dershowitz clarified in a Monday conversation with Newsweek that he was not personally representing Lindell but was acting as a consultant on First Amendment matters to Lindell's law firm.
Google and Wikipedia, which he called "one of the most evil organizations in history," also came under fire from Lindell. He said that both companies unfairly blocked him from promoting his documentary Absolute Proof, a two-hour video focusing on the election fraud conspiracy that contains no proof of the alleged fraud.
Lindell went on to say that he believes Trump will be back in the White House "long before 2024," although he did not explain how. He teased that his own social media platform, an alternative to Twitter, Facebook and YouTube, would be ready to launch in "10 to 14 days."
Newsweek reached out to Facebook and MyPillow for comment.
A Twitter spokesperson declined to comment on Lindell's claims but told Newsweek in a statement that Lindell's account had been "permanently suspended for multiple violations of our civic integrity policy."
Update 3/16/21, 9:44 p.m.: This article has been updated to include a statement from Twitter.