MyPillow CEO Mike Lindell 'Hopes' Trump Will Instruct Military to Help Him Stay in Power
MyPillow CEO Mike Lindell has expressed hope that President Donald Trump will instruct the military to help him hold onto power before President-elect Joe Biden's inauguration.
Trump finally acknowledged Biden's win after a mob of supporters stormed the U.S. Capitol on January 6, after spending two months alleging that widespread voter fraud caused his defeat. Polls show that a majority of Republicans believed his baseless claims, with some staging protests in various parts of the country demanding a second Trump term.
In a recent interview with Right-Side Broadcasting News (RSBN), Lindell insisted that he's seen evidence that the election was stolen from Trump, in what he called the "biggest election fraud in human history." He also said he hopes that the president will order the military to help him stay in power.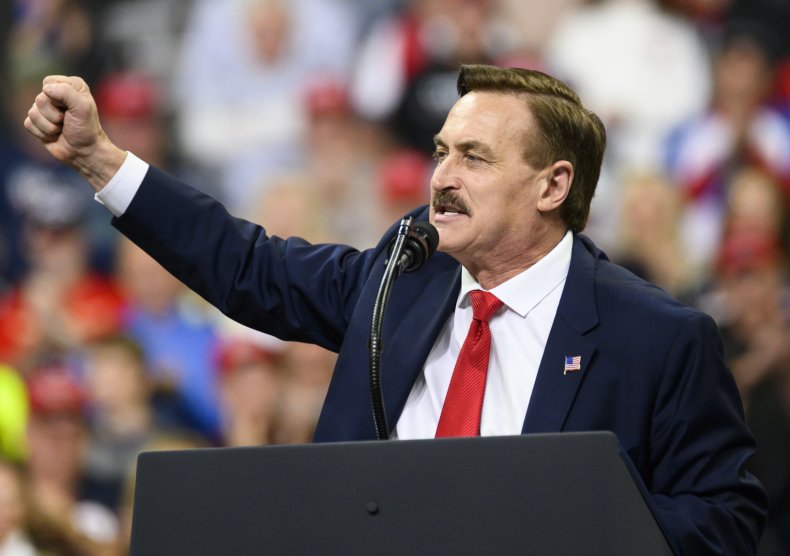 When RSBN interviewer Brian Glenn suggested that "people are hoping this military presence is a response" to alleged widespread voter fraud, Lindell responded: "That's where my hope lies."
"You know there's like three people and every other person's a military guy," Lindell said of the increased military presence following the Capitol riot. "We've all had our prayers going, 'Gee maybe somethings gonna be done that this president is willing to say hey we've been attacked by another country cause we have. Our country's been under attack for a long time.'"
Earlier in the interview, Lindell said he told Trump's lawyers that "China and other countries" were involved in the alleged voter fraud.
"God's got his hands in all this and all this stuff will be revealed," he added.
Lindell, one of Trump's most loyal and vocal public defenders, faced backlash on social media this week after a photo of him heading into a meeting with Trump showed him carrying notes that read, "martial law if necessary."
During his interview with RSBN, Lindell discussed his brief meeting with Trump. "I wanted to get it to the president. This is it. This shows that Joe Biden lost: 79 million for Donald Trump and 68 million for Joe Biden," he said.
He also addressed the backlash over his notes, saying that the words "martial law" and "insurrection act" were part of a list of legal options that he presented to Trump.
"Here's all his options he could do," Lindell said. "Basically it laid out all the options. One of the things the president really liked on there was Google, Facebook, Twitter. He has the authority to order them to [give] everybody's back their Facebook and their Twitters."
Since the November election, Lindell has repeatedly insisted that Trump will remain president despite Biden securing over 270 Electoral College votes. "I want the word to get out that Donald Trump will be our president for the next four years," he told Fox News in December.
Lindell has also repeatedly accused the network of conspiring to overthrow the president. "We cannot give up ever on this," he told a pro-Trump crowd at a "Stop the Steal" rally in December. "This is a spiritual warfare in our country and in the world."
Newsweek reached out to the Mike Lindell's representatives for further comment.
This story has been updated to include further remarks by Lindell to RSBN.