MyPillow CEO Mike Lindell has hired private investigators to probe Fox News' failure to recently invite him on air to discuss false claims of massive fraud in the 2020 presidential election.
Lindell said that Fox News was one several entities being investigated for alleged involvement in an election fraud conspiracy against former President Donald Trump during a Friday appearance on former Trump adviser Steve Bannon's War Room: Pandemic podcast. He suggested that Fox's recent reluctance to discuss election fraud claims against voting software and hardware companies Smartmatic and Dominion Voting Systems was suspicious.
Smartmatic filed a $2.7 billion lawsuit against the network for allegedly spreading election misinformation in February. Dominion has sued both Fox and Lindell for the same reason, seeking $1.6 billion and $1.3 billion, respectively.
"Why is Mike Lindell not on Fox and why do they seem to say, 'Hey, when Dominion says something, we're just going to shut up about it and talk about Biden's tax bill?'" Bannon asked, in a clip surfaced by Right Wing Watch, a project of the progressive group People for The American Way.
"Well, you know, I'm going to have those answers soon, because I've hired private investigators and I've spent a lot of money on them to investigate everything," responded Lindell. "The bots and trolls, who's behind them? Why is Facebook involved, Wikipedia involved? And then the big question: why isn't Fox having people on? Why isn't Fox on there talking about Dominion and Smartmatic and the election fraud?"
More than five months after the 2020 election, Lindell has remained a steadfast supporter of Trump's false claims that massive fraud was to blame for his defeat to President Joe Biden. In February he produced a documentary titled Absolute Proof, which contained no proof of massive fraud and was promptly banned from YouTube and other mainstream platforms.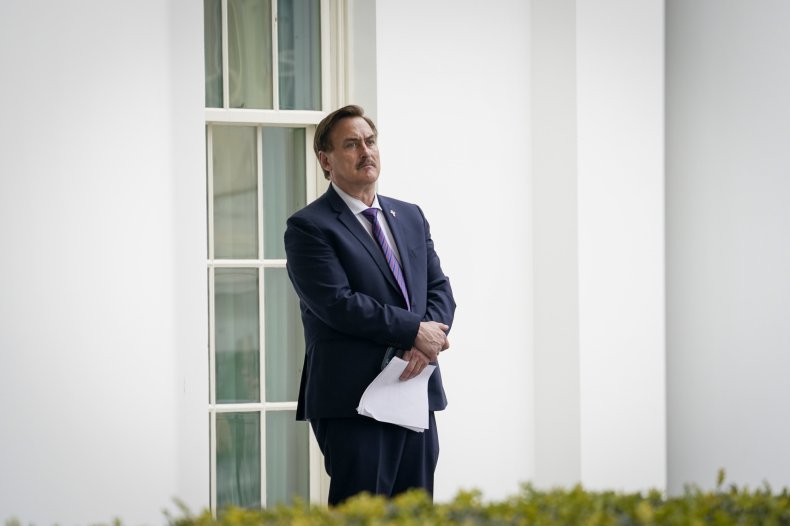 Although Lindell has not appeared as a guest to discuss his election claims on Fox News for months, MyPillow has continued to be one of the network's major advertisers, with ads featuring Lindell frequently playing during top shows like Tucker Carlson Tonight.
Lindell has previously announced multiple investigations against individuals and organizations that he believes have either targeted him personally or are involved in the alleged election fraud. Last month, he promised that Facebook and Twitter CEOs Mark Zuckerberg and Jack Dorsey would be "going to jail" for unspecified "criminal activity."
A February interview on rival network Newsmax ended early when Lindell refused to stop promoting the fraud claims despite being told by anchor Bob Sellers that the network had "not been able to verify" any of the allegations. Sellers walked off the set as Lindell continued to shout about the alleged fraud.
During a March 22 interview on The Eric Metaxas Radio Show, the MyPillow CEO suggested that Fox News' reluctance promote the claims after being sued could be an indication that the network was "in on" the fraud.
"Here's things that don't make sense, everybody: let's just talk about Fox," said Lindell. "You're already sued. It's too late to close the gate, the cows are out of the barn. Why can't people go on there and say their free speech, then? You're already sued, Fox, what do you have? What, are you going to get double sued?"
"What's the matter with you?" he added. "What, are they in on it? I don't get it."
Newsweek reached out to Fox News for comment.