MyPillow products are still being stocked by retailers such as Amazon and Costco after its CEO Mike Lindell said several companies had stopped selling its goods.
Bed Bath & Beyond, Kohl's, H-E-B and Wayfair have all stopped stocking MyPillow amid the controversy surrounding Lindell's support for former President Donald Trump.
Lindell continued to make false claims that Trump won the election, even after the Capitol riot on January 6, leading to calls for companies to drop the brand.
Last week, Lindell told Right Side Broadcasting Network's Brian Glenn: "They're trying to cancel me out. These guys don't understand ... they're scared. Like Bed Bath & Beyond, they're scared."
However, Bed Bath & Beyond and Kohl's both said they stopped stocking the brand because of poor sales, rather than for political reasons. MyPillow products are marked as "currently unavailable" on the Macy's website, though the retailer has not commented on the reasons.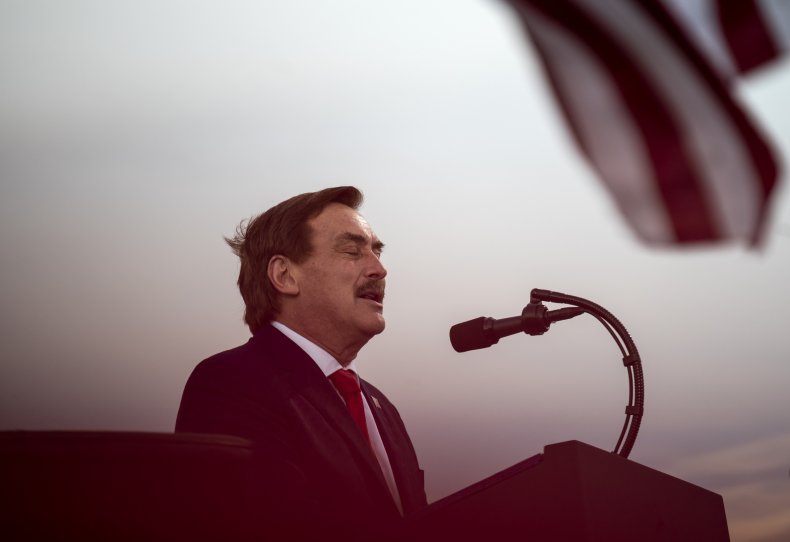 Other retailers will continue to stock MyPillow, including Costco. A spokesperson for Costco told SFGate: "We have contractual commitments to MyPillow that we intend to honor, as we seek to do with all of our suppliers."
At the time of writing, MyPillow products are still appearing on retailers' websites including Amazon, Walmart, CVS, Lowe's, Home Depot and BJ's Wholesale.
These retailers have not made an announcement about the brand. Lindell told USA Today that BJ's Wholesale had cancelled some orders but would continue to sell MyPillow products.
Newsweek has contacted Amazon, Walmart, CVS, Lowe's, Home Depot, BJ's Wholesale and Macy's for comment.
Among those calling for retailers to drop MyPillow was the activist group Sleeping Giants, which asked Bed Bath & Beyond, Amazon, Lowe's and Walmart if they would continue to sell the products "after their CEO called for the insurrection and played a role in supporting it last week?"
More than 60,000 people have signed a petition calling for Amazon, Walmart, Costco and Bed Bath & Beyond to stop selling the products. The petition's web page reads: "Today 01/15/2021 the MyPillow founder met with President Trump and suggested instituting martial law after the twice impeached president staged a coup.
"Time to tell our major retailers to stop selling his products. We will not support funding insurrectionists!"
The MyPillow CEO posted false claims about the election on social media as recently as Monday, January 25, when he retweeted a screenshot of a Parler post perpetuating baseless fraud claims.
On January 16, he shared supposed evidence of voter fraud, tweeting: "Here is one page of hundreds that prove President Trump got around 79m votes to 68m votes for Biden! Everyone should want the truth!"
The post was flagged by Twitter and now displays the following message: "This claim of election fraud is disputed, and this Tweet can't be replied to, Retweeted, or liked due to a risk of violence."