Mystery Deepens Over Death of U.S. Man Elliot Blair in Mexico
The investigation into the death of a California-based attorney while on vacation in Mexico has become more complicated after the results of a U.S. autopsy were released and his wife revealed they had to pay police just hours before he plunged to his death.
Elliot Blair, a 33-year-old Orange County public defender, died in January after allegedly falling from the balcony of a hotel in Rosarito on the Pacific coast of Mexico, local media reported at the time. Blair was on a trip to Mexico with his wife celebrating their first wedding anniversary.
He was found dead at the Las Rocas Resort and Spa on January 14 below the room the couple were staying in, wearing only his underwear, T-shirt and socks.
Although Mexican authorities have insisted that Blair fell from the balcony by accident, his wife, Kimberly Williams, and friends have publicly said that they believe he was murdered. Williams, who is also an Orange County public defender, said in an interview with ABC News' Good Morning America on Thursday that she believed "somebody did this to him."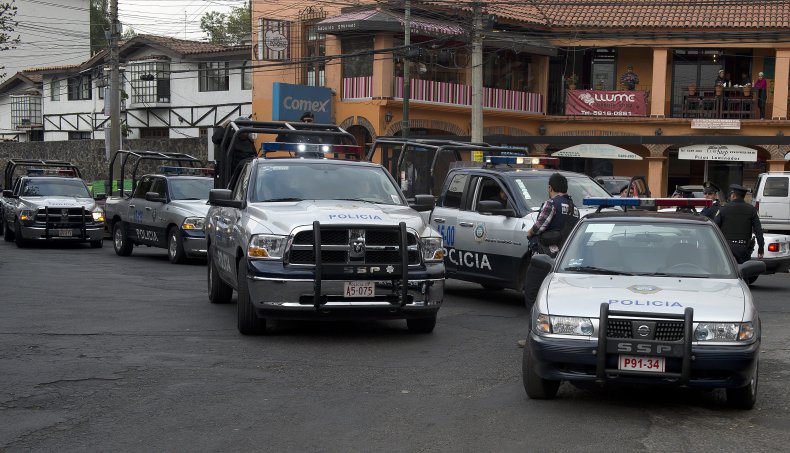 Williams also revealed that on the evening of her husband's death the couple were stopped by police, who claimed they went through a stop sign. She said the officers asked for money but Blair explained they didn't have the amount of cash the police wanted. Williams said another officer asked where the couple were staying and Blair told them, before explaining that they worked as attorneys. Williams said they eventually paid the police $160—all the cash they had—and then they were let go.
"We were both rattled," she said. "But at the same time we both had this feeling of thank God they didn't do anything more to us."
Later that night at the hotel, the couple went up to their room and Blair took a shower while Williams got into bed where she fell asleep, Williams said. She said she was later woken by a security guard and hotel manager asking if it was her "boyfriend down there," on the ground 20 to 25 feet below the room. Emergency workers confirmed it was Blair and he was declared dead at the scene.
An autopsy conducted in the U.S. has revealed that the lawyer had 40 fractures to the back of his skull. However, the pathologist did not rule on a cause of death, and the full report could take five or six weeks to be published, lawyer Case Barnett said, according to the Los Angeles Times.
In a previous interview with the paper, Barnett said a plainclothes detective wearing a badge told Williams Blair had a bullet wound in his head. Williams said in the ABC News interview that authorities have claimed he died by "accident" or by "suicide."
Mexican authorities attributed Blair's death to an accidental fall. An autopsy conducted by Baja California's Forensic Medical Service ruled that Blair died of a traumatic brain injury and that he had a "considerable" amount of alcohol in his blood.
However, on Thursday, Barnett said a private autopsy report produced in Mexico and ordered by the family, dated January 14, said Blair died by "aggravated homicide."
Dr. Rami Hashish, a biomechanical expert hired by Blair's family to review the report images, said the evidence that the lawyer died by accident was weak.
"There's bruising marks on the body. There's indications of [potentially] being dragged on the front of the body. There's fractures to the back of the skull," said Hashish. "Nothing really points to the fact that it was necessarily an accident."
Newsweek has approached Barnett for comment.