Mystery Surrounds Pressure Drops Hitting Russia's Two Nord Stream Pipelines
Mystery surrounded a sudden drop in pressure in Russia's controversial Nord Stream pipelines Monday evening as gas leaked into the Baltic Sea.
The two Nord Stream pipelines emerged as a tense point in relations between Russia and the rest of Europe amid the Russia-Ukraine war. Many Western nations have sanctioned Russian oil, leading to economic unease and higher gas prices in a bid to weaken Moscow's economy. The pipelines were intended to transport gas from Russia to Germany across the Baltic Sea.
On Monday, gas from the Nord Stream 2 pipeline—which had its construction halted in February prior to Russian President Vladimir Putin launching an invasion on Ukraine—spilled into the Baltic Sea near Denmark after experiencing a drop in pressure, according to a report from Reuters.
The Nord Stream 1 pipeline—which has been shut down for weeks—also experienced a pressure drop on Monday, Reuters reported.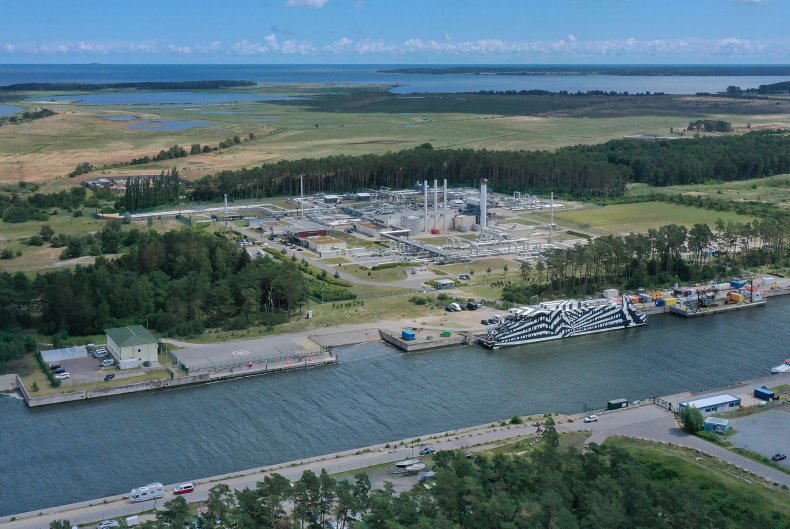 The cause of the pressure drops remains unclear at the time of publication.
Nord Stream, the company that operates the pipelines, said on its company website that the "reasons are being investigated" but offered no further details.
German officials said they were not sure of what caused the drop in pressure, but that their oil supply remained secure, according to Reuters. Meanwhile, Danish authorities directed ships to stay away from the area of the spill.
"We are currently in contact with the authorities concerned in order to clarify the situation. We still have no clarity about the causes and the exact facts," Germany's Ministry for Economic Affairs and Climate Action of Germany said in a statement reported by Reuters.
Nord Stream Pipelines Long Sore Spot Between Russia, West
Russian state-owned company Gazprom shut down the Nord Stream 1 pipeline earlier in September, with Russia vowing to not resume operations until the West lifts sanctions against Russia. Amid the Ukraine war, many Western nations have imposed sanctions against Russia intended to add pressure to end the conflict.
Gazprom also cited the need for maintenance work and "malfunctions" in their initial decision to shut down the pipeline. The shutdown has created an energy crisis for much of Europe, which has long relied on Russian energy and needs natural gas to heat homes and businesses during the winter.
Before Russia halted Nord Stream 1 operations, the Kremlin, seeing economic struggles amid the war, sought to convince Europe to start up the Nord Stream 2, however the Western sanctions remain intact.
Newsweek reached out to Nord Stream AG for comment.