An upscale hotel complex in Kenya's capital has been targeted in an attack on Tuesday by suspected militants, with the Al-Qaeda-linked group Al-Shabab claiming responsibility.
Blasts and heavy gunfire were heard at the complex in Nairobi's Westlands neighborhood, which includes a large hotel known as DusitD2.
Related: Al-Shabab militants attack Somalia's capital
The area also has banks and offices, and there are believed to be numerous casualties, the Associated Press reported.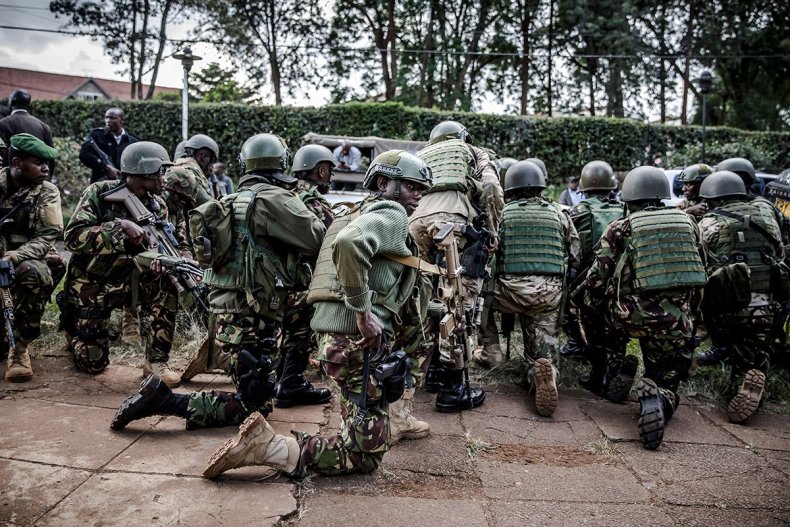 Witness Robert Murire told AP he saw attackers wearing green and wrapped in ammunition. He said there were at least two bodies at the scene of the attack.
Witness Charles Njenga told AP, "It is terrible. What I have seen is terrible. I have seen a human as I ran out and there is what looks like minced meat all over."
Emergency services raced to the scene, and people were seen being hurried out of the complex by security forces.
Police spokesman Charles Owino said: "We have sent officers to the scene, including from the anti-terrorism unit, but so far we have no more information."
In a tweet, the Kenya Police Service said: "We wish to confirm that there has been an attack incident along 14 Riverside Drive. The area has since been cordoned off. Motorists are advised to use alternative routes to facilitate smooth operations of the Police."
The U.S. Embassy in Nairobi issued an alert via Twitter and retweeted a warning from the State Department urging Americans to avoid the Westlands neighborhood where the complex is.
The attack comes three years to the day that extremists attacked a Kenyan military base in Somalia. The militants object to the presence of Kenyan troops in the neighboring country.
Nairobi was the scene of a brutal attack in 2013, when Al-Shabab militants stormed the luxury Westgate Mall and launched a siege that left 67 people dead.