Naked Protesters in Rochester Wear 'Spit Hoods' to Protest Daniel Prude's Death
A group of protesters stood naked outside a building in Rochester, New York to protest the death of an unarmed Black man.
Some of the demonstrators wore nothing but "spit hoods" as they gathered outside the Public Safety Building to protest Daniel Prude's death, WHEC reported.
A spit hood, which is designed to protect police from saliva, had been placed on Prude's head by Rochester Police officers while they detained him on March 30.
Josh Navarro, a reporter with News 8 WROC, tweeted that the protesters are demanding that police no longer respond to mental health calls.
A video released by Prude's family last week showed him naked as he was restrained on a street by several officers.
His face was pressed into the pavement for two minutes, according to The Associated Press, and he died a week later after being taken off life support.
The Monroe County Medical Examiner's Office ruled Prude's death a homicide caused by "complications of asphyxia in the setting of physical restraint." The report listed excited delirium and intoxication by phencyclidine, or PCP, as contributing factors.
Protests erupted in Rochester after the video's release, some of which have led to clashes between demonstrators and police.
It prompted Rochester Mayor Lovely Warren to suspend the seven officers who were involved in Prude's death.
But large protests have continued, fueled by anger about why the details of Prude's death were not revealed sooner.
Protesters are also calling for Warren and Police Chief La'Ron Singletary's resignation, according to The Rochester Democrat & Chronicle.
Rochester Police said in a news release that more than 1,000 demonstrators had gathered in downtown Rochester on Sunday night.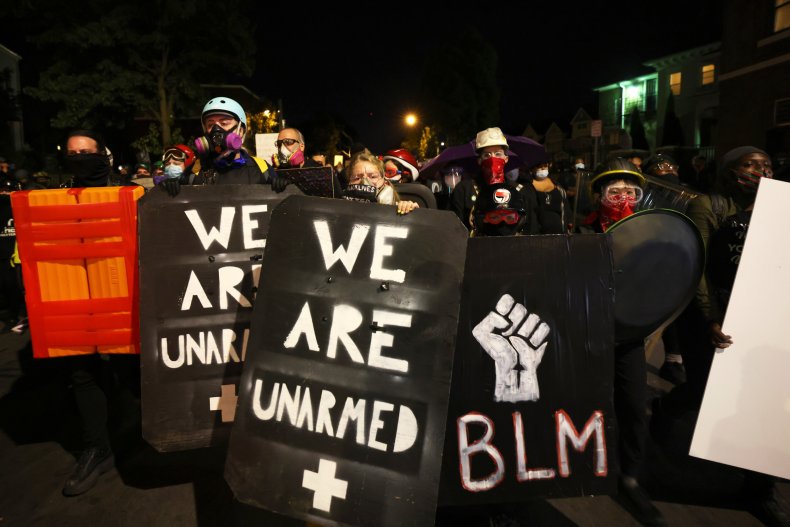 That demonstration stayed peaceful and no arrests were made, but Saturday night, police deployed pepper balls and tear gas to disperse crowds. Rochester Police said officers "were hit with rocks and incendiary devices."
The New York Civil Liberties Union (NYCLU) condemned the use of "military tactics" by police—and said it illustrated why police departments need reform.
"Rochester police have sworn to serve the people of Rochester, not violently suppress dissent with military tactics," NYCLU executive director Donna Lieberman said.
"RPD's violent overreach shows just why our national conversation about reimagining policing is so important and so urgent."
In a news conference on Sunday, Warren vowed to reform the city's police department. She did not disclose specifics, but said a series of reforms are planned for "the coming weeks, months and years."
Warren also said she would work to improve Rochester's response to mental health crises and backed Singletary as the right person to head the city's police department, according to the Democrat & Chronicle. The police chief said he had no plans to resign.
It came after New York's attorney general Letitia James announced a grand jury will investigate Prude's death.
"The Prude family and the Rochester community have been through great pain and anguish," James said in a statement on Saturday. "My office will immediately move to empanel a grand jury as part of our exhaustive investigation into this matter."