Nancy Mace Hits Back at Marjorie Taylor Greene Over 'Racist' Defense for Lauren Boebert
Republican Representatives Nancy Mace and Marjorie Taylor Greene sparred on Twitter Tuesday, leading Mace to hit back at Greene for defending anti-Muslim remarks made about Democratic Representative Ilhan Omar.
The feud between the two lawmakers began when Greene shared a CNN interview of Mace blasting GOP Representative Lauren Boebert for implying in a recent video that Omar, who is Muslim, is a terrorist.
During that interview, Mace criticized Boebert, stating that she condemns "colleagues on both sides of the aisle for racist tropes and remarks that I find disgusting."
In response, Greene on Tuesday defended Boebert and called Mace "the trash in the GOP Conference."
"Never attacked by Democrats or RINO's (same thing) because she is not conservative, she's pro-abort. Mace you can back up off of @laurenboebert or just go hang with your real gal pals, the Jihad Squad. Your out of your league," Greene said of her fellow Republican colleague.
Minutes later, Mace hit back with a tweet of her own, which began with her correcting Greene's grammar.
"*you're," she wrote. "And, while I'm correcting you, I'm a pro-life fiscal conservative who was attacked by the Left all weekend (as I often am) as I defied China while in Taiwan. What I'm not is a religious bigot (or racist). You might want to try that over there in your little 'league.'"
The spat between the two lawmakers comes just one day after Boebert and Omar connected over the phone to discuss an apology for Boebert's anti-Muslim comments, which included calling Omar an advocate for "state-sponsored terrorism," a member of the "Jihad Squad," and an "honorary member of Hamas."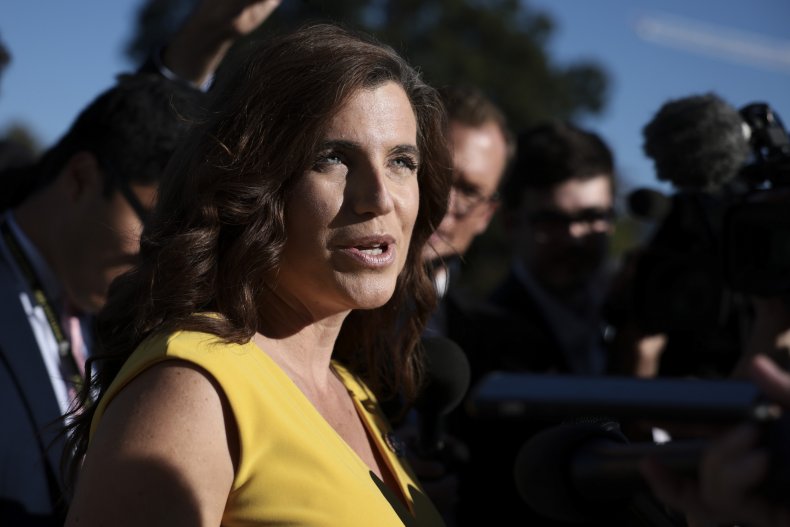 However, the phone call ended contentiously, with Omar hanging up after claiming that Boebert "doubled down" on her offensive remarks.
"Instead of apologizing for her Islamophobic comments and fabricated lies, Rep. Boebert refused to publicly acknowledge her hurtful and dangerous comments," Omar wrote. "She instead doubled down on her rhetoric and I decided to end the unproductive call."
"I believe in engaging with those we disagree with respectfully, but not when that disagreement is rooted in outright bigotry and hate," Omar wrote.
The Democratic lawmaker's statement also criticized Republican Party leadership for doing "nothing to condemn and hold their own members accountable for repeated instances of anti-Muslim hate and harassment."
In response, Boebert oppositely claimed that Omar hung up while she was apologizing.
"I wanted to let her know directly that I had reflected on my previous remarks," Boebert said in an Instagram video Monday."As a strong Christian woman who values faith deeply, I never want anything I say to offend someone's religion. So I told her that, even after I put out a public statement to that effect."
"Rejecting an apology and hanging up on someone is part of cancel culture 101 and a pillar of the Democrat Party," she added.