Nancy Pelosi Asks Why Republicans Haven't Staged an 'Intervention' Over Trump's Actions After Woodward Revelations
Speaker of the House Nancy Pelosi questioned why Republicans and members of the first family have not intervened to prevent President Donald Trump from carrying out "bad policy," particularly in the context of new revelations from investigative journalist Bob Woodward's new book.
Woodward's new book, entitled Rage, references audio recordings from interviews in which Trump admitted to the journalist that he knew the novel coronavirus was significantly more deadly than the flu but intentionally downplayed the risk to the public. "I wanted to always play it down," the president told Woodward. The book features a series of other controversial revelations, citing current and former administration officials.
"You would think that the family, or Republicans, would have some kinds of intervention," Pelosi, a California Democrat, said, responding to the president's remarks in an interview with MSNBC. "Clearly the behavior of the president is not on the level."
The Speaker argued that Republicans in Congress will have "doggie doo on their shoes" for the rest of their lives because they enabled the president. Republican lawmakers, as Pelsoi highlighted, have largely defended the president throughout his tenure in the White House.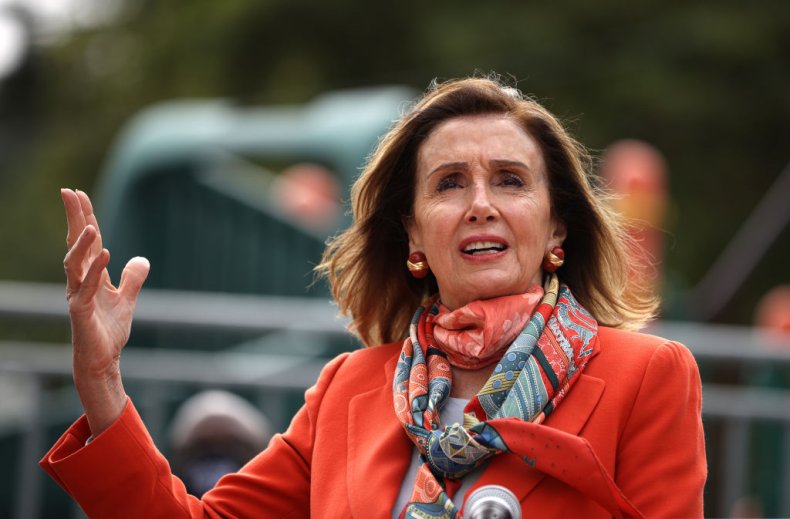 Pelosi said that Trump's taped remarks showed his "weakness," arguing that it represented that he didn't know how to "cope with the challenge to our country." She strongly criticized the president for having a "total disregard" for the American people.
When reached for comment, the White House referred Newsweek to the public response from Press Secretary Kayleigh McEnany.
"The president never downplayed the virus," McEnany insisted to reporters on Wednesday, despite the recordings of Trump saying he "always" downplays it. "The president has never lied to the American public on COVID," she said.
Trump repeatedly compared the novel coronavirus pandemic to the common flu in public remarks over the past year, despite admitting to Woodward that he knew it was much more deadly. He also told supporters repeatedly that the pandemic would be over soon or would simply "disappear," after telling the journalist that he liked to downplay the threat.
"I still like playing it down, because I don't want to create a panic," Trump said.
As of Wednesday afternoon, more than 6.3 million Americans have been confirmed infected by COVID-19, the disease caused by the novel coronavirus. Of those infected, nearly 190,000 have died. The U.S. continues to have the highest number confirmed cases of any country in the world. It also continues to have the highest number of deaths of any nation.
Democratic presidential nominee Joe Biden also condemned Trump's downplaying of the pandemic in Wednesday comments.
"While this deadly disease ripped through our nation, he failed to do his job on purpose," Biden told a small group at a Michigan campaign event. "It's a life and death betrayal of the American people."