The day after the House voted to impeach President Donald Trump, House Speaker Nancy Pelosi drew attention to what Democrats are calling the "legislative graveyard" of bills languishing in the Senate this cycle.
In her weekly press conference Thursday morning, Pelosi smiled as she recalled her party's GOP-gifted nickname, "Do Nothing Democrats." The phrase has become popular in conservative circles that accuse Democrats of going after Trump at the expense of their basic legislative duties.
But Majority Leader Mitch McConnell refuses to bring hundreds of bipartisan bills passed in the Democrat-held House to a vote on the Republican-held Senate floor, Pelosi reminded reporters on Thursday.
"We're very proud of what we have done," Pelosi said, describing legislation on background checks for firearm sales, paycheck fairness and pension protections now stalling under the watch of "Mitch McConnell, the grim reaper."
"I have news for him. He may think they're dead on arrival there, but they are alive and well in the general public," Pelosi added.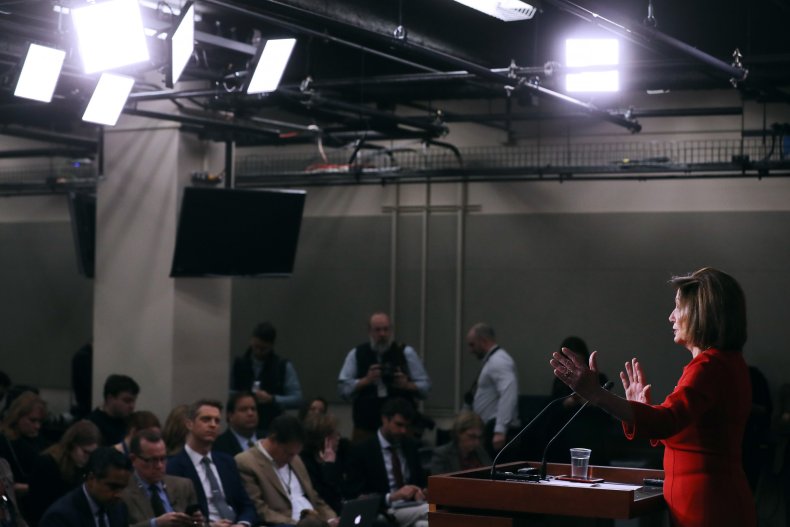 McConnell's office has not responded to Newsweek emails and calls this week requesting comment about why he hasn't brought the packages to a vote in his chamber and whether he intends to in the foreseeable future.
Earlier this week, Senators began sharing photos of a comically large pile of paper that represents more than 300 bills "stuck in the Senate," more than 280 of which had at least one Republican backer in the other chamber.
The brainchild of Senator Debbie Stabelow, the stack was constructed by staffers who printed the exact language of bills awaiting Senatorial action, excluding appropriations measures, according to her office.
The photos have captivated the attention of people on social media, some of whom suggested a counter-nickname to the one that brought a wry smile to Pelosi's face this morning: "Do Nothing Republicans."
Asked why she thought McConnell won't bring the legislation to a vote, Stabenow told Newsweek that she wasn't sure.
"I don't know how he is advantaged by having the Republican-led Senate refuse to take up bills that would make people's lives better and create more opportunities for people to be successful," she said in an interview. "It makes no sense unless you only care about politics."
There are 78 enacted laws so far in the 2019-2020 session of Congress, according to government data. In recent months, the Senate passed legislation that backed protesters in Hong Kong, banned animal cruelty at the federal level and better compensated veterans with disabilities.