Speaker of the House Nancy Pelosi, a Democrat from California, strongly criticized President Donald Trump's decision to commute the sentence of his longtime associate Roger Stone, saying the move demonstrated "staggering corruption" and is a "threat to our national security."
Trump on Friday evening formally commuted Stone's 40-month prison sentence, which was set to begin on Tuesday. The president had long defended the political consultant, arguing that he was unfairly targeted by special counsel Robert Mueller's probe into Russian interference in the 2016 presidential election.
"It's staggering corruption, but I think it's important for people also to know that it's a threat to our national security," Pelosi told CNN's State of the Union. "The whole impeachment process was about our national security," she said, pointing out that Stone's case was about the "Russia connection."
"This isn't just about lying to Congress, that means lying to the American people, and witness tampering and the rest, it's about our national security," Pelosi emphasized.
Stone, 67, was charged as a result of Mueller's probe and was convicted on seven counts, including witness tampering and lying to investigators. The political operative, who famously has a tattoo of former Republican President Richard Nixon on his back, attempted during the 2016 presidential campaign to obtain information from WikiLeaks regarding emails stolen by Russian agents from top Democrats and the Democratic National Committee. He also attempted to pressure a friend to falsely corroborate his lies about his actions.
Trump's decision to commute the sentence stood at odds with the opinion expressed by Attorney General William Barr. The president has also been strongly criticized by several prominent Republicans for commuting the sentence.
"I think the prosecution was righteous and I think the sentence the judge ultimately gave was fair," Barr told ABC News last Wednesday, prior to the president's decision.
Senator Mitt Romney of Utah, a Republican who has repeatedly clashed with Trump, strongly condemned the president's decision in a Saturday tweet. "Unprecedented, historic corruption: an American president commutes the sentence of a person convicted by a jury of lying to shield that very president," Romney wrote.
GOP Senator Pat Toomey of Pennsylvania issued a statement with more measured criticism, noting that the president was within his legal rights to make the decision.
"While I understand the frustration with the badly flawed Russia-collusion investigation, in my view, commuting Roger Stone's sentence is a mistake," Toomey said. "He was duly convicted of lying to Congress, witness tampering and obstruction of a congressional investigation conducted by a Republican-led committee."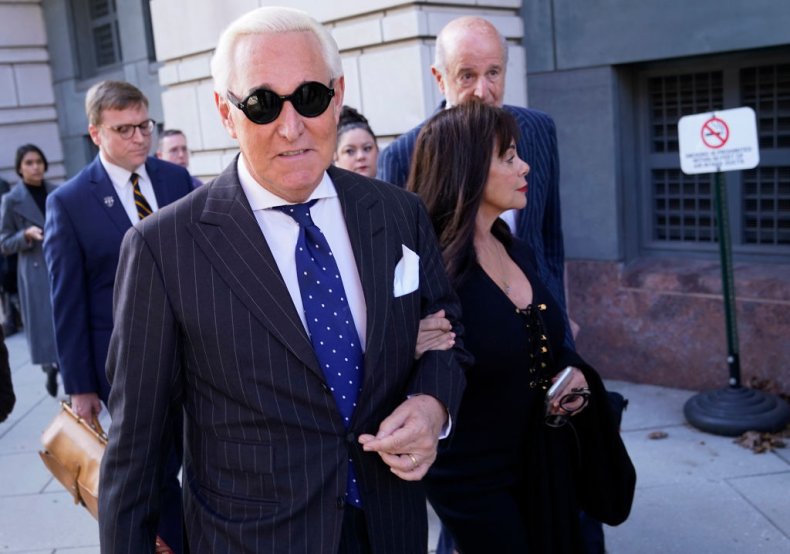 Trump pushed back against the criticism from the two Republican lawmakers in a Sunday morning tweet, describing them as RINOs, an acronym for "Republicans in name only."
"Do RINO'S Pat Toomey & Mitt Romney have any problem with the fact that we caught Obama, Biden, & Company illegally spying on my campaign? Do they care if Comey, McCabe, Page & her lover, Peter S, the whole group, ran rampant, wild & unchecked - lying & leaking all the way? NO!" Trump wrote.
Newsweek reached out to the White House for further comment, but it did not receive a response by the time of publication.