Nancy Pelosi Says Donald Trump 'Doesn't Seem to Have the Attention Span' to Hear His Intelligence Community
After the public chastising President Donald Trump unleashed against his own intelligence chiefs on Twitter this week, House Speaker Nancy Pelosi said Thursday that he "just doesn't have the attention span or the desire" to listen to the intelligence community.
"I think what the public saw this week was the fact that the president has not paid attention to the intelligence that has been given to him," Pelosi said.
Trump's top intelligence chiefs, including Director of National Intelligence Dan Coats, rebutted his foreign policy stances on North Korea, Iran and Syria on Tuesday. A new annual Worldwide Threat Assessment from the intelligence community was also published, which stated Russia and China continue to be a growing cyberthreat. Coats told the Senate Intelligence Committee that North Korea is "unlikely to completely give up its nuclear weapons and production capabilities," despite claims from Trump saying otherwise.
Coats said the Islamic State terrorist group, known as ISIS, would continue "to stoke violence" in Syria. Yet, last month, Trump announced plans to withdraw thousands of U.S. troops from the region because "we have won against ISIS; we've beaten them, and we've beaten them badly."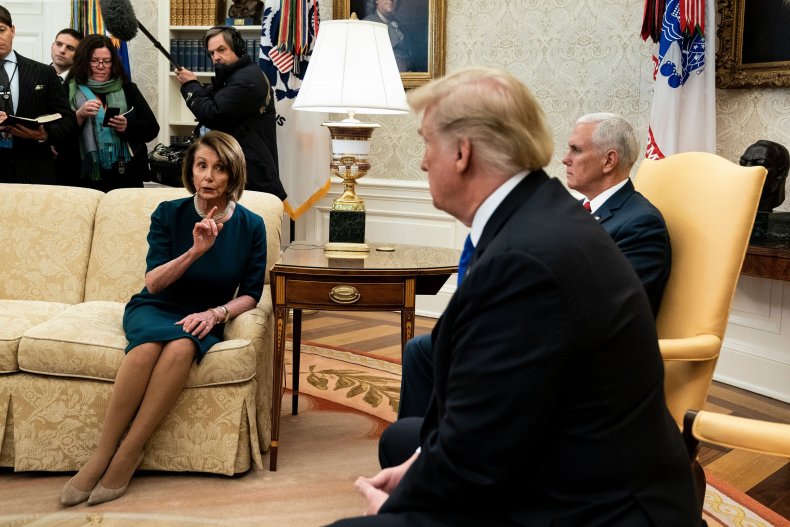 Trump had also said the U.S. would withdraw from the Iran Nuclear Deal because the country allegedly broke the agreements. Coats and CIA Director Gina Haspel said those claims were false, and that Iran complied with the deal and continued to do so even after Trump's announcement.
In a Wednesday morning tweet, the president labeled his intelligence officials as "extremely passive and naive when it comes to the dangers of Iran. They are wrong! When I became President Iran was making trouble all over the Middle East, and beyond." He added that "perhaps Intelligence should go back to school!"
Pelosi called the intelligence community's remarks "courageous" while classifying Trump's public bashing of the officials as "cause for concern."
"Their opening statements are usually vetted by the White House." Pelosi said. "It was stunning."
Adam Schiff, a California Democrat and chairman of the House Intelligence Committee, said Wednesday that Trump was "both ignoring the obvious as well as ignoring the painful truths that he needs to hear about" North Korea, ISIS and continuing cyberthreats to U.S. elections from Russia.
Asked Thursday at the White House whether he still has "confidence" in Coats and Haspel, Trump said: "No, I disagree with certain things they said. Time will prove me right, probably."
This story has been updated to include comments from Trump at the White House.