Nancy Pelosi Says Donald Trump May Not Even Want the Wall, Claims Government Shutdown Meeting Was a Setup
House Speaker Nancy Pelosi expressed doubt Thursday about President Donald Trump's true desire for a southern border wall and said their recent contentious meeting at the White House was nothing but a setup.
Following the fruitless meeting Wednesday, Pelosi questioned Trump's motives for allowing the partial shutdown of the federal government to continue and called the standoff a "distraction."
"I don't even know if the president wants the wall," Pelosi told reporters in Washington, D.C. "I just think he wants the debate on it."
Negotiations between Trump and Democratic leaders in Congress have stalled, with no future meetings currently scheduled. Both sides have held their positions: Democrats have refused to fund a concrete wall or "steel barrier," and Trump has said he will veto any budget deal that reaches him if it does not include $5.7 billion in funding for the wall.
Pelosi accused Trump on Thursday of having staged the meeting in the Situation Room.
"Not only was the president unpresidential—surprise, surprise—yesterday in his behavior," Pelosi said. "I think the meeting was a setup, so he could walk out."
Asked if Democrats would support a broader deal to reopen the government, such as a pathway to citizenship for the hundreds of thousands of Deferred Action for Childhood Arrivals recipients, Pelosi said Democrats and Trump have not "had that discussion."
"What we've talked about now is just the president's insistence on the wall," she said. "But comprehensive immigration reform is what this debate should be about."
Some rank-and-file Democrats on Capitol Hill have suggested they would be open to striking a deal on the wall, should it mean some measure of immigration reform.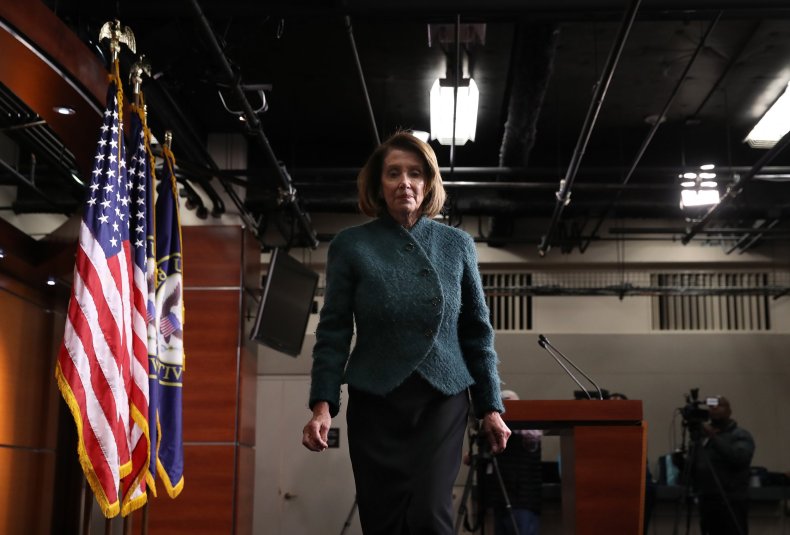 Emerging from Wednesday's meeting with the president, Senate Minority Leader Chuck Schumer, alongside Pelosi, claimed an angry Trump "slammed the table" and "just walked out" when Democrats refused to agree to border wall funding. Schumer said the incident was like a "temper tantrum because [Trump] couldn't get his way."
The president acknowledged in a tweet that he did walk out after Pelosi refused wall funding, adding that the meeting was a "total waste of time." Trump denied, however, that he slammed the table, tweeting that he "politely said bye-bye and left, no slamming!"
Trump dined with Republican senators on Capitol Hill ahead of the White House meeting in an attempt to prevent some moderate GOP senators, such as Lisa Murkowski of Alaska, from defecting and joining the Democrats' calls to reopen the government without wall funding. The message from Trump was to "hang together."
"Well, there were more words," Republican Senator John Cornyn told Newsweek. "But that was the thrust of it."
The president traveled Thursday morning to the U.S.-Mexico border town of McAllen, Texas, a trip he reportedly did not want to make, to drum up more support for a border wall. Before leaving the White House, he continued to toy with the possibility of declaring a national emergency to potentially secure funding for the wall. Trump said he "maybe definitely" will make the declaration, if Democrats do not acquiesce to his demands.
The House on Wednesday evening began passing a series of spending bills that would reopen shuttered parts of the government, but the bills are not expected to pass the Republican-controlled Senate and would face Trump's veto.
Democrats have offered $1.3 billion in border security measures that do not include a wall, such as enhancing the technology used by border patrol agents and upgrading existing fencing.