Nancy Pelosi, Facing Smaller House Majority with Bitter Divisions, Seeks Another Term as Speaker
House Speaker Nancy Pelosi is seeking another two-year term running the house, according to a letter sent to her colleagues on Friday morning.
Following a disappointing election day for her party, where the Democrats have lost at least five seats in the caucus so far, the 80-year-old has said she intends to stay put in the role she has held since 2002.
As of Friday morning, Democrats had reeled in 208 seats in the house, while Republicans had 193. Republicans have gained six so far.
House Democrats will formally start the process of choosing their new leaders on 18 November. While nobody is expected to challenge Pelosi, a small number of her colleagues are pushing for change. Any challengers would be very unlikely to win if they did.
House Majority Leader Steny Hoyer and number three Democrat, Jim Clyburn are also expected to stay put. The trio have held the top three spots for the past 14 years.
Promising to work closely with "President-elect Joe Biden, and Vice President-elect Kamala Harris", the letter said: "The American people voted for Democrats to crush the coronavirus and safely reopen schools and the economy."
"Our vision for the next two years must be built on the success of Democratic House Majority in the 116th Congress, and to harness the extraordinary visions, values and vibrancy of our Caucus to secure the progress that the American people deserve," she continued.
She wrote: "In that spirit, I am wring to request your support to be re-elected as Speaker. I do so with utmost respect for the diverse viewpoints in our Democratic Caucus, the gravity of this role the urgency of the challenges ahead. I also do so with the great joy and appreciation to so many of you who have already offered your support."
The letter cites promises made by the Democrats during the election campaigns: "Lower health care costs, bigger paychecks, and cleaner government."
In 2018, Pelosi promised to step down after two terms, but the letter made no mention of that. She has also declined to comment on it in subsequent interviews with reporters regarding the matter.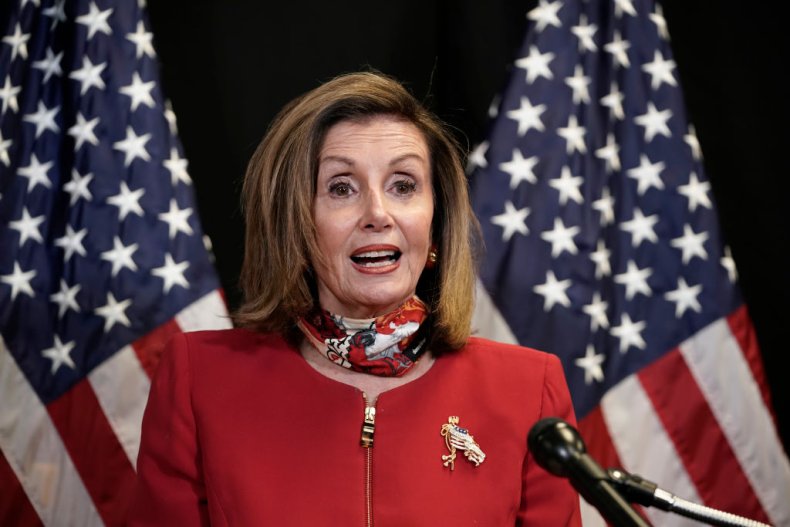 Pelosi's bid for re-eleciton follows news of a leaked caucus call between congressional Democrats on Thursday, which revealed growing tension between the more progressive wing of the party and moderate lawmakers.
Pelosi sent a strong message to her colleagues that swinging too left will cost the party their chances should the Georgia Senate races advance to runoffs, an opportunity that could give Democrats a tie with Republicans in the Senate if both Democratic candidates won seats in the state.
To obtain a Senate majority, Democrats would need to pick up a seat in either Alaska or North Carolina, though should the election result in a 50-50 split, Kamala Harris or Mike Pence would be the deciding vote as vice president.
But messages that some Democrats are "too" progressive, faced pushback from members of Congress, such as Michigan Rep. Rashida Tlaib, who hope to see sweeping changes.