Nancy Pelosi: Rebate Cards, Payments Being Considered to Fight Gas Costs
After gas prices in the United States spiked to record highs this month, House Speaker Nancy Pelosi said a refund might be on the way.
During a Thursday press conference, the idea of giving Americans rebate cards or a direct payment was brought up, to which Pelosi said "those are things that are being considered." But Pelosi rejected the idea of a gas tax holiday, saying there would not be a way to guarantee the gas and oil companies would follow through on providing the savings.
The potential strategy is one of several the U.S. is implementing to combat high gas prices, with the price of gas hitting a record high earlier this month before starting to slowly decline. Though the prices have stopped trending upward, GasBuddy reported the national average gas price per gallon is remaining steady at an elevated number—62.4 cents higher than last month and $1.38 higher than this time last year.
To deal with the spike, the Biden administration announced Thursday it would release about 1 million oil barrels per day from the Strategic Petroleum Reserve for the next six months. Other countries are expected to follow suit soon.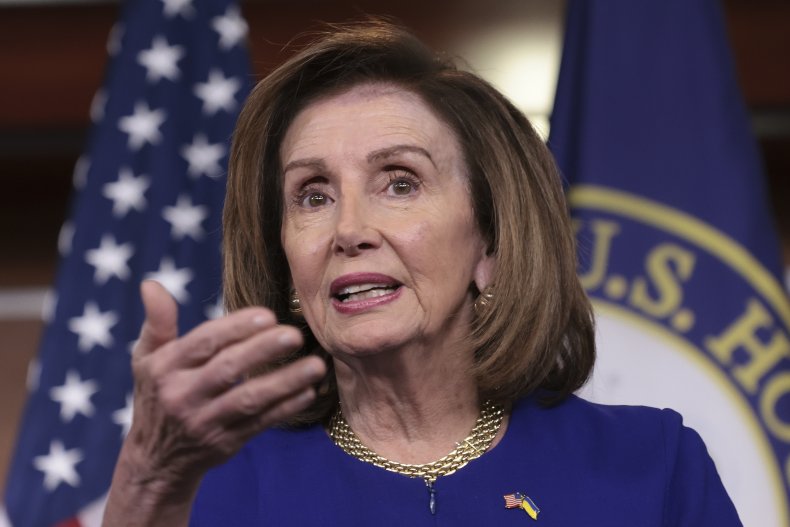 Some individual states and cities are also trying to create their own solutions. In California, Governor Gavin Newsom proposed giving registered vehicle owners $400 debit cards to make up for the spike. And in Chicago, Mayor Lori Lightfoot announced free gas and public transit cards would be distributed using a lottery system.
The spike in gas prices is largely a result of Russia's invasion of Ukraine. Russia is a major exporter of oil, especially to Europe.Though only about 3 percent of the U.S.'s oil imports come from Russia, business professor Adam Pankratz told Al-Jazeera that the U.S. and other countries' sanctions on Russian oil "would make a very tight oil market already much tighter, and that would drive up the price of oil and that in turn can drive inflation, which in turn can affect the US economy."
Oil prices have continued to remain above $100 per barrel, Patrick De Haan, head of petroleum analysis at GasBuddy, said in a Monday statement. He predicts the California markets, which have seen some of the highest gas prices in the country, will "cool off" while the Great Lakes area might see some prices spikes.
"While the national average should start to stabilize for the time being, there's no telling what's around the corner, at least for now, as the volatility in oil prices persists," De Haan said.
Update 03/31/22, 2:10 p.m. ET: This article was updated with additional information.
Update 03/31/22, 1:30 p.m. ET: This article was updated with additional information.