Nancy Pelosi, Expected in Taiwan, Praises Work 'To Keep Americans Safe'
Speaker of the House Nancy Pelosi praised President Joe Biden for his efforts to "keep Americans safe" following the killing of Al-Qaeda leader Ayman al-Zawahiri in a strike over the weekend.
Pelosi's remarks come as the House speaker is expected to visit the island of Taiwan on Tuesday, a move that has been criticized both by the Chinese government in Beijing and at home.
Al-Zawahiri was the former deputy to Al-Qaeda leader Osama bin Laden and succeeded him as head of the organization. He was also one of those who planned the September 11, 2001 terror attacks.
"@POTUS announced that, at his direction, the United States killed Ayman al-Zawahri: a top leader of al-Qaeda, an enemy of America and one of the masterminds behind the attacks on September 11th," Pelosi tweeted early on Tuesday. "The President is to be commended for his strong leadership to keep Americans safe and to deliver justice to this despicable terrorist."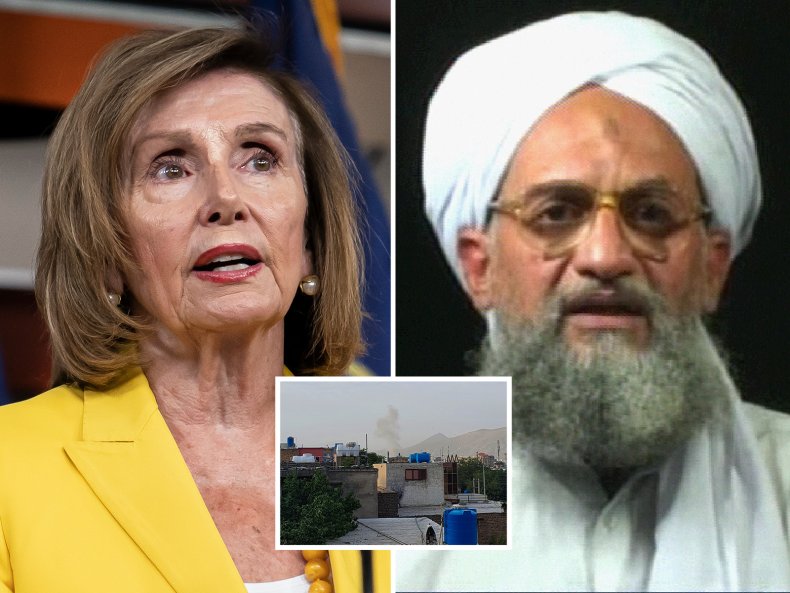 She added that under Biden and "our nation's many devoted national security professionals, America's counterterrorism capabilities remain unrivaled, and our nation's resolve to hunt down terrorists who threaten our families remains ironclad."
Pelosi is currently in Asia and local media in Taiwan have reported that she is expected to visit the island later today, though her office has not commented on her travel plans, citing security protocols.
There has been significant interest in a U.S. Air Force plane with the callsign SPAR19 on Tuesday morning amid speculation that Pelosi is aboard and heading to Taiwan, though this has not been confirmed.
Security concerns have been a major point of discussion ahead of her trip, with the Chinese government saying they consider her visit to be a provocation and warning against a journey to Taiwan.
Some social media users also objected to Pelosi's expected visit to Taiwan and suggested it was a poor decision.
The Washington Times columnist Tim Young tweeted: "Good morning to everyone except the people who say Trump had 'dangerous' foreign policy and are now silent as Pelosi takes a needless trip to Taiwan that China threatened war over."
Former Australian Prime Minister Kevin Rudd tweeted that it was "not helpful for Taiwan's own security interests for US Speaker Pelosi to visit Taipei. Nor is it in China's interest to escalate to crisis with the US over the visit. A difficult few days lie ahead."
Liu Xiaoming, China's special representative for Korean Peninsula affairs, tweeted: "We are closely following the itinerary of #Pelosi. A visit to #Taiwan by her would constitute a gross interference in #China's internal affairs, seriously undermine China's sovereignty and territorial integrity, wantonly trample on the #one-China principle."
The One China policy is a longstanding U.S. policy that only recognizes one Chinese government - the one in Beijing.
The U.S. doesn't formally recognize Taiwan as an independent country and China claims Taiwan as part of its territory. However, successive U.S. administrations have provided key support to the island, including supplying arms.
Manolo De Los Santos of the International People's Assembly, a committee representing political organizations, wrote on Twitter: "Pelosi and Biden clearly want to provoke a new conflict with China. Just like in Ukraine, the US empire is willing to sacrifice the lives of others to reaffirm its fragile hegemony."
U.S. officials told the Associated Press last week that they had little fear that China would attack Pelosi but that the U.S. military presence would be stepped up if she travels to Taiwan.
Newsweek reached out to Nancy Pelosi's office for comment.