Pelosi Says Putin Shouldn't Decide U.S. Election After Reports of Russian Efforts to Get Trump Re-elected
House Speaker Nancy Pelosi said Vladimir Putin should not decide American elections and accused President Donald Trump of seeking to "dismiss threats to the integrity of our democracy" after it was reported that House lawmakers were briefed on alleged Russian efforts to interfere in the 2020 election.
The California Democrat also said Trump was making efforts to "politicize our intel community" after it was reported that he sought to replace his acting director of national intelligence in the wake of the briefing.
It was reported by The New York Times and The Washington Post on Thursday that intelligence officials told House lawmakers that Russia was seeking to interfere in the 2020 campaign to get President Trump re-elected.
The February 13 briefing was reportedly delivered by Shelby Pierson, an aide to Acting Director of National Intelligence Joseph Maguire, who Trump is now replacing with Richard Grenell, the U.S. ambassador to Germany.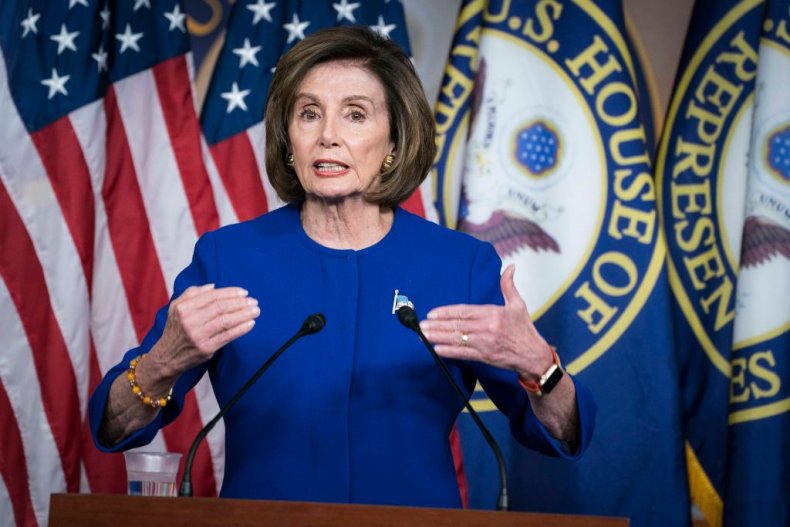 According to the Post, Trump was "furious" about the intelligence briefing that he believed was given solely to House Intelligence Committee Chairman Adam Schiff—leading to speculation that the presentation hampered Maguire's chance of becoming the permanent director of national intelligence.
No evidence confirming the intelligence community's reported claim about Russian interference in the 2020 election has been published at the time of writing.
In a tweet reacting to the Times story published on Thursday, House Speaker Pelosi said: "American voters should decide American elections — not Vladimir Putin.
"All Members of Congress should condemn the President's reported efforts to dismiss threats to the integrity of our democracy & to politicize our intel community."
Rep. Schiff, the lead prosecutor at Trump's impeachment trial, also weighed in on the Times report last night, tweeting: "We count on the intelligence community to inform Congress of any threat of foreign interference in our elections. If reports are true and the President is interfering with that, he is again jeopardizing our efforts to stop foreign meddling."
Newsweek has contacted the White House and the Office of the Director of National Intelligence for comment and will update this article with any response.
President Trump's allies at the intelligence briefing reportedly questioned claims of Russian interference in the 2020 race, and wondered why Putin would want to come down on the side of the commander-in-chief, with GOP Rep. Chris Stewart of Utah noting to the Times that Trump had levied sanctions against a Russian gas pipeline in Europe.
New Acting Director of National Intelligence Grenell has seen his qualifications for the role questioned since taking up the role.
Responding to speculation over whether or not he would become the top administration intelligence official on a permanent basis, Grenell tweeted on Thursday: "Correct. Acting. The President will announce the Nominee (not me) sometime soon."