Trump's New Acting Intelligence Chief Is 'Gold' Member of Trump Org's 'Trump Card' Loyalty Program: Report
Donald Trump's new acting Director of National Intelligence (DNI) Richard Grenell is a "gold member" of the "Trump Card" loyalty program, making him the second high-level member to be granted a prominent government post by the president.
"I am pleased to announce that our highly respected Ambassador to Germany, @RichardGrenell, will become the Acting Director of National Intelligence. Rick has represented our Country exceedingly well and I look forward to working with him," Trump tweeted Wednesday to announce Grenell's new post.
Many in Washington were quick to question Grenell's qualifications to head the intelligence community. The Washington Post first reported Grenell's status in the Trump loyalty program, citing internal documents from the Trump International Hotel in Washington, D.C., which falls under the umbrella of the Trump Organization.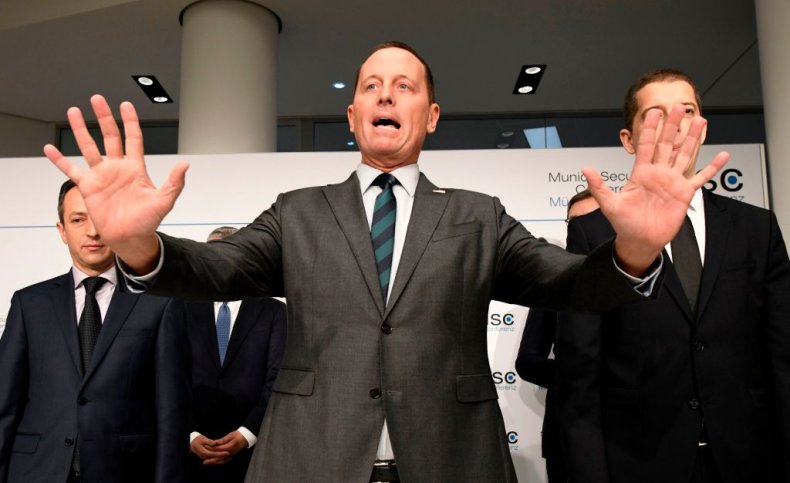 Previously, Trump had made Kelly Craft his ambassador to the United Nations. Craft, like Grenell, has gold status with the Trump Card loyalty program, according to documents viewed by the Post. The diplomat took on her role at the United Nations last September after serving for nearly two years as ambassador to Canada.
"Nothing in Grenell's background suggests that he has the skill set or the experience to be an effective leader of the intelligence community," Nicholas Rasmussen, who was the director of the National Counterterrorism Center under Trump and former President Barack Obama, told the Post. "His chief attribute seems to be that President Trump views him as unfailingly loyal—hardly sufficient to make someone qualified to perform the duties of the DNI."
Having served as the U.S. ambassador to Germany under Trump since May 2018, Grenell has been widely seen as staunchly supportive and loyal to the president. As an ambassador, some German lawmakers called him a "brat"' and "a total diplomatic failure." Some politicians in Germany even called for his expulsion last March after he criticized the country's defense spending.
It is unclear whether Trump intends to officially nominate Grenell to be the permanent director of national intelligence. If so, that would require him to be formally confirmed by the Senate. While the legislative body is Republican-controlled, Grenell would likely face tough questions from Democratic lawmakers about his qualifications.
"Everybody came into [the DNI job] with a relevant understanding, of which this guy has none," Bob Litt, who previously served as general counsel to the director of national intelligence, told CNN. He called Trump's decision "extremely dangerous."
"This is a president who has loathed and feared the [intelligence community] since before he was inaugurated, and he views them as a deep state hostile to him seeking to undercut him, and he'll seek to undercut them," Litt added. "Clearly the important thing here is the president feels Grenell will do his bidding."