Speaker of the House Nancy Pelosi has played down controversy surrounding her visit to Taiwan after the Chinese government reacted to her trip with outrage and military drills.
Pelosi, a Democrat, said at a news conference that China had made a "fuss" because she was speaker of the House and the nation's government had reacted differently when a group of U.S. lawmakers visited Taiwan in April.
She becomes the first serving speaker to visit the island since Newt Gingrich in 1997 and said that the U.S. is "committed" to the security of Taiwan, which China claims as part of its territory.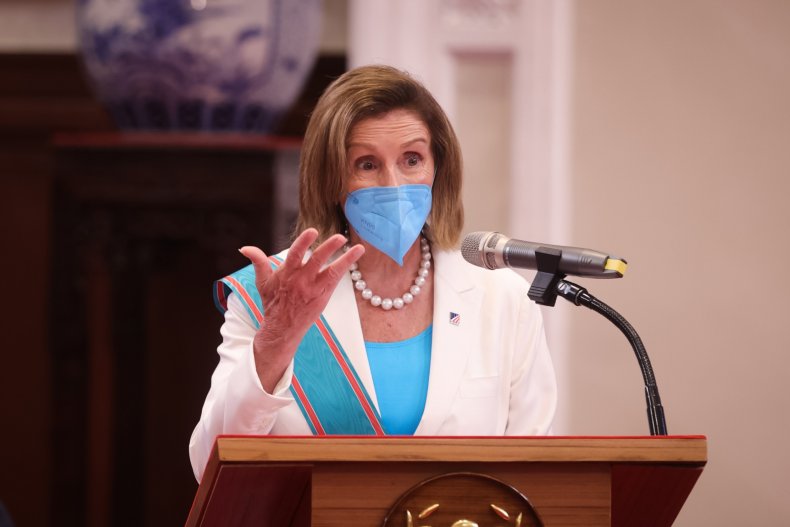 "I just hope it's really clear that—while China has stood in the way of Taiwan participating and going to certain meetings—that they understand they will not stand in the way of people coming to Taiwan as a show of friendship and support, and also a source of learning," Pelosi said at a joint news conference with Taiwanese President Tsai Ing-Wen.
"I think they made a big fuss because I'm speaker—I don't know whether that's the reason or an excuse. Because they didn't say anything when the men came," Pelosi said.
In April, six male U.S. lawmakers visited Taiwan and met with Tsai. That bipartisan delegation was led by Senator Lindsey Graham (R-SC) and included Senators Bob Menendez (D-NJ) and Rob Portman (R-OH).
China denounced the visit at the time but the country's government has had a stronger reaction to Pelosi's visit to Taiwan, which it considers a provocation, and planned military maneuvers in response.
Chinese officials had repeatedly condemned the idea of Pelosi visiting the island, with foreign ministry spokesperson Zhao Lijian saying in June: "The U.S. must not arrange for Speaker Pelosi to visit the Taiwan region and must stop official interactions with Taiwan.
"Should the U.S. side insist on doing otherwise, China will take strong and resolute measures to safeguard its sovereignty and territorial integrity. The U.S. must assume full responsibility for any ensuing consequences."
Newsweek has asked Nancy Pelosi's office for comment.
Like most countries, the U.S. doesn't formally recognize Taiwan as an independent country. However, successive U.S. administrations have provided key support to the island, including supplying arms.
At the press conference on Wednesday, Pelosi said the U.S. "is committed to the security of Taiwan" and questioned the motivations of Chinese President Xi Jinping and the Chinese reaction to her trip.
"Whether there are insecurities of the president of China relating to his own political situation I don't know," Pelosi said.
Pelosi arrived on Tuesday night and addressed the island's parliament on Wednesday before holding a joint news conference with Tsai.
"Our delegation came to Taiwan to make unequivocally clear we will not abandon Taiwan, and we are proud of our enduring friendship," she said on Wednesday.