'Fear of the Truth': Nancy Pelosi Hits at 'Scaredy Cat' Republicans, Trump for Calling on Adam Schiff to Resign
As calls for House Intelligence Committee Chairman Adam Schiff's resignation continue to mount among Republicans and President Donald Trump, House Speaker Nancy Pelosi on Thursday accused GOP committee members and the president of being "scaredy cats" who are "afraid of the truth."
"They're just plain afraid," Pelosi told reporters. "They're afraid of the truth. They're afraid of competence. They're afraid of a leader who is recognized in our country for being calm, professional, patriotic."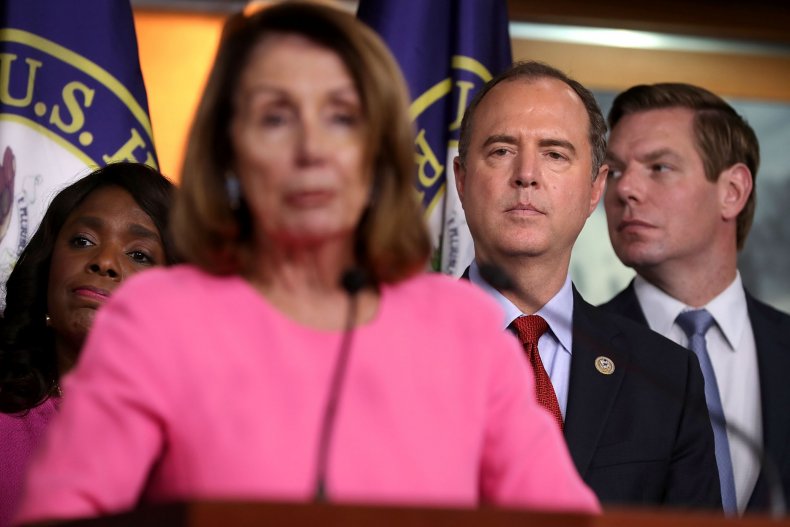 Schiff has continued to say in media appearances that there's "significant evidence of collusion," despite Attorney General William Barr's summary of special counsel Robert Mueller's report stating the Russian probe "did not find that the Trump campaign or anyone associated with it conspired or coordinated with Russia in its efforts to influence the 2016 U.S. presidential election."
Republicans have likened Schiff's allegations to "McCarthyism," the term coined for Senator Josephy McCarthy's sensationalized claims of communist infiltration in government and entertainment circles in the 1950s.
Schiff, along with the leaders of the Oversight, Judiciary, Foreign Affairs, Finance and Ways and Means Committees, has demanded that Barr make Mueller's full report available to Congress and the public by Tuesday. If the attorney general fails to do so, the committees said they'd be willing to issue subpoenas and take the administration to court over the issue. Democratic Congressman Jerry Nadler, chairman of the Judiciary Committee, said Barr would not commit to release the full report during a phone call with the attorney general on Wednesday.
All nine Republicans on the Intelligence Committee sent a letter to Schiff Thursday morning demanding that Schiff resign from the chairmanship, accusing him of having "abused your position to knowingly promote false information, having damaged the integrity of this Committee, and undermined faith in U.S. government institutions.
"We have no faith in your ability to discharge your duties in a manner consistent with your constitutional responsibility and urge your immediate resignation as Chairman of this Committee," they told Schiff.
A tense committee meeting Thursday morning lead to a public tit-for-tat between the chairman and the committee's Republican members in which Schiff slammed them for being, in his opinion, complacent with the fact that various Trump associates and family members had contacts with Russians during the campaign.
Trump also called for Schiff's resignation, not just from the committee chairmanship but from Congress, saying in a morning tweet that the California congressman "spent two years knowingly and unlawfully lying and leaking, should be forced to resign from Congress!"
Pelosi pushed back hard, and she continued to fight for Congress and the American public to see the full report. Until then, she and other Democrats say, no one can truly know what Mueller's conclusion was.
"What would be the proper adjective—shameful, sad, irresponsible—of the president of the United States and the Republicans on the Intelligence Committee to take the actions that they have?" Pelosi asked. "I think they're just scaredy cats. They just don't know what to do, so they have to make an attack. It's their own insecurity, their own fear of the truth, their fear of the facts and their fear of an effective patriotic leader in his measured way, is going to make sure the American people know the truth."