Kimberly Guilfoyle Says Nancy Pelosi Is 'Enjoying Life as Americans Suffer' After Salon Video
Trump advisor Kimberly Guilfoyle has joined criticism of House Speaker Nancy Pelosi (D-CA) after video emerged of the Democratic lawmaker inside a hair salon in California without a mask covering her face as the COVID-19 crisis continues.
The Quote
Writing on Twitter, Guilfoyle shared a link to a Fox News story on the salon situation and said:
"Between gourmet ice cream and private salon blowouts, Nancy Pelosi seems to really be enjoying life as Americans suffer."
Why it Matters
Pelosi was filmed on CCTV, with footage subsequently shared with Fox News, walking through a salon in San Francisco with her mask around her neck, not covering her face.
While outdoor haircuts have been permitted in California, indoor salon services have remained closed. The owner of the salon said the appointment was with a stylist who rents a chair in the establishment, and said Pelosi's visit was a "slap in the face" when others cannot use the services or work in the salon.
An update from the San Francisco mayor's office last week outlined how outdoor salon services could resume September 1, but indoor activities of this kind would not be permitted to a later point.
Pelosi, who has previously touted the importance of wearing masks, has since faced accusation of hypocrisy from Republicans.
The Senate Republicans twitter account shared the story and wrote: "Speaker Pelosi has pushed policies that would keep our economy closed and our small businesses shut down.
"But for herself?
"A salon visit whenever she pleases."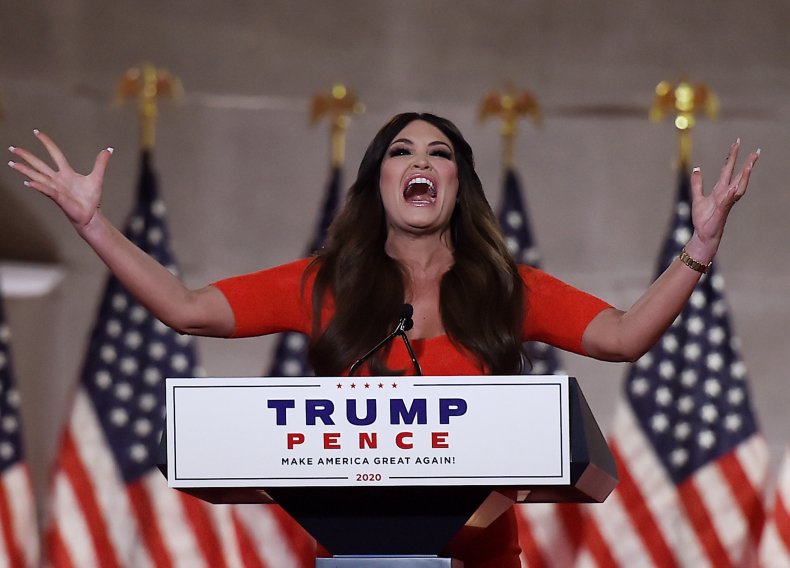 Guilfoyle's comment in regards to ice cream come after Pelosi showed a trove of ice cream in her freezer during a "show and tell" part of The Late Late Show with James Corden, which became a focus of an attack ad against her from the Trump campaign.
Responding to that around the time, she rejected the criticism from Trump and highlighted his comments in regards to questioning if disinfectant injections could be used as a treatment to COVID-19.
She told MSNBC: "I have ice cream in my freezer. I guess that's better than having Lysol in somebody's lungs, as he was suggesting."
The Counterpoint
Following the salon video emerging, a spokesperson for Pelosi has insisted she "complies with local COVID requirements" and said the Speaker was informed by the business they were allowed one customer in at a time.
"The Speaker always wears a mask and complies with local COVID requirements. This business offered for the Speaker to come in on Monday and told her they were allowed by the city to have one customer at a time in the business. The Speaker complied with the rules as presented to her by this establishment," Drew Hammill, deputy chief of staff to Pelosi, told Newsweek in a statement.