Nancy Pelosi Says America 'Needs a Strong Republican Party,' Not a Hijacked 'Cult'
House Speaker Nancy Pelosi has called out Republicans by saying they've allowed their political party to be hijacked and transformed into a "cult."
Pelosi's remarks came during a Wednesday morning interview with MSNBC's Morning Joe, in which she strongly criticized President Donald Trump and said GOP lawmakers in Congress were in lockstep with the White House. The top Democratic lawmaker referred to Trump as a "rogue president" but said she hopes some Republicans will "intervene."
"One of my prayers is that the Republicans will take back their party," Pelosi said. "The country needs a strong Republican Party. It's done so much for our country, and to have it be hijacked as a cult at this time is really a sad thing for America."
The speaker also said the GOP under Trump is giving "credence" to white supremacists.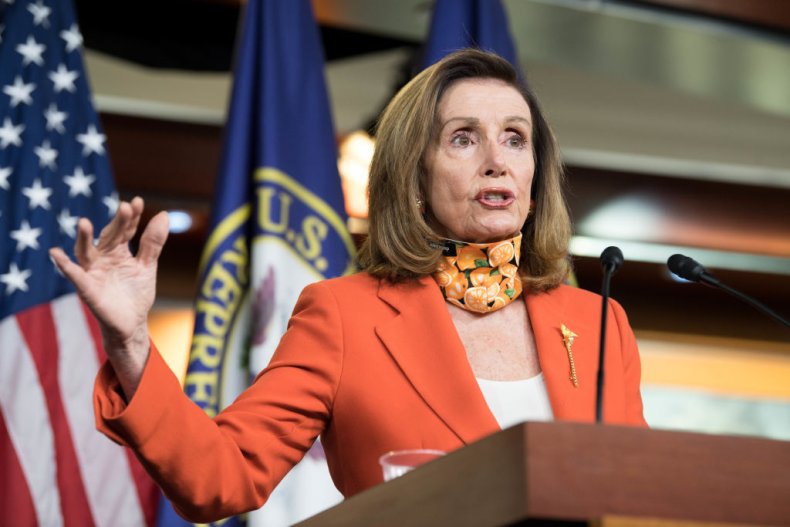 "What is this? What is this about the Republicans that they don't care enough about what they believe in as a party—a legitimate party—with beliefs and their view of the role of government?" Pelosi asked.
"I pray that they would get us a Grand Old Party again," she added.
Newsweek reached out to the Republican National Committee for comment, but it did not respond in time for publication.
Pelosi's criticism of Republicans and reference to white supremacy comes after Trump did not condemn white supremacist supporters during Tuesday night's first presidential debate with Democratic nominee Joe Biden. When asked if he would condemn white nationalist groups, the president claimed that far-left activists are more violent. He also told white supremacist groups to "stand back and stand by."
"But I'll tell you what, somebody's got to do something about Antifa and the left, because this is not a right-wing problem, this is a left wing," the president argued.
Trump's assessment is inaccurate. His own FBI director, Christopher Wray, who was appointed by the president in 2017, said earlier this month that white supremacist groups present the biggest domestic terrorism threat to the country.
"Within the domestic terrorism bucket, the category as a whole, racially motivated violent extremism is, I think, the biggest bucket within that larger group. And within the racially motivated violent extremist bucket, people subscribing to some kind of white supremacist-type ideology is certainly the biggest chunk of that," Wray said during congressional testimony on September 17.
As Pelosi pointed out, most Republicans in Congress have remained mostly loyal to Trump, despite numerous controversies surrounding the president and significant criticism. However, many former Republican lawmakers and high-profile conservatives have endorsed Biden, saying that Trump is unfit for office. Those backing Biden include the former Republican governors of Michigan, Ohio, Pennsylvania and New Jersey, as well as a slew of other former GOP lawmakers.