Nancy Pelosi Sends Article of Impeachment to Senate
House Speaker Nancy Pelosi sent the article of impeachment against Donald Trump to the Senate Monday evening, kicking off a trial that could result in the former president being barred from office.
"We are respectful of the Senate's constitutional power over the trial and always attentive to the fairness of the process, noting that the former president will have had the same amount of time to prepare for trial as our Managers," Pelosi said in a statement last week. "Our Managers are ready to begin to make their case to 100 Senate jurors through the trial process."
Representative Jamie Raskin of Maryland will serve as the Democrats' lead impeachment manager. The team will also include Representatives Diana DeGette of Colorado, David Cicilline of Rhode Island, Joaquin Castro of Texas, Eric Swalwell of California, Ted Lieu of California, Stacey Plaskett of the Virgin Islands, Madeleine Dean of Pennsylvania and Joe Neguse of Colorado.
Trump's full legal team has yet to be announced, but one of his lawyers will be South Carolina attorney Butch Bowers. Bowers was former Governor Mark Sanford's attorney when he was nearly impeached in 2009.
The House voted 232-197 to charge Trump with "incitement of insurrection" in connection with the storming of the Capitol on January 6 to protest the certification of President Joe Biden's win. Five people died in the riot, including one law enforcement officer.
"Shortly before the Joint Session commenced, President Trump addressed a crowd at the Ellipse in Washington, D.C. There, he reiterated false claims that 'we won this election, and we won it by a landslide,'" the impeachment article reads. "He also willfully made statements that, in context, encouraged — and foreseeably resulted in — lawless action at the Capitol, such as: 'if you don't fight like hell you're not going to have a country anymore.'"
Ten Republican members of the House backed the resolution. Its passage made Trump the first president in history to be impeached twice. In 2019, he was charged with abuse of power and obstruction of Congress in relation to his dealings with Ukraine. He was acquitted of those charges in the Senate's trial.
While the primary punishment for a conviction in an impeachment trial is removal from office, senators could vote to bar Trump from holding federal office again. Trump hasn't ruled out running for president in 2024, and Pelosi previously told CBS News that "one of the motivations that people have for advocating for impeachment" is to block that possibility.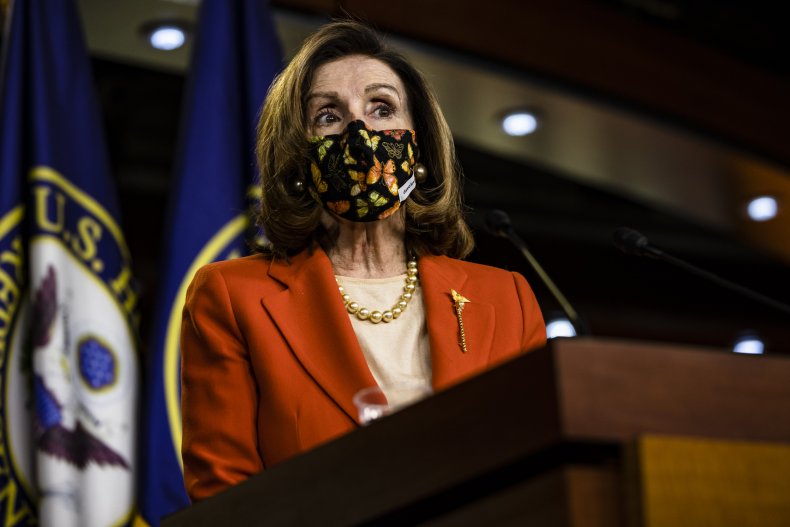 But before it can ban him from holding office, the Senate has to convict Trump—which would require a guilty verdict from a two-thirds majority, or 67 lawmakers. That's likely to be an uphill battle, even in the new Democrat-controlled Senate.
The swearing-in of Georgia Senators Jon Ossoff and Raphael Warnock last week brought the chamber to a 50-50 split. Vice President Kamala Harris, as president of the Senate, can cast any tie-breaking votes.
Still, Democrats would need 17 Republicans to vote in favor of conviction. So far, only a handful of GOP members of the upper chamber have voiced support for impeachment or said they would consider a conviction.
White House press secretary Jen Psaki told reporters in a Wednesday briefing that the administration is "confident" that the Senate can "multitask" with both impeachment and working on issues critical to the American people.
"His view is that the way to bring the country together is to address the problems we are facing," Psaki said, referencing Biden. "That means getting this COVID relief package through, having Democrats and Republicans take a serious look at that and have conversations with each other about how to move it forward. And he's going to leave the mechanics, the timing and the specifics of how Congress moves forward on impeachment to them."
Senate Majority Leader Chuck Schumer previously stated the trial would start the week of February 8.
"The January 6th insurrection at the Capitol incited by Donald J. Trump was a day none of us will ever forget," Schumer said on the Senate floor on Friday. "We all want to put this awful chapter in our nation's history behind us. But healing and unity will only come if there is truth and accountability, and that is what this trial will provide."