Nancy Pelosi Sparks Backlash for Saying Border on a 'Good Path' as U.S. Sees Most Unaccompanied Minors Ever
House Speaker Nancy Pelosi received criticism from Republicans on social media after telling reporters that the federal approach to managing immigration at the southern U.S. border is improving on Wednesday.
"The fact is is that, we're on a good path a the border under leadership of President Joe Biden," the Democratic congresswoman said. "It's about restructuring how we do what is happening there, because we were in a a very bad situation under the Trump administration. It's about a refugee plan."
Pelosi faced backlash from conservative figures and political organizations shortly after news of her immigration remarks surfaced online.
"Border Patrol found a 5-year-old & 6-year-old 'alone & crying after thy were abandoned by a couple who hoisted them over boulders near the end of the border wall,'" wrote Kayleigh McEnany, the former White House press secretary under Donald Trump, in a Wednesday tweet that referenced an earlier Fox News report. "But Nancy Pelosi says 'We're on a good path at the border," she continued. "Wow..."
"Nancy Pelosi dismisses record-breaking immigration crisis," said the Republican National Committee's research account in another tweet shared around the same time, which also cited the House Speaker's suggestion that conditions at the border are moving in the right direction.
House Republicans' official Twitter account shared a set of statistics showing the volume of border crossings recorded during March, overcrowded detention centers and shelters, as well as the increasing number of unaccompanied migrant children being held at border facilities.
"Does that *really* look like a 'good path at the border,' Speaker Pelosi?" asked the House GOP account.
Almost 19,000 unaccompanied minors arrived at the southern border in March, according to data recently released by U.S. Customs and Border Protection. The figure represents a 64 percent increase from the previous monthly record, established in May 2019 when nearly 11,500 migrant children traveled to the border in pursuit of U.S. entry. Border Patrol's monthly statistics date back to 2009.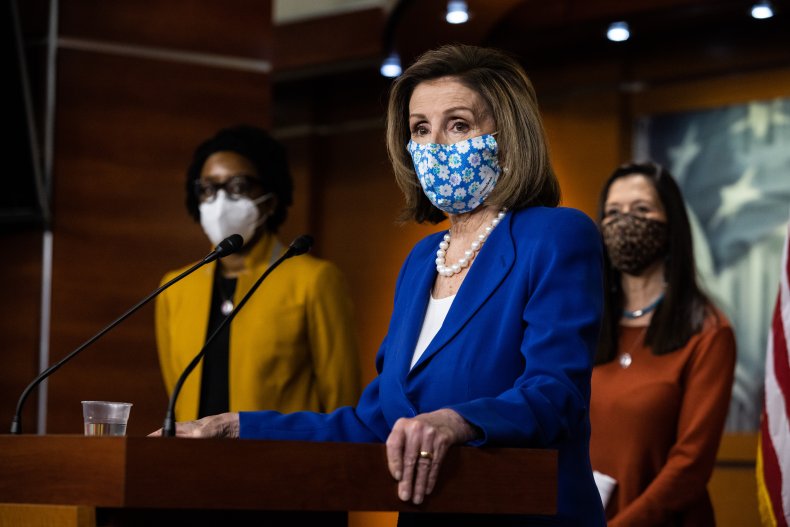 The country is seeing migrant arrival numbers climb this year, a trend that can be partially attributed to seasonal immigration patterns. Biden's rhetoric on immigration has apparently also played a role, as people seeking asylum from a number of Central American nations hope the new presidential administration will be less likely to reject their cases than its predecessor. The population of migrant children at the border, and held in federal facilities, has grown significantly since Biden announced a deportation moratorium that applies to unaccompanied minors.
Newsweek reached out to Pelosi's office for comment but did not receive a reply in time for publication.