House Speaker Nancy Pelsoi is losing the PR battle over stimulus as she faces pressure from the left and right to capitulate to Republicans' demand for a smaller price tag.
As the months-long stimulus stalemate continues, progressive Democrats on Wednesday urged their congressional leader to pass another relief package "now" to help the millions of Americans struggling to pay rent and afford food amid the pandemic. Their calls further adds to the pressure Pelosi has faced from moderate Democrats in recent weeks to settle for a deal with Republicans and the Trump administration.
Pelosi rejected the most recent White House $1.8 trillion offer this week, saying it was "insufficient in meeting families' needs." While file-and-rank Republicans also rejected the deal that they considered too expensive and out of touch with conservative values, it was Pelosi who faced the media's ire.
CNN anchor Wolf Blitzer grilled Pelosi on Tuesday night about her refusal to accept Trump's offer. Blitzer noted that Democratic Congressman Ro Khanna of California and former presidential candidate Andrew Yang had both recently said Americans cannot wait until February for economic relief.
"They are not negotiating this situation," Pelosi responded. "They have no idea of the particulars, they have no idea of what the language is here."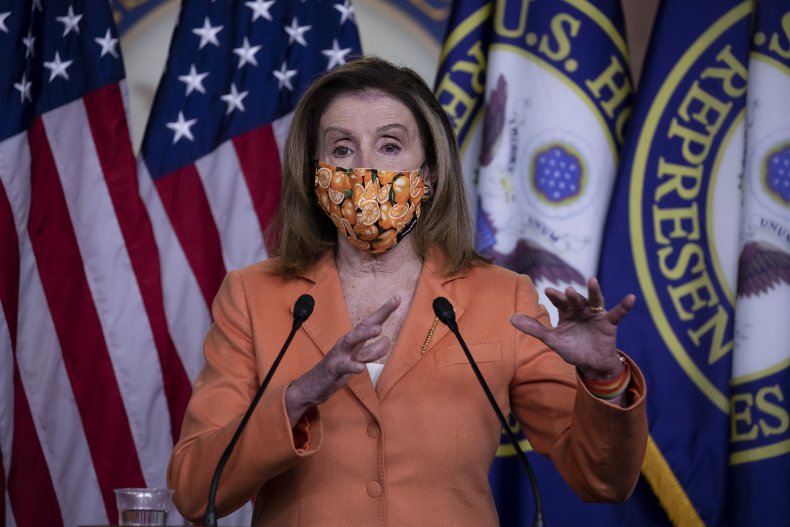 The contentious interview ended with Pelosi calling Blitzer a Republican apologist. "You really don't know what you're talking about," she said angrily, before insisting that Republicans should accept the Democrat's proposal if they want to help the American people.
Hours before the interview, Pelosi resisted calls from within her own party to settle for $1.8 trillion during a phone conversation with Democrats. She invoked President Donald Trump's plea for Congress to "go big" on another stimulus package as justification for her decision to hold out for a larger amount.
"Take it? Take it? Even the president is saying, 'Go big or go home,'" the Democratic leader said. "We really need to have an agreement, but we cannot have an agreement by just folding."
"I don't think our leverage has ever been greater than it is now."
Americans blamed Republicans more for the stimulus stalemate in September, but the latest poll on the issue, released Thursday, showed that the tide is turning against Democrats.
Thirty-five percent of voters surveyed by Morning Consult between October 6 and 7 said Democrats were responsible for the inability to pass further relief and 32 percent placed the blame on Trump. Just 23 percent pointed to Republicans.
Polling indicates that the last party to reject a stimulus offer is often also stuck with the blame. The survey was taken shortly after the Trump administration offered $1.6 trillion, but Pelosi declined to budge from her then $2.2 trillion position. Last month, Democrats also blocked a roughly $500 billion Republican plan in the Senate.
With just weeks left until Election Day, Pelosi's strategy to stand firm on her demand for a larger and broader relief package carries risks. As negotiations with the Trump administration continues to stall, Republican leader Mitch McConnell on Tuesday said the Senate will vote on a limited COVID stimulus bill this month.
While little is known about the plan, McConnell has called it "targeted relief for American workers" that will include funding for small business loans, schools and an unemployment boost.
On Wednesday night, Pelosi moved to reframe the narrative by shifting the stimulus blame onto Republicans and Treasury Secretary Steve Mnuchin. Speaking on MSNBC, the Speaker discussed McConnell laughing about stimulus failure during a debate against his Democratic challenger Amy McGrath.
McConnell has "never taken this seriously," Pelosi said. "Probably the most honest thing he has done is laugh in public about it to show his true colors. It's really so tragic."
"That was echoed today in something Secretary Mnuchin said, 'I'm not paying for pensions for the states.' This is about a pandemic, in case you haven't noticed," she added.
Newsweek reached out to Pelosi's office for comment.
This story has been updated with additional comments from Pelosi.