Every 'Narcos: Mexico' Death In Season 3 Ranked From Shocking to Vomit-Inducing
Narcos: Mexico has had some pretty gruesome deaths over the course of the show, and Season 3 is no exception.
The show's final outing sees an all-out war break out between the Juárez, Tijuana and Sinaloa cartels, and no one is safe from the crossfire.
Here, Newsweek provides a guide to the most shocking and most vomit-inducing deaths that feature in the latest season.
**WARNING: This article contains spoilers for Narcos: Mexico Season 3**
The most shocking deaths
1. Victor Tapia
Police officer Victor Tapia (Luis Gerardo Méndez) was one of the rare good guys in Narcos: Mexico, as he was determined to solve the murders of countless women in Juárez.
Unfortunately his determination to uncover the truth of the femicides ultimately led to his demise, because his collaboration with the DEA in exchange for access to their DNA testing equipment was discovered by his former colleague who went on to work for the cartels.
Tapia had been providing the DEA with information on Vicente Carrillo Fuentes and his former partner took that as a sign he was a snitch and executed him in front of an abandoned building in the middle of the desert.
2. Claudio Vazquez
Claudio Vazquez's death was one of the earliest in the season as he was killed shortly after his nuptials to Enedina Arellano Félix.
Vazquez had been enjoying a night out with his brothers-in-law Benjamín and Ramón when members of the Sinaloa cartel, including El Chapo, opened fire on them in disguise as police.
The Arellano Félix brothers managed to get away, but Vazquez was not so lucky and was shot dead by El Chapo and his men.
3. Ramón Arellano Félix
Ramón (Manuel Masalva) was the muscle of the Arellano Félix's Tijuana cartel, and the real-life drug lord was killed during a shoot-out with police in 2002.
This is recreated in Narcos: Mexico Season 3 which sees Ramón die after being shot in the gut suddenly when police pull him over for no apparent reason.
The show suggests that Ramón was in fact killed as part of a hit from El Mayo (Alberto Guerra), who joined sides with the Sinaloa cartel.
4. El Azul
El Azul (played by Fermín Martínez) was a member of the Sinaloa cartel and was one of the organization's lead figures.
In the show he was killed while eating food outside a restaurant by members of the Tijuana cartel.
5. Arturo "Kitty" Páez
Kitty (Benito Antonio Martínez Ocasio) was a member of the Tijuana cartel and was a henchman particularly skilled in executions.
The hitman, who was a real person, died by a stray bullet shot by one of his men, which ricocheted off the pavement and hit him in the eye.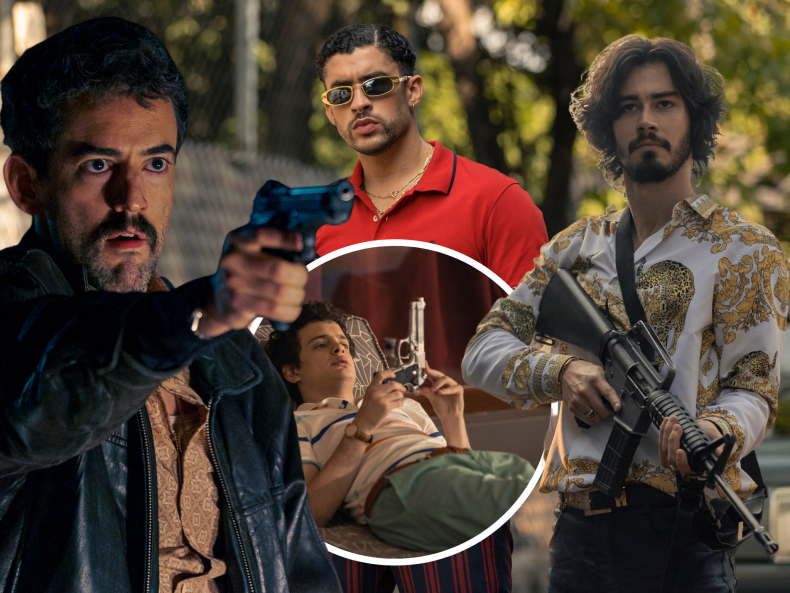 The most vomit-inducing deaths
6. Alfredo Hodoyan
Alfredo (played by Iván Aragón) was working as a drug runner for the Tijuana cartel, transporting cocaine across the border into the US without incidence because of his family's wealth.
The teen even got his brother Alex involved in the trade, but after his sibling was kidnapped by the Mexican police and DEA agent Walt Breslin (Scoot McNairy) the Tijuana cartel saw that as a risk of there to be a rat in the organization.
To stop Alfredo from being caught by the DEA and telling them about the cartel they chose to torture and kill him, and they hanged his mutilated corpse from a bridge to make their message clear.
7. Alex Hodoyan
Alex (portrayed by Lorenzo Ferro) unfortunately also suffered a similar fate to his brother, though not before he was held in a locked room, and threatened and abused by the Mexican police for information.
The teen revealed that he was in fact a dual Mexican and American citizen, and this prompted Breslin to try and help him in exchange for him testifying in court.
Unfortunately the teen began getting homesick, and the day before he was set to testify he returned to Mexico and was promptly caught, killed, and hanged just like his brother.
The potentially-not-final deaths
8. Amado Carrillo Fuentes
Amado (played by José María Yazpik) apparently dies in the Season 3 finale, with it being said he passed away while going under the knife to change how he looked to evade the police.
In real life the drug lord did die on the operating table, but Narcos: Mexico takes some liberties with this in the show and suggests that he in fact survived, as his body is never seen and it's later revealed it "vanished."
In the post-credits scene Amado's love interest Marta (Yessica Borroto Perryman) is seen in Chile and when she walks into the house she and Amado were meant to share, there are two glasses of wine visible.
The toy plane he carried with him was also in view and there was no time in which he could have given this to her prior to his supposed death, thus suggesting that he'd actually survived.
Narcos: Mexico Seasons 1-3 is available to watch now on Netflix.