'Narcos Mexico' Season 3 Netflix Release Date, Cast, Trailer, Plot
Season 3 of Narcos: Mexico may not have an official release date yet, but Netflix has provided plenty of details about the upcoming season. Singer Bad Bunny is among the many new cast members, who will be part of a plot set in the 1990s where Felix Gallardo's (played by Diego Luna) empire is crumbling. Netflix has also released a trailer that teases, "now you'll see what happens when the cage breaks open and all the animals run free."
When does Narcos: Mexico Season 3 come out?
So far, there has been no official release date for the latest season of Narcos: Mexico.
However, there was 15 months between the release dates of Seasons 1 and 2. If Season 3 follows suit, then it will come to Netflix in May 2021.
There are also signs, however, that fans could be in for a longer wait. Season 2 was officially renewed in December 2018 and came to Netflix 14 months later. As Season 3 was only officially renewed in October 2020, it may not come to the streamer until early 2022.
However, the show is believed to have started filming before it was officially renewed in July, so a spring 2021 release date seems more likely.
Who is in the cast of Narcos: Mexico Season 3?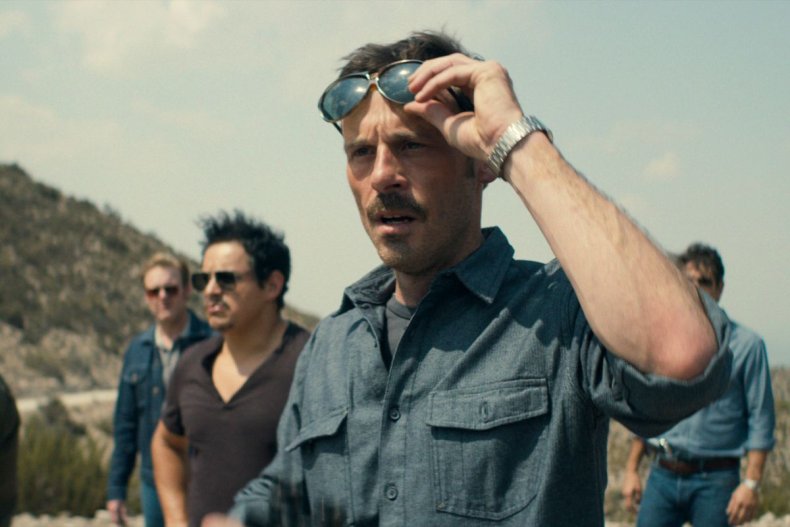 Returning for Season 3 are the following cast members:
Scoot McNairy - Walt Breslin
José María Yázpik - Amado Carrillo Fuentes
Alfonso Dosal - Benjamín Arellano Félix
Mayra Hermosillo - Enedina Arellano Felix
Matt Letscher - James Kuykendall
Manuel Masalva - Ramón Arellano Félix
Alejandro Edda - Joaquín 'El Chapo' Guzmán
Gorka Lasaosa - Héctor Palma
Alberto Ammann - Pacho Herrera
Narcos: Mexico fans will notice that that list does not include Diego Luna as Felix Gallardo. The actor is set to return to the role of Cassian Andor that he played in Star Wars: Rogue One for an upcoming Disney+ series, which means that he has dropped out of the Netflix show.
Luna may be out, but in his place we are getting a host of new characters, including:
Luis Gerardo Méndez as Victor Tapia, a Juarez cop investigating a series of brutal killings;
Alberto Guerra as Ismael "El Mayo" Zambada, a real-life drug trafficker, whose story was recently told in Netflix's World's Most Wanted;
Luisa Rubino as Andrea Nuñez, an ambitious anti-corruption journalist who finds the story of a lifetime;
Benito Antonio "Bad Bunny" Ocasio as Arturo "Kitty" Paez, a member of the wealthy "Narco Juniors" group of kids.
Also joining the cast are Alejandro Furth as Ramon Salgado, Lorenzo Ferro as Alex Hodoyan, José Zúñiga as General Rebollo, Diego Calva as Arturo Beltran Leyva, Kristen Lee Gutoskie as Dani, Beau Mirchoff as Steve Sheridan, Yessica Borroto as Marta, Damayanti Quintanar as Hortencia, Manuel Uriza as Carlos Hank Gonzalez and Markin López as Rogelio.
What will Narcos: Mexico Season 3 be about?
Deadline gives the following synopsis for the upcoming season of the Netflix series:
"Set in the 1990s, when the globalization of the drug business ignites, Season 3 examines the war that breaks out after Felix's empire splinters. As newly independent cartels struggle to survive political upheaval and escalating violence, a new generation of Mexican kingpins emerge. But in this war, truth is the first casualty – and every arrest, murder and take-down only pushes real victory further away."
The line about "Felix's empire splinters" seems to suggest that the show is set to deal with Luna leaving by killing his character off, with Season 3 exploring the fallout from that on the world of the cartels.
Is there a trailer for Narcos: Mexico Season 3?
Netflix has not released a full promo for the next season yet. However, the show announced its third season with a teaser trailer, which teased: "Narcos: Mexico Season 2 raised the stakes, but we're not finished yet." However, this trailer was made up of footage from the previous season, including shots of Gallardo, and we are unlikely to get a full promo until early 2021.
Narcos: Mexico Season 3 is coming soon to Netflix.