Who Is Jessica Watkins? NASA Astronaut To Become First Black Woman on The ISS
Jessica Watkins, a NASA astronaut and professor of geology, will become the first Black woman to visit the International Space Station (ISS) after over two decades of operations, the agency announced on Tuesday.
The trip will also be personally historic for Watkins as it will be her first journey into space after she joined NASA's Astronaut Candidate Class in 2017.
Watkins will serve as a mission specialist on the forthcoming SpaceX Crew-4 mission to the ISS, due to launch from NASA's Kennedy Space Center in April 2022. This will be the fourth ISS crew rotation flight conducted by the Crew Dragon spacecraft. The crew will conduct a six-month science mission aboard the ISS microgravity laboratory.
Watkins said that she hoped her journey into space would be inspirational to children of color, particularly young girls of color, The New York Times reported.
"For me, that's been really important, and so if I can contribute to that in some way, that's definitely worth it," she said.
NASA astronaut Jennette Epps was scheduled to become the first Black woman to travel to the ISS in 2018, but she was removed from the assignment without explanation by NASA. Epps received a second opportunity to achieve this milestone in August this year, but the Boeing NASA mission she was to journey to the ISS abroad was canceled due to a technical glitch when the thrusters of the Russian space station module Nasuka fired putting the ISS into a tailspin.
Epps' mission is delayed until later in 2022 at the least, the New York Times reported.
Earlier this year Sian Proctor became the first Black woman to pilot a spacecraft as part of SpaceX's Inspiration 4 all-civilian mission. In 1983 Guion Stewart Bluford Jr. became the first Black American to venture into space. The first female Black astronaut to make the journey, Mae Jemison, followed nine years later in 1992.
Watkins will be joined on the mission by fellow NASA astronauts Kjell Lindgren and Robert Hines. Hines will act as the pilot for the Crew Dragon mission, and Lindgren will be mission commander. European Space Agency astronaut Samantha Cristoforetti will act as a mission specialist alongside Watkins.
Born in Gaithersburg, Maryland, and raised in Lafayette, Colorado, Watkins earned a Bachelor of Science in Geological and Environmental Sciences from Stanford University. The astronaut then completed a Doctorate in Geology from the University of California, Los Angeles, studying surface processes occurring on Mars, including Martian landslides.
Watkins went on to work as part of the California Institute of Technology (CalTech) science team planning the activities of the Curiosity Rover, and assisting in its study of the geologic history of Mars' Gale crater.
In June 2017, during her stint at CalTech, Dr. Watkins was selected by NASA for the Astronaut Candidate Class. She reported for duty in August of that year, beginning the two-year training program.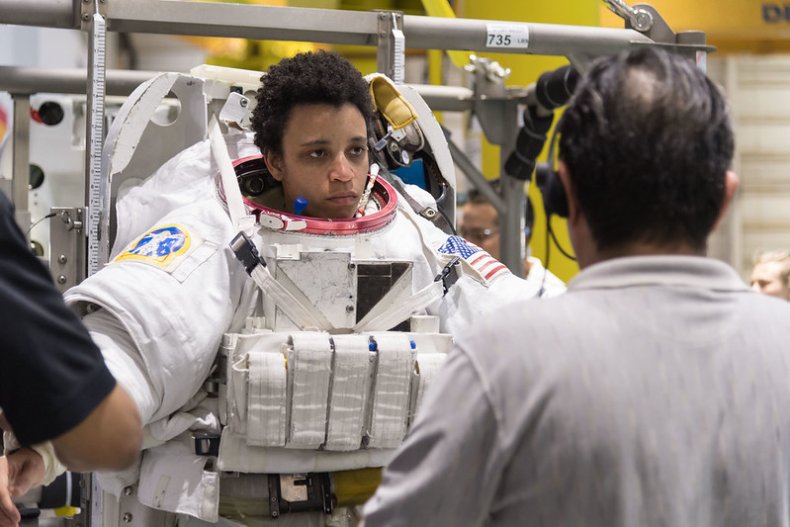 She was trained on the operating systems of the ISS and how to conduct spacewalks, the trips that ISS crew members take outside the station to perform important repairs and installations.
In 2019, she was cleared for mission selection, but the 2022 journey to the ISS will be her first operation off the surface of our planet.
Before being accepted into NASA's astronaut training program, she was part of several internships with the organization, at branches such as the Ames Research Center, and the Jet Propulsion Laboratory (JPL).
At Ames, she conducted research into Martian soil designed to assist the Phoenix Mars Lander mission, which landed on the Martian surface on May 25, 2008, and ceased operations in November of the same year.
While at JPL she played a role in several high-profile missions including the Curiosity Rover, and a mission that will hopefully one day return Martian rock and soil collected by the rover to Earth. Watkins also worked on the analysis of near-earth asteroids discovered by the NEOWISE mission.
Watkins has also served on various analog missions for the agency, which are field tests conducted on Earth in locations picked for their physical resemblance to off-world locales like Mars.
In 2009, Watkins was chief geologist at Mars Desert Research Station, near Hanksville, Utah. She returned to the long-running Mars analog station in 2011 as a science operations team member.
It's not been all arid, dry conditions for the professor of geology, however. In 2019 she was part of a team of aquanauts at the Aquarius underwater habitat laboratory, located 5.4 miles off Key Largo in the Florida Keys National Marine Sanctuary.
Space enthusiasts can follow Dr. Watkins' preparations for her April 2022 space journey on her Instagram profile.