NASA's Christina Koch Captures Spectacular and Terrifying Images of Australia Fires and Dust Storm from Space
NASA astronaut Christina Koch has captured spectacular and terrifying images of Australia from the International Space Station.
The photos reveals smoke being produced by some of the fires which have been ravaging the country in recent months, as well as a large dust storm which spread across several states over the weekend.
"Australia. Our hearts and thoughts are with you," Koch wrote in a Twitter post containing the images.
At the time of writing, the post has received thousands of likes, with many users expressing their sadness at the unfolding situation in Australia.
"The majestic sights from space tempered by knowing the horrors that are happening below," one user, @tommercer1, wrote.
Since September last year, hundreds of fires have burned millions of hectares in Australia, leaving at least 28 people dead, destroying around 2,000 homes and killing more than one billion animals, the BBC reported.
They have been driven by record-breaking hot and dry conditions in many areas of the country, creating the perfect environment for the fires to spread.
The smoke produced by the fires—of which around 100 are still burning—has caused air quality problems in several major Australian cities, including Sydney, Melbourne Canberra and Adelaide.
Furthermore, the smoke has spread over vast distances and is expected to complete a full circuit around the world, according to NASA. In fact, by January 8, smoke from the fires had reached South America, turning skies hazy in some regions, while also causing colorful sunrises and sunsets.
The smoke first rises up into the Earth's stratosphere (the second major layer of the Earth's atmosphere)—driven by fire-induced thunderstorms—before making its way around the planet.
In addition to the fire smoke, Koch also captured images of a giant dust storm which spread across Australia towards the end of last week.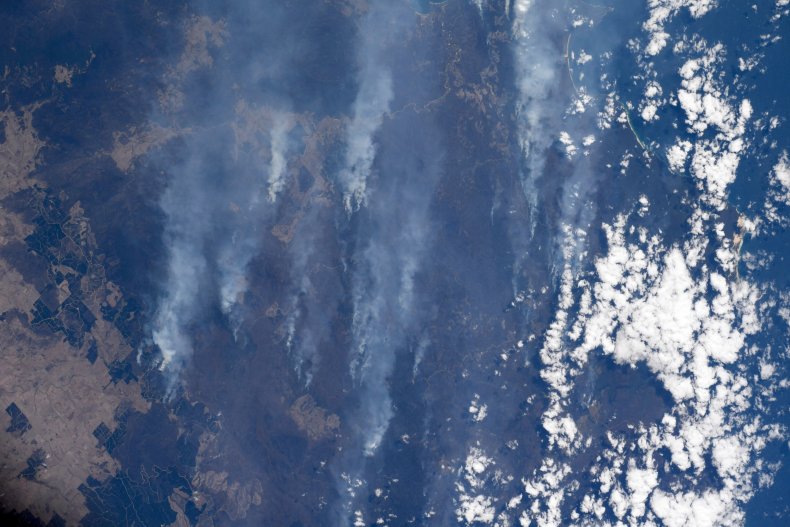 The storm affected several states in the country—including South Australia, New South Wales, Queensland, northern Territory and Western Australia—brining visibility down in many areas, ABC News reported.
These types of events are not uncommon, however, in the summer months, according to Lauren Pattie from the Australian Bureau of Meteorology.
Koch is part of the 61st Expedition to the International Space Station which involves six crew members.
She made history last month—alongside her Expedition 61 colleague Jessica Meir—when the pair conducted the first all-female spacewalk. The purpose of the spacewalk, which took place on October 18, was to replace a faulty battery charger.