Ukraine's New U.S.-Made NASAMS Defense System Compared to Russia's S-400
Successful lobbying by Ukrainian President Volodymyr Zelensky has led to his country receiving National Advanced Surface-to-Air Missile Systems (NASAMS) from the United States, drawing comparisons to Russia's own S-400 missile system.
On August 24, the U.S. Department of Defense announced that six additional NASAMS with extra munitions were part of a $3 billion security assistance package. Two NASAMS were originally authorized by the DoD on July 1 as part of a $770 million security package. The systems are capable of detecting and hitting targets at distances of up to 111.8 miles (180 kilometers).
Pentagon press secretary Air Force Brigadier General Pat Ryder said September 16 that the systems are important to Ukraine because they are able to disrupt enemy threats from aircraft, unmanned aerial vehicles and missiles.
NASAMS are utilized for defense purposes and are currently owned by 12 countries: the U.S., Norway, Finland, Spain, the Netherlands, Oman, Lithuania, Indonesia, Australia, Qatar, Hungary and one undisclosed country.
Developed by Raytheon and Kongsberg Defence & Aerospace, NASAMS consist of the Sentinel radar, an Advanced Medium Range Air-to-Air Missile, and a Fire Distribution Center.
Raytheon describes the Advanced Medium Range Air-to-Air Missile as "the world's most sophisticated, combat-proven air dominance weapon." It has existed for over three decades and has been continually updated with new designs and capabilities.
The missile has reportedly been shot over 4,900 times as part of testing.
In April 2021 at Andoya Space Defense Center in Norway, Raytheon and Kongsberg completed a live-fire test of the missile's extended-range variant aimed to improve flight data for future software algorithms.
A new NASAMS launcher was utilized to accommodate the larger size of that missile, which is powered by a rocket motor that "enables intercepts at longer ranges and higher altitudes."
The Fire Distribution Center is a battle management command module that is mobile and can be adapted with new technological capabilities to complete various missions.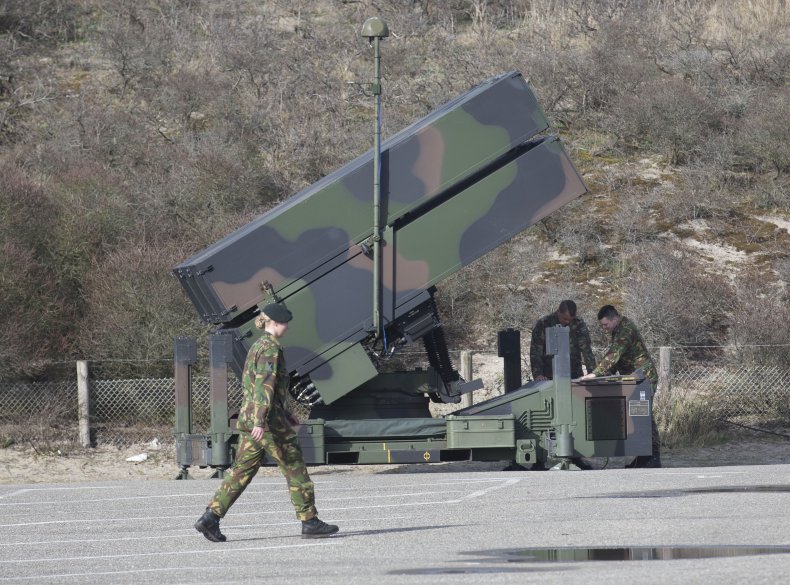 Russia's S-400 Triumf, code-named SA-21 Growler by NATO, is constructed in much the same vein as NASAMS. It can be found in regions like the Crimean Peninsula.
It is the fourth generation of Russia's surface-to-air missile system and is roughly comparable to the U.S. Patriot system, according to the Center for Strategic and International Studies (CSIS). It was originally developed in 1993 and borrowed between 70 and 80 percent of its design from the previous generation's S-300—including missile storage containers, launchers and radars.
Due to budget shortfalls after the collapse of the Soviet Union, testing on the S-400 didn't commence until late 1999 at Russia's Kasputin Yar missile range.
The 48N6 missile series primarily utilized by the S-400 can hit aerial targets at ranges up to 155 miles (250 kilometers), and can intercept ballistic missiles across a 37-mile (60-kilometer) radius.
The 77N6 missile is currently being tested, according to the CSIS, and is said to use "hit-to-kill technology" with the sole intent to destroy ballistic missile warheads. Another missile series, the 40N6, is also reportedly being developed. If it comes to fruition, it would extend air defense capabilities to 249 miles (400 kilometers).
On September 7, the Operational Command South of the Armed Forces of Ukraine said in a Facebook video that it had destroyed two S-400 missile launchers and an S-300 homing radar.
Although Ukraine did not specify where the system attacks took place, a retired U.S. Navy SEAL tweeted that the launchers were successfully destroyed in Kherson.
Zelensky thanked the U.S. for the NASAMS but has also requested additional weaponry.