Ukraine Could Receive NASAMS Air Defense Systems Within 60 Days: Pentagon
The Pentagon announced in a press briefing Friday that two National Advance Surface-to-Air Missile Systems (NASAMS) deliveries are expected to arrive in Ukraine within the next two months.
NASAMS are surface-to-air missile systems capable of detecting and hitting targets at distances of up to 180 kilometers (111.8 miles). The systems were first authorized by the Department of Defense (DOD) on July 1 as part of the $770 million Ukraine Security Assistance Initiative (USAI).
"These defensive systems will further contribute to protecting Ukrainians from enemy air threats, to include aircraft, unmanned aerial vehicles and missiles," Pentagon Press Secretary Air Force Brigadier General Pat Ryder said at the briefing.
Ryder said that as of Friday the U.S. has committed approximately $15.1 billion in security assistance to Ukraine since Russia began its invasion on February 24.
Other assistance promised under the USAI includes up to 150,000 rounds of 155mm artillery ammunition and four additional counter-artillery radars.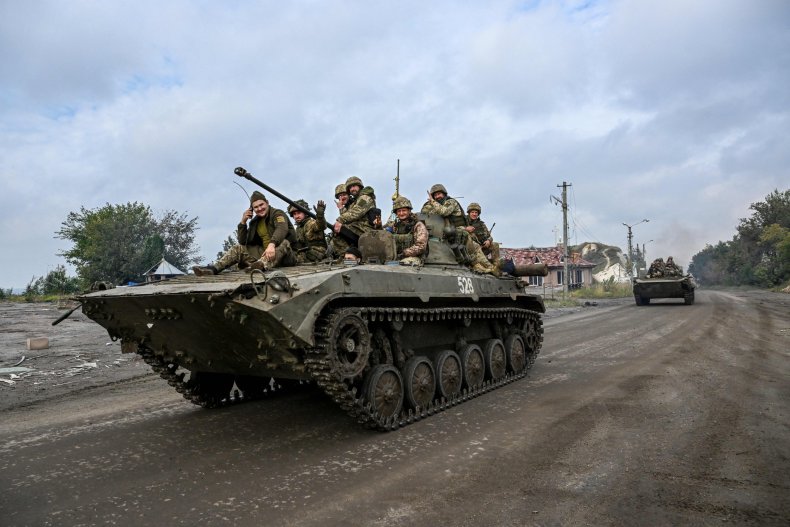 The announcement from the DOD comes roughly a week after several successful counteroffensives from Ukrainian troops recaptured Russian-controlled areas in the northeastern region of the country, including the city of Izium. Ukrainian President Volodymyr Zelensky said in his nightly video address on Wednesday that Ukraine had successfully taken back over 3,000 square miles of territory in the past two weeks.
Despite the recent success, Zelensky told reporters in an interview with Reuters on Friday that it's too early to tell when the war with Russia might end, but said that he hopes the successful counteroffensives will encourage other countries to supply aid to Ukrainian troops.
Zelensky called upon several countries, including Turkey and South Korea, to increase their supply of weapons to Ukraine, according to Reuters.
The Pentagon announced in a press release on Thursday that the Biden administration authorized a drawdown of security equipment valued at up to $600 million to be sent to Ukraine from DOD inventories. This is the 21st Presidential Drawdown of U.S. military inventories for Ukraine aid since August 2021, according to the release.
The U.S. sits as the number one contributor to the Ukrainian military since the start of the Russian invasion, according to the Ukraine Support Tracker from the Kiel Institute for the World Economy.
According to the tracker, between February 24 and August 3, the U.S. committed over $25 million in military aid to Ukraine, while the runner-up—the United Kingdom—has committed just under $4.03 billion. Both aid commitments, however, amount to approximately 0.2 percent of the respected country's GDP.
Some of Ukraine's closer neighbors have contributed more to military efforts per capita, including Estonia and Latvia at approximately 0.8 percent, and Ukraine's western neighbor, Poland, who has contributed roughly 0.4 percent of their GDP to aid, according to the tracker.
Newsweek reached out to the DOD and the Pentagon for comment.