NASCAR fans and Chicago locals have reacted with excitement and trepidation to news that the stock car racing organization will hold its first-ever street race in the Windy City.
NASCAR officials were joined by Chicago Mayor Lori Lightfoot and driver Bubba Wallace on Tuesday to announce that NASCAR Chicago Street Race Weekend would take place in the city on the weekend of July 1, 2023. The unprecedented race, held in celebration of NASCAR's 75th anniversary, is set to take place on a downtown course that will see drivers speed by many of the city's most iconic landmarks, including Grant Park, Soldier Field and Buckingham Fountain.
"This is a huge, huge sports town," Lightfoot said during the press event announcing the race. "The opportunity to bring something so unique as NASCAR to the city of Chicago, I think it's going to be one of the most iconic race courses maybe ever. And [it will] introduce a whole new fan base to what NASCAR is about, in the city of Chicago... we couldn't pass up that opportunity."
"This is monumental for our sport," said Wallace. "There's a lot of unknowns and if you've been following my journey for last little bit I've always said the unknowns is what excites me."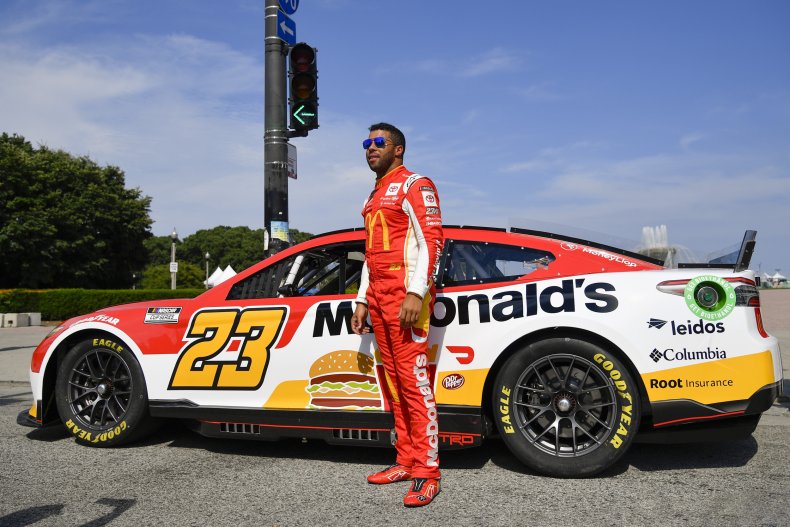 "It's exciting... being in this city, bringing NASCAR to this demographic," he added. "You're going to get that next Bubba Wallace, that's sitting in the stands like I was when I was 9 years old to be like, 'Hey, I want to do this one day, but I want to be better!' And I'm going to tell him, 'Good luck.'"
Chicago locals, NASCAR drivers and fans shared their excitement about the unique Cup Series race in reactions shared on Twitter, while others seemed less enthusiastic about the event.
"Looking forward to having @NASCAR host a Chicago street race," NASCAR driver Kurt Busch tweeted. "Big moves from our sport!"
"I'm excited @NASCAR is willing to take chances and try new things," tweeted former NASCAR driver Jeff Burton. "Chicago is one of the best sports towns in the country... I know our drivers will put on one hell of a show!"
"OK, Chicago, who thinks it's a good idea to announce that NASCAR is hosting races using city streets next year, the day after the mayor complained about drag racing in these same city streets?" tweeted author and Chicago resident Melanie Benjamin.
"Counterintuitive Twitter take: the NASCAR race downtown is going to look cool as hell and it will bring tourists to our great city," Chicago radio host Rob Hart tweeted.
"A NASCAR race around the streets of Chicago is insane and I love it and someone needs to make a Blues Brothers-themed livery," writer and filmmaker Matt Hardigree tweeted.
"I can only assume FOX is already editing a Blues Brothers Chicago car chase NASCAR montage," sports writer Brant James tweeted.
"I like the outside the box ideas NASCAR has presented over the last couple of years," tweeted Chicago sports broadcaster Julio N. Rausseo. "Should be an excited race."
"It's going to be awkward when one of the drivers makes a pitstop and gets carjacked," former Cook County Commissioner John Fritchey tweeted.
The NASCAR Hall of Fame in Charlotte, North Carolina, will be commemorating the race once it takes place. Winston Kelley, executive director of the NASCAR Hall of Fame, said in a statement to Newsweek that the Chicago street race will be included in an exhibit case "dedicated to highlight[ing] memorable moments from each NASCAR season."
"We anticipate the Memorable Case [will be] installed in 2024, highlighting the 2023 season, [and] will include an item from the 2023 NASCAR Chicago Street Race," Kelley said. "At the NASCAR Hall of Fame, we feature all the active tracks along our Glory Road exhibit. We will update the graphic panels to reflect the addition of the race to the Cup Series Schedule."
Update 07/20/22, 4:17 p.m. ET: This article was updated with additional information and background.