NASCAR racer Brandon Brown has signed a sponsorship deal with LGBCoin, a cryptocurrency named after "Let's Go Brandon," a phrase that conservatives use as a euphemistic way of saying, "F*** Joe Biden." The chant began during a NASCAR race he won earlier this year.
On Thursday, Brown announced that his 2022 racing season will be sponsored by LGBCoin, a cryptocurrency inspired by the "Let's Go Brandon" slogan. His uniform and car will bear the LGBcoin logo throughout all 33 races of the NASCAR Xfinity Series season.
"The patriotic coin dubbed 'America's Coin' aims to inspire positivity and unity, grounded in a strong belief of the American dream," Brown's racing team, Brandonbilt Motorsports (BMS), announced in a press release.
LGBcoin said it had achieved a market capitalization of over $300 million in less than six months. As of Dec. 30, the coin is valued at $0.000001449, according to CoinMarketCap, a crypto-asset price-tracking website.
NASCAR fans began chanting, "F*** Joe Biden" during the Oct. 2 NASCAR Xfinity Series Sparks 300 race at the Talladega Superspeedway in Alabama. During the race, sportscaster Kelli Stavast mistakenly believed the crowd was chanting, "Let's Go Brandon" in support of Brown, the race's eventual winner.
Donald Trump Jr., the National Rifle Association and other conservative figures on social media soon began to repeat the phrase as a way to express displeasure with President Biden.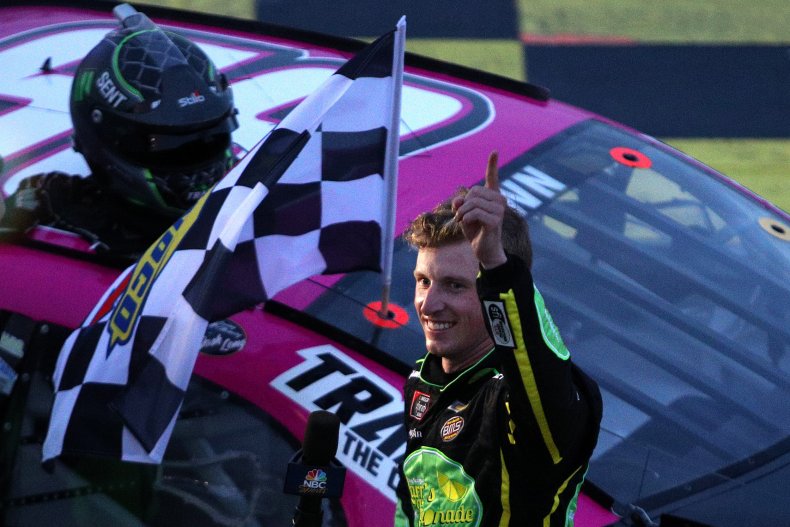 In November, NASCAR President Steve Phelps said the racing organization didn't want to be associated with the phrase, nor any political controversy "on the left or the right." Phelps also promised to pursue legal action against anyone using the phrase on NASCAR merchandise.
NASCAR has yet to approve the paint job on Brown's car, which would bear the LGBcoin logo, according to Fox Sports reporter Bob Pockrass.
Brown was too focused on winning the race to hear the chant, he said in a Dec. 19 New York Times interview. When he found out about the slogan on social media afterward, he said he found it "kind of funny." He also tweeted the phrase two days later, followed by, "*not political ... just feelin myself."
However, Brown said he didn't entirely like his name being used as "the substitute for a cuss-word." The virality of the slogan made him feel as if he had to stay silent because he wanted to focus on racing rather than politics, he said.
"I have zero desire to be involved in politics," the 28-year-old racer told the publication. "You want to appeal to everybody, because, all in all, everybody is a consumer. ... The issue is, I don't know enough about politics to really form a true opinion, so I really focus on racing."
During the Times interview, Brown self-identified as a Republican, but he didn't say who he voted for in the 2020 presidential election.
During the 2021 NXS series, Brown was sponsored by Larry's Lemonade and a cryptocurrency company called Trade the Chain.