Russian Escort Nastya Rybka Offers to Reveal Trump-Russia Links in Exchange for Jail Release
An escort who is at the center of a major political scandal in Russia is calling on the United States for help in exchange for information on the election scandal around President Donald Trump's campaign team.
Belarusian-born Nastya Rybka, a self-described sex expert—whose real name is Anastasia Vashukevich—rose to fame virtually overnight earlier this month, when she became the subject of an investigation by the prominent Putin critic Alexei Navalny.
After Rybka's acolytes raided Navalny's headquarters, dressed in skimpy outfits and bondage gear, Navalny became curious about the salacious publicity stunt. His team searched the social media accounts of the women—including Rybka's sometimes lurid posts, in which she brags about seducing an unnamed oligarch—and found that the escort had apparently met two men on a yacht who bear a striking resemblance to billionaire Oleg Deripaska and one of the Russian government's most influential officials, the deputy Prime Minister Sergei Prikhodko.
Rybka herself also detailed the alleged encounter, describing the two men in vivid detail—albeit under pseudonyms—in her book, The Diary of How to Seduce a Billionaire.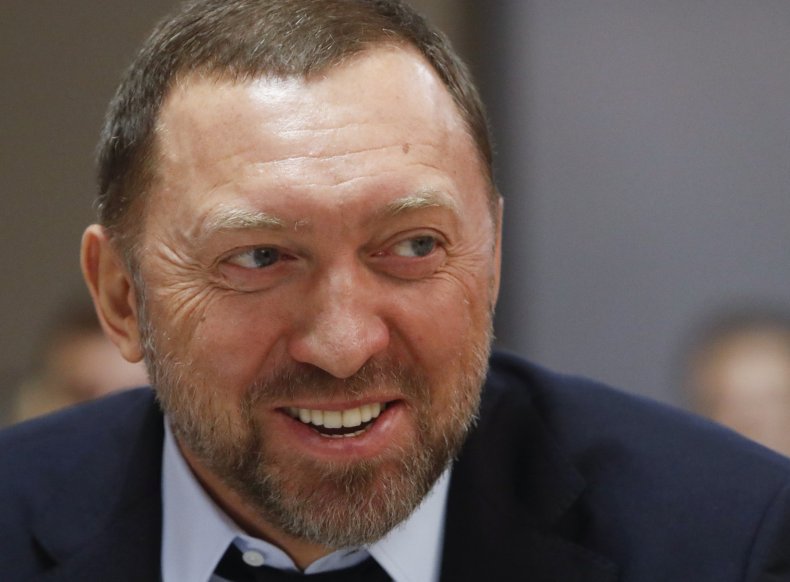 Navalny, who admitted this was the "strangest" of his investigative documentaries into alleged graft, presented his team's findings in a video that has over 6 million views on YouTube. While embarrassing for Deripaska and Prikhodko to have apparently met with an escort—or escorts, as Navalny claims—Navalny argues the alleged incident constitutes corruption as a businessman cannot secretly ship government officials around without disclosing it. Deripaska has categorically denied in an Instagram post being involved in any illegal activity and vowed to defend himself in court, but he did not explicitly refer to Rybka.
Russian authorities have threatened to block YouTube in response and convinced Instagram to delete the video with the same threat.
Related: Vladimir Putin stole my phone, Kremlin critic Navalny says
In an even stranger twist, a purported voice recording from Rybka's meeting on the yacht refers to relations with the U.S., which is all the more noteworthy because Deripaska is suing Trump's former campaign manager Paul Manafort over their past dealings.
Rybka, who is currently in prison in Thailand alongside her fellow sex experts, after they were reportedly arrested on Sunday, is now invoking the help of U.S. intelligence services in exchange for information about Russian interference in the 2016 U.S. presidential election.
In a flurry of posts, some of which appear to show her being transported in a caged vehicle, Rybka spoke about her fear of being unjustly handed over to Moscow authorities and even being killed. She made numerous allusions to having valuable information on the scandal around alleged Russian collusion with the Trump team, without revealing whether the information would confirm or disprove allegations that Trump's team engaged in collusion.
"I am ready to tell you about all those missing jigsaw puzzles, confirming them with audio and video," Rybka said in an Instagram post addressed to the U.S. press on Tuesday night. She claimed that she knew "a lot" about the "sensation" around Russian involvement in the election, but did not suggest what more she had to add.
Rybka alleged that she had information about "the connection between our respected parliamentary deputies with Manafort, Trump," and the U.S. election in general, even though so far neither Navalny, nor U.S. reports into alleged collusion have focused on ties with the Russian parliament. Officials from Trump's campaign team have so far been tied to meetings with more tangential figures in the Russian establishment, such as lawyer Natalia Veselnitskaya, or with the then ambassador to the U.S., Sergey Kislyak, whose official remit was to contact officials in Washington. Neither Deripaska nor Prikhodko are members of either house of Russian parliament. It is not clear whether Rybka misspoke or if she has information implicating more officials. She provided no evidence for her claims.
In her latest post on Instagram, Rybka suggested she would soon be extradited to Russia and that she was jailed with the help of "Volodya," a diminutive term for Vladimir Putin. The Kremlin has denied involvement in the case, including reports that a visit to Thailand by its top security adviser, Nikolai Patrushev, is linked to Rybka's detention.