Nathan's Hot Dog Eating Contest 2022: Where to Watch on TV and Livestream
The Fourth of July is, for many, the ultimate American holiday. Also known as Independence Day, it marks the U.S. declaring independence from Britain. Indeed, it was July 4, 1776 where the Second Continental Congress adopted the Declaration of Independence. And what better way to mark that separation than by watching someone eat a lot of hot dogs?
This year, July 4 falls on a Monday, so many people will be taking advantage of a three-day weekend. While many will flock to cookouts or some truly exceptional firework shows, others will enjoy another great July 4 tradition: the Nathan's Hot Dog Eating Contest.
What is the Nathan's Hot Dog Eating Contest?
The Nathan's Hot Dog Eating Contest sees people race against each other to eat as many sausages and buns as they possibly can. As usual, this year's event takes place in Coney Island. The tournament is separated into two categories: male and female. Joey Chestnut is favored to win the male category, having already captured the crown 14 times. His record is 76 hot dogs and buns in 10 minutes.
In terms of the women's side of the competition, Miki Sudo has won the Nathan's Hot Dog Eating Contest every year since 2014, except for 2021 where she missed the annual event due to pregnancy. Her record is 48 hot dogs and buns in 10 minutes.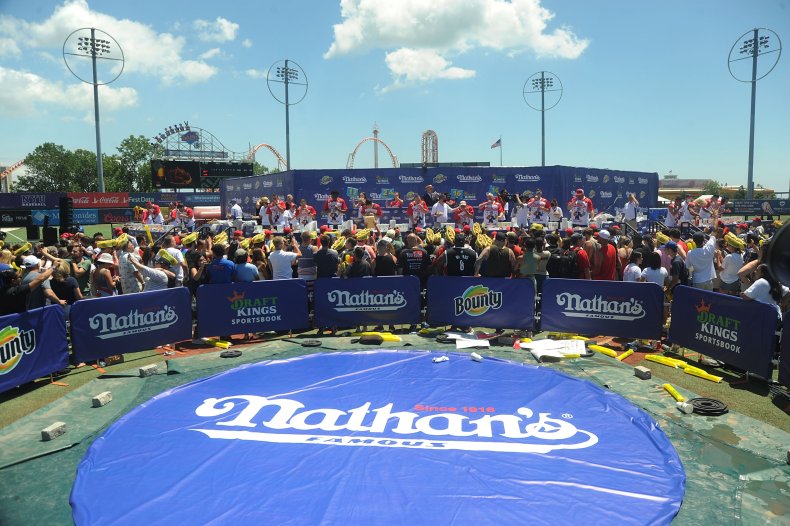 There are big cash prizes available for those who succeed in the contest: $10,000 goes to the winner, $5,000 to whoever finishes in second place, and the bronze medallist will take home $2,500.
And you can watch the action unfold at home on your TV. This year, John Anderson, ESPN SportsCenter Anchor, is going to be doing a play-by-play of the competition, while Richard Shea will be providing in-depth analysis.
What TV channel is the Nathan's Hot Dog Eating Contest on?
The men's portion of the contest will be aired at 12 p.m. eastern time, on Monday, July, 4. The women's competition will be streaming on ESPN3 at 10:45am, E.T, on the same day. Both of them can also be streamed on the ESPN app.
Where to watch Nathan Hot Dog Eating Contest online?
If you don't have access to cable, you can livestream the contest online. You can do this by getting a free trial from Hulu with Live TV, AT&T TV Now, YouTube TV, Fubo TV or Sling TV. With any of these streaming services you'll be able to access ESPN and watch the contest in full.