'National Day of Hate' Sparks Rallying Cries Online As Neo-Nazis Denounced
Following threats of an antisemetic "National Day of Hate" on Saturday from neo-Nazi supporters, messages of condemnation for the event and support of the Jewish community began circulating on social media this week.
Police across the United States announced that they were taking the threats of antisemitism seriously and would be increasing patrols in specific areas, like places of religious worship.
Researchers at the Counter Extremism Project, an international nonprofit policy organization, said the National Socialist Movement (NSM) is one of the organizers of the day that has been promoted through social media platforms.
The Anti-Defamation League (ADL) issued a press release on Friday that said it had already seen instances of antisemitism across the U.S. in the days leading up to the weekend, calling for a movement of peace to counter the hatred.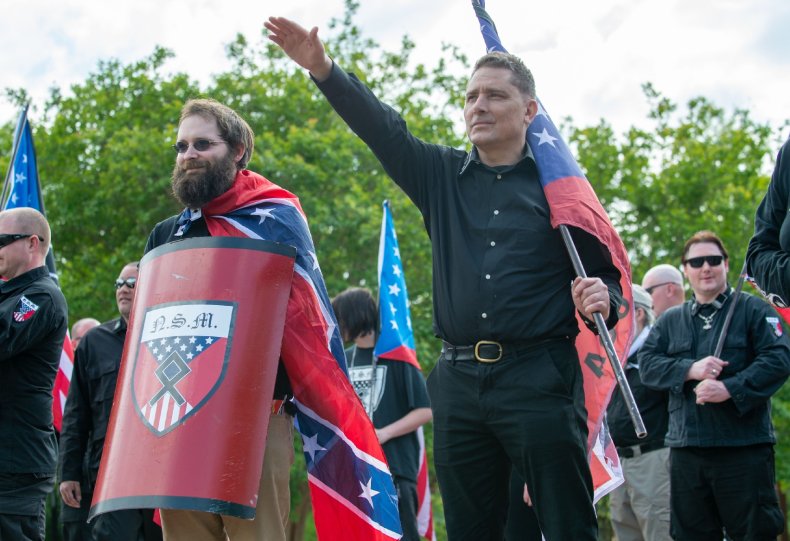 "With white supremacist groups attempting to organize antisemitic activities as part of a so-called "National Day of Hate" this coming weekend and especially on Saturday, ADL (the Anti-Defamation League) today called on our community and our allies to join together by creating a Shabbat of Peace," the ADL said.
"Using the hashtag #ShabbatOfPeaceNotHate, ADL is asking supporters and allies to join us in sharing a message of unity against antisemitism and hate by sharing with their online community that they will not back down and not be intimidated by extremists," the ADL's statement concluded.
On Twitter, #ShabbatOfPeaceNotHate and #NationalDayofLove have begun to trend.
Meanwhile, politicians have taken to social media to denounce the antisemetic movement.
Representative Bill Pascrell Jr., a New Jersey Democrat, tweeted Friday: "Antisemitism is a cancer. I stand shoulder to shoulder with all our Jewish communities against these disgusting threats from bigots and losers. We must fight back against antisemitism wherever and whenever it rears its ugly head."
Representative Shontel Brown, an Ohio Democrat, tweeted: "There is no place for hate in America. As white supremacists call for an antisemitic 'National Day of Hate,' we must stand together in resolve and solidarity. I join our Jewish community as they celebrate #ShabbatOfPeaceNotHate to push back against this hate-fueled campaign."
Nikki Fried, former Florida commissioner of agriculture, also tweeted Saturday morning: "As white supremacy groups call for a 'National Day of Hate' this weekend, I'm reminded of a teaching in my Jewish faith: Tikkun Olam. It means taking action to improve and heal the world to make it more united and perfect. Today and everyday drown out hate with Tikkun Olam."
Commentators also joined in condemning the racist rhetoric and movement.
Political commentator Majid Padellan, known on Twitter as BrooklynDad_Defiant, also offered his support of the Jewish community. "Hearing about the "National Day of Hate" planned tomorrow by white supremacists with antisemitic rallies just burns my fucking blood. This Black, Muslim man stands in solidarity with my Jewish Sisters and Brothers," he tweeted.
Commentator and religious leader Bishop Talbert Swan also shared a quote from Malcolm X on how to deal with adversary to show his support.
"Neo Nazis have planned a 'National Day of Hate' for today. Malcolm X gave us good advice on how to handle these situations," he tweeted Saturday.
Daily Wire host and commentator Ben Shapiro tweeted on Friday: "In honor of tomorrow's white supremacist, anti-Semitic National Day of Hate, I welcome all of you to join me in a National Day of Kiss My A**, you pathetic losers."
In addition, Jewish leaders across the country have told people to continue about their weekend and attend their places of worship, but to remain vigilant.
"We will not be intimidated. We are resilient. We are strong," the American Jewish Committee said in a statement on Thursday on its Twitter page.
Newsweek has contacted the ADL for further comment.