Police Patrols Ramped Up Across U.S. Ahead of 'National Day of Hate'
Police have increased patrols and security in sensitive locations like houses of worship around the country ahead of the antisemitic "national day of hate," according to reports.
Researchers at the Counter Extremism Project, an international non-profit policy organization, said the National Socialist Movement is one of the organizers of the day that has been promoted through social media platforms.
The Anti-Defamation League said in a press release that they have already tracked instances of antisemitism across the U.S. in the lead-up to the day.
These included: "Shooting attacks against Jewish people in the streets of Los Angeles. Antisemitic demonstrations in front of a Chabad in Florida. Increases in the distribution of antisemitic propaganda in cities across the nation. Neo-Nazi protestors in New York City spread vile antisemitism and conspiracy theories outside the Broadway revival of Parade, the play that tells the story of the false conviction and lynching of Leo Frank."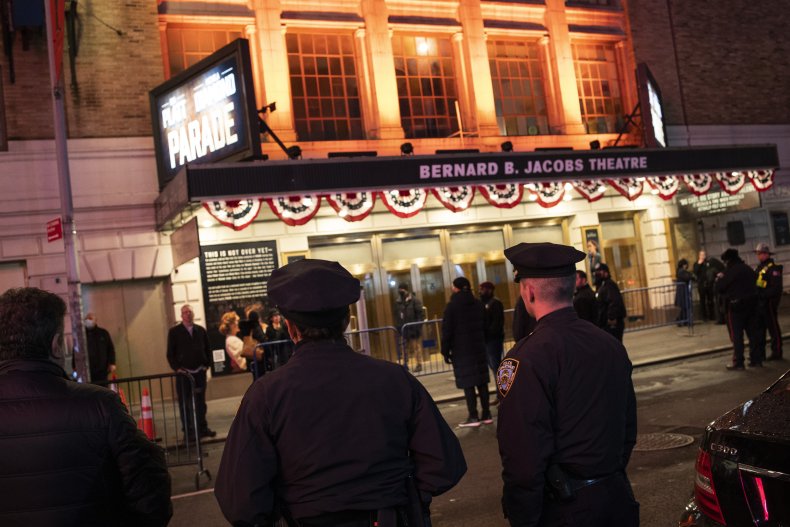 While police have not highlighted any specific threats, law enforcement in multiple states, including Massachusetts, New York, New Jersey, Florida, California, and New Hampshire, among others, have increased their presence in communities.
The Brookline Police Department in Massachusetts on Friday tweeted: "Advisory: An anti-Semitic group based in Iowa has called for its supporters to 'shock the masses with banners, fliers, & graffiti.' We have increased patrols in the area of local religious institutions especially temples, synagogues and will not tolerate hate crimes!"
The New York Police Department said there are no specific threats to New York City but asked the public to remain vigilant, according to a CBS News report.
The NYPD said: "While there are no identified threats to New York City, out of an abundance of caution, the Department will deploy additional resources to sensitive locations, including houses of worship, throughout the weekend. We urge all New Yorkers to remain vigilant, and if you see anything suspicious, please call 1-888–NYC-SAFE."
Police in Lakewood, New Jersey, said there had not been any "credible information to suggest that these threats will impact New Jersey," according to an NBC New York report.
Authorities in the state said they would increase the number of on-duty officers in marked and unmarked vehicles in order to keep people safe.
In Florida, the Department of Law Enforcement issued a statement about their plans to bolster police presence.
"In response to the recent harassment against Florida's Jewish and faith-based communities by hate groups, and seeing coordinated efforts from a 'National Day of Hate,' the Florida Department of Law Enforcement (FDLE) and Florida's Fusion Center has distributed a statewide bulletin and is actively coordinating and increasing law enforcement presence to ensure any individual or group who criminally harasses or threatens violence against Florida's faith-based community will be arrested and prosecuted to the fullest extent of the law," the FDLE said, noting there are currently no known threats or protests planned in Florida.
Jewish leaders meanwhile have told people to continue to go about their lives and attend their places of worship as usual.
The American Jewish Committee said in a statement: "We will not be intimidated. We are resilient. We are strong."