National Doughnut Day: Limited Time Offers at Dunkin' Donuts, Krispy Kreme
National Doughnut Day is today, November 5. While there is another National Doughnut Day on June 5, there are still some exciting new products and doughnut brands to celebrate today and the rest of this week. There are also some deals and limited-time offers to be had throughout the week.
Doughnut brands for National Doughnut Day
Krispy Kreme
Dunkin'
Yummi Sushi
Winchell's Donut House
Hardees
Krispy Kreme
Head to Krispy Kreme for Chocolate Glazed Doughnuts on Friday, November 8. These doughnuts are Krispy Kreme's classic Original Glazed Doughnut covered in a rich chocolate glaze and are only available one Friday a month, and what better month than to visit than for National Doughnut Day? If you miss them on November 8, they will be available again on the next Chocolate Friday, on December 6.
Or, for a limited time around Thanksgiving, Krispy Kreme is offering customers pie doughnuts. The "doughnut-ized pies" come in various flavors, like Cherry Pie, Chocolate Kreme Pie, and Dutch Apple Pie. These festive treats will be available in participating stores (not including Connecticut or Hawaii) during the holiday season but check back with Krispy Kreme for a launch date.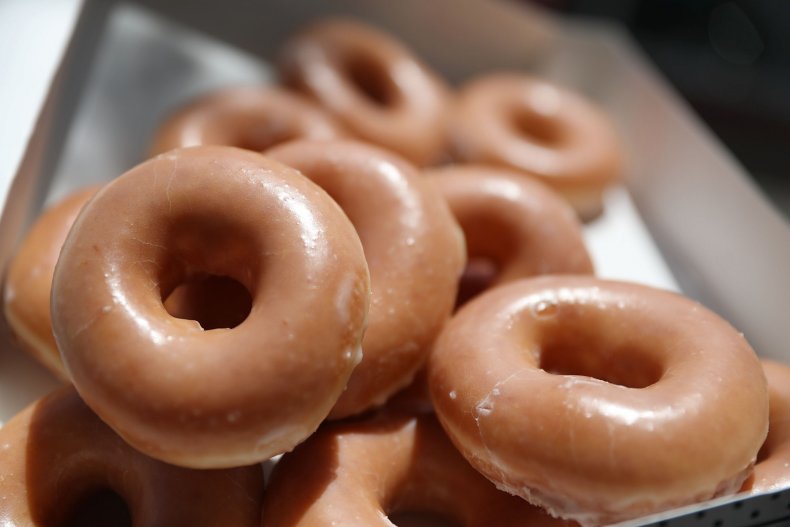 Dunkin'
Visit Dunkin' for the doughnuts, but be sure to try its new products launching tomorrow. There's the Beyond Sausage Sandwich, available from November 6, which is made from a plant-based protein by Beyond Meat and served with egg and cheese on an English muffin. If you can wait a little longer to try it, visit on November 8 or 9, between 8 a.m. and 10 a.m, to try the sandwich for free.
While you're there, be sure to check out Dunkin's seasonal promo, as pink cups and the peppermint mocha will both be available from November 6.
Yummi Sushi
For a different kind of doughnut deal, head to Yummi Sushi, which is celebrating National Doughnut Day with three special Sushi Donuts at both of its locations in Leon Springs and San Antonio, Texas, all day on November 5.
According to Flicks and Food, the donut varieties will include The Rainbow Donut Roll, made with "a steamed rice 'donut' topped with crab salad, seaweed, tuna, salmon, yellowtail, white tuna, shrimp, masago tobiko & avocado," and "The Dragon Donut Roll is a steamed rice "donut" topped with crab salad, seaweed, avocado, eel & sprinkled with sesame seeds."
Winchell's Donut House
While there's not a specific promo on for National Doughnut Day, doughnut fans in California, Colorado, Nevada, Nebraska, Kansas, and Oklahoma should head to Winchell's Donut House which has dozens of varieties, is open 24 hours and gives customers 14 doughnuts in a Bakers Dozen.
Hardees
To try a fun, nostalgia-flavored doughnut, head to Hardees for its Froot Loop Donuts. According to Hardees, it has "reimagined breakfast favorite into a fun, craveable treat that's great for breakfast or an anytime snack."