National Egg McMuffin Day: How to Claim a Free McDonald's Breakfast Sandwich on March 2
McDonald's has declared March 2 to be National Egg McMuffin Day and customers can get a breakfast sandwich for free today.
Customers can get a free Egg McMuffin between 6 a.m. and 10.30 a.m. local time on March 2 by downloading the McDonald's app and claiming the offer at participating restaurants.
While it may be tempting to order breakfast in bed, the Egg McMuffin deal is not available on McDelivery.
The national holiday status comes just a year before the Egg McMuffin's 50th anniversary. The Egg McMuffin sandwich was first invented in 1971 and was the first fast-food breakfast sandwich.
The Egg McMuffin sandwich is made up of an egg on a toasted English Muffin, topped with butter, Canadian bacon and American cheese.
The sandwich was invented by Herb Peterson, an owner and operator in Santa Barbara, who was trying to make Eggs Benedict. Peterson also invented the rings that give the egg a perfectly round shape.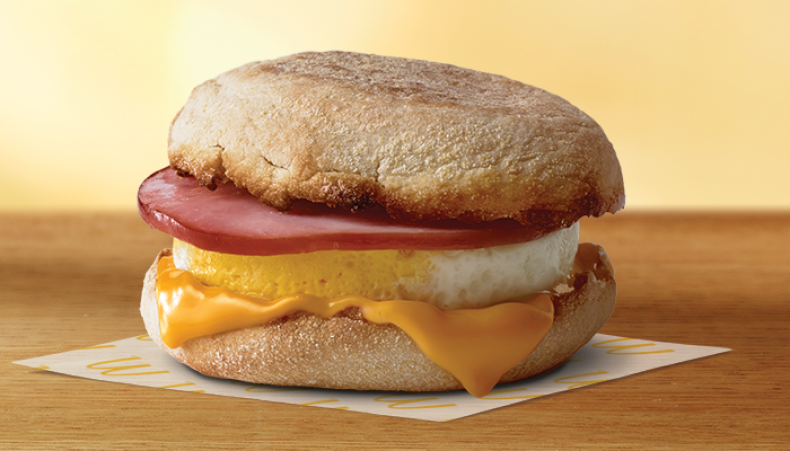 The Egg McMuffin was tested in 1972, became available nationwide in 1975, and finally became an official menu item in 1977.
David Tovar, Vice President of U.S. Communications said in a statement: "While we're giving the Egg McMuffin its moment, we're really honoring our breakfast fans who have woken up with McDonald's breakfast for nearly 50 years. And we just thought, 'hey, why not declare March 2 as National Egg McMuffin Day?'
"We're always looking for new ways to show our fans love and remind them, no matter where they might be, a great-tasting and convenient breakfast is just around the corner for them at McDonald's."
Other items on the McDonald's breakfast menu include Breakfast Burritos, which were introduced in 1991, McGriddles, which were introduced in 2003, the All Day Breakfast, introduced in 2015, and the current two for $4 Mix and Match Value Deal.
Fast-food fans will be spoilt for choice today as Wendy's has chosen National Egg McMuffin Day to launch its own breakfast menu. Wendy's has launched a Breakfast Baconator, a Honey Butter Chicken Biscuit, and a Maple Bacon Chicken Croissant to its menu, as well as seasoned potatoes, a Frosty-ccino and a freshly brewed coffee.
Wendy's is not hiding the fact they know they're launching a breakfast menu on McDonald's national holiday, as they revealed the new menu items in a series of tweets.
In response to a Twitter user who told them "McDonald's is giving away free Egg McMuffins," Wendy's said: "oh cool, free disappointment."
Another Twitter user simply tweeted at Wendy's "Egg McMuffin" to which Wendy's responded: "what a perfect way to ruin your day."
Wendy's continued to stir the up the competition and tweeted: "Y'all got any plans for breakfast tomorrow orrrrrrrrr.....?"
Customers now have the tough choice between claiming a free Egg McMuffin or being among the first to sample Wendy's new breakfast menu on March 2.