National Guardsmen Moved Back Into Capitol From Parking Lot After Bipartisan Outrage
National Guardsmen, who had been forced to use locations such as a parking garage after being stopped from using the U.S. Capitol as a rest area, have been allowed to return following outrage from lawmakers.
Politico first reported on Thursday that guardsmen previously seen resting within the Capitol building had been asked to leave the complex. Photos showed some resting on the floor of a parking garage.
Thousands of National Guardsmen had been deployed to Washington, D.C. to help provide extra security for the inauguration of President Joe Biden, following the violence of January 6.
Several lawmakers questioned their rest situation after the parking garage photos emerged, branding it unacceptable.
"Unreal. I can't believe that the same brave servicemembers we've been asking to protect our Capitol and our Constitution these last two weeks would be unceremoniously ordered to vacate the building," Sen. Tammy Duckworth (D-IL) said.
She later tweeted she had been told the guardsmen would be allowed to return, and all troops had left the garage.
A Guard statement said: "Brig. Gen. Janeen Birckhead, Inauguration Task Force Commander confirms that troops are out of the garage and back into the Capitol building as authorized by the USCP (U.S. Capitol Police) Watch Commander and the troops will take their breaks near Emancipation Hall going forward."
Guard spokesperson Maj. Matt Murphy told Politico that Capitol Police had asked the troops to move due to "increased foot traffic" with Congress in session.
A statement from Murphy shared with Newsweek added: "We remain an agile and flexible force to provide for the safety and security of the Capitol and its surrounding areas.
"Our troops are going to hotel rooms or other comfortable accommodations at the end of their shifts."
Murphy said: "As Congress is in session and increased foot traffic and business is being conducted, Capitol Police asked the troops to move their rest area.
"They were temporarily relocated to the Thurgood Marshall Judicial Center garage with heat and restroom facilities. We remain an agile and flexible force to provide for the safety and security of the Capitol and its surrounding areas."
Tweeting about the situation, Duckworth said Capitol Police had apologized ahead of the Guardsmen returning to the Capitol.
As well as Duckworth's outrage, other lawmakers also took issue with the situation.
Rep. Jim Jordan (R-OH) tweeted: "Thousands of Guardsmen left their families and jobs to keep the Capitol safe.
"And what do they get for their service? Rest breaks in cold parking garages.
"What a disgrace."
Sen. Tim Scott (R-SC) said the situation was "unconscionable" and "unsafe."
"Our troops deserve the utmost honor & respect for securing the Capitol & defending democracy this week," he tweeted.
There were also offers for the guard to use lawmakers' office space should they need it.
"If the guardsmen need space, we all have empty office space right now. I'll offer mine up in a heartbeat. I'm talking to colleagues now to identify more space," Senator Martin Heinrich (D-NM) tweeted.
In a statement to Newsweek, Heinrich added: "Putting our troops out on the street was completely unacceptable, which is why I immediately worked to remedy the situation. Earlier that day, I had just met with the National Guard unit from New Mexico, who we contacted right away to offer up my office space.
"The men and women of our National Guard play a vital role in keeping our nation safe at home and abroad and deserve our utmost gratitude for their service."
Rep. Alexandria Ocasio-Cortez (D-NY) responded to a photo of the troops in the garage and tweeted: "Yeah this is not okay.
"My office is free this week to any service members who'd like to use it for a break or take nap on the couch."
Newsweek has contacted the National Guard Bureau and the U.S. Capitol Police for comment.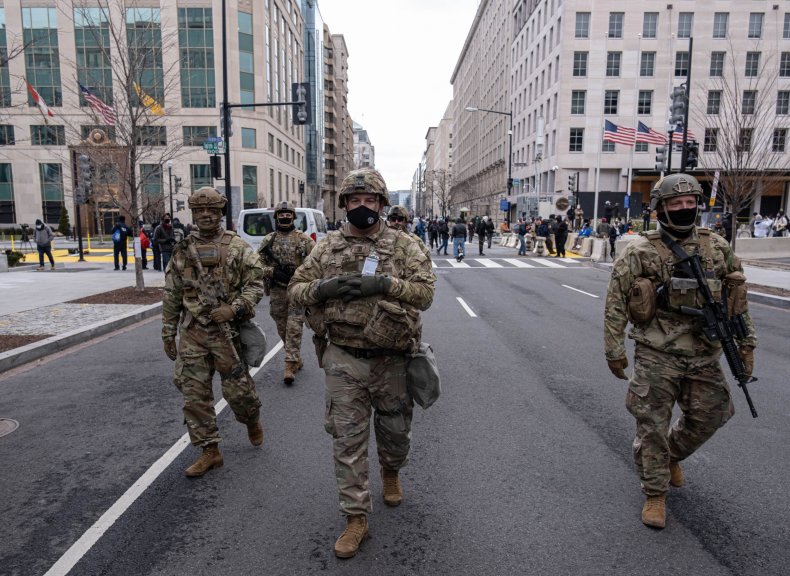 Update 01/22/2021: This page was updated with further comment from Sen. Martin Henrich and Maj. Matt Murphy.