National Adopt a Shelter Pet Day 2019: Can You Adopt for Free? How to Avoid Inhumane Pet Sellers
Approximately 6.5 million companion animals enter shelters nationwide every year, according to ASPCA. Pet problems such as behavior and health are the most common reasons that owners rehome their pets. Tragically, 1.5 million shelter animals are euthanized each year.
National Adopt a Shelter Pet Day (April 30) highlights the importance of adopting pets from shelters and bringing them into loving homes. It also supports the efforts of shelters to keep animals healthy and happy while they await their new owners. This can be done in a number of ways, such as promoting education around neutering and spaying, donating to a charity, or becoming a volunteer.
The graphic below, provided by Statista, illustrates which states housed the most shelter pets in 2018.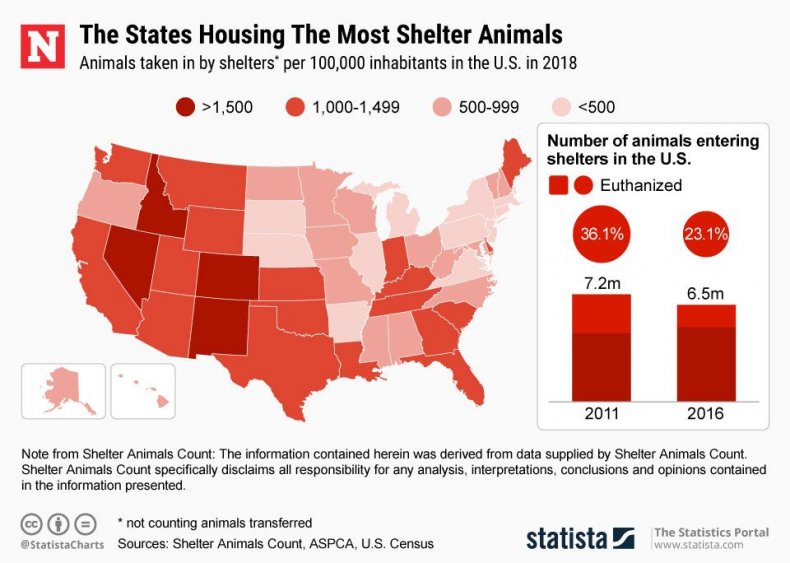 Why Is Adoption So Important?
"Homeless dogs and cats need every day to be Adopt a Shelter Pet Day, because many of them are euthanised simply because not enough people open their hearts and homes to them," PETA's director, Elisa Allen, told Newsweek. "Every time someone looking for an animal companion buys a kitten or a puppy from a breeder or a pet shop, a cat or a dog in an animal shelter loses a chance at filling that slot.
"That's why PETA—whose motto reads, in part, that 'animals are not ours to abuse in any way'—encourages people who can commit to offering an animal family member their time, patience, and care to shun breeders and pet shops and save a life by adopting."
Can You Adopt A Pet For Free?
It depends on the situation, but if we're talking about up-front cost then there are few circumstances where adopting a pet is free.
According to the APA Adoption Center, any adoption fee it charges for an animal includes an examination, microchip, spaying or neutering, vaccinations, worming and flea and tick preventatives, as well as a limited health care plan.
They estimate that the fees only cover about 25 percent of the combined cost of medical expenses and care of any animal, and as they do not get funding from the government they rely solely on adoption fees and private donations.
However, some charities may wavier an adoption fee if an animal has a potentially shorter life expectancy due to chronic illness, or if their medical costs long-term will be large. Of course, while the pet itself would be free, the cost of owning the animal would be substantial, so it's worth doing as much homework as possible on costs before adopting.
On May 4, 2019, anyone looking to adopt an animal will have the opportunity to adopt a pet for $25, with BISSEL Pet Foundation sponsoring the remaining cost. As part of Empty the Shelters Day, 110 organizations in 20 states will be taking part to help find every animal a home.
While it may be free or cheaper than a shelter, there are also risks to buying animals from websites such as Craigslist, which animal charities such as Rhode Island Society for the Prevention of Cruelty to Animals (RISPCA) have tried to educate the public on.
Is Buying From A Breeder or Pet Store Safe?
In Januay 2019, California implemented the Pet Rescue and Adoption Act, which was signed into law by California Governor Jerry Brown in 2017. The law aims to tackle mass-breeding operations in the state, and limits store sales to rescue dogs, cats and rabbits from shelters or animal welfare centers.
According to the Animal Veterinary Medical Association (AVMA), the majority of American states have some regulation of breeders, kennels, pet dealers, and pet shops, but they vary in "scope and strength" depending on whether the state requires licencing and inspection, established animal care and facility standards, and whether there are limits of the number of breeding animals kept at a facility.
But there is still a long way to go and animal welfare campaigns are continuing to fight for mass-breeding to stop.
Nancy Blaney, director of government affairs for the Animal Welfare Institute (AWI) is passionate about Americans adopting rather buying: "AWI welcomes the fact that "Adopt Don't Shop" isn't just a slogan for one day, but is increasingly becoming the guiding philosophy of states and localities that are listening to their citizens and passing laws to prohibit the sale of dogs and cats, and other companion animals, from inhumane commercial breeders.
"We would also encourage prospective pet parents to avoid online sales because those, too, are a haven for inhumane breeders and scammers."
How Can I Choose The Right Pet For Me?
Some compare having a pet to having a child, so it might go without saying that you need to carefully consider not only whether you can adopt an animal, but also what type of pet would suit your home.
The AVMA has created a checklist to help potential owners decide what type of animal or pet they should bring into their lives:
Do you already have any pets?
What are you looking for in a pet?
Do local laws or your housing arrangement limit your choice of pet?
Are you able to provide the amount of attention your pet will need?
Can you afford the costs of caring for your pet?
How long will you be away from your pet?
Who will care for your pet in your absence?
What future changes might occur in your living situation that would affect your ability to keep your pet in years to come?
Animal Sheltering has also created an "Adopters Welcome" manual to encourage and support people who want to adopt an animal, as sometimes there are barriers to people adopting animals from shelters.
How Else Can I Support Pet Adoption Day?
If you're not in a position to adopt an animal just yet, then you can support in other ways.
Volunteering: Many charities rely on the kindness and time of volunteers, and for animal lovers who are not in a position to welcome an animal into their home, this is a great alternative.
Normally volunteers need to be 16 years old and commit to a minimum of eight hours per month for a minimum of six months, according to ASPCA.
You can find volunteering opportunities on the Humane Society website.
Paying It Forward: Animal charity Best Friends is asking pet lovers to help create happy endings by donating $25 to cover or discount the adoption fee of a homeless dog or cat from the charity of one of its Best Friends network partners.
"That means, with just one gift, you'll spread all the good feels to an adopter—and help a pet in need go home at the same time. It's a win-win," said Julie Castle, chief executive officer, Best Friends Animal Society.
More than 300 Best Friends' Network Partners are also running Pay It Forward donation campaigns during that time, allowing pet lovers to support their local shelter or rescues.
Celebrities Who Have Rescued Animals
Seth MacFarlane
The creator of Family Guy and American Dad "acquired a surprise cat" in the form of Hank. MacFarlane has also sponsored Heaven on Earth's cat adoption center and sanctuary, Perry's Place, which was named after his late-mother.
Amanda Seyfried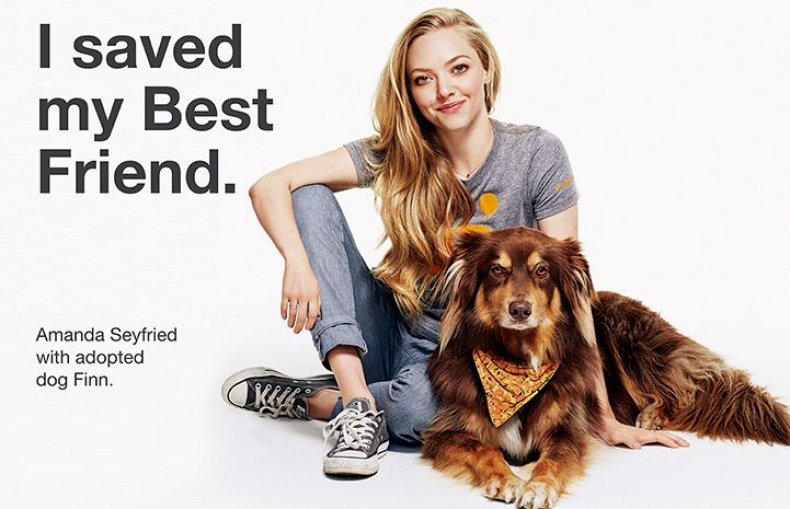 The Mamma Mia star adopted her dog, Finn, and they have both joined the Best Friends Animal Society's Save Them All campaign.
"When you adopt, you not only save a life, but you end up with an amazing friend," said Seyfried. "Please adopt your next pet from a shelter or a rescue group. By working together we can Save Them All."
Jennifer Aniston
The former Friends star confirmed she and her ex, Justin Theroux, adopted their pitt-bull mix, Sophie, in the March 2012 issue of GQ magazine.